The Waffle Lab brings classic Belgian-style-waffle to Fort Collins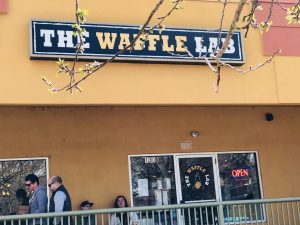 My first experience at The Waffle Lab was a morning after drinking a little too much with friends the night before. My body carried the heavy hangover weakness and I knew food, especially heavy greasy food, was the best option. The Waffle Lab was going to be my cure.
During that struggle of a breakfast, the lights felt a little too bright, the restaurant a little too cold, and the food although tasty was not sitting right in my stomach. I decided this place deserved a second visit, one where I could devote my full attention to the modern rustic atmosphere and their Liège waffle creation.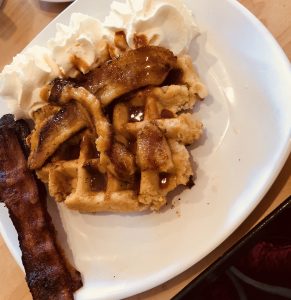 According to The Waffle Lab's website a Liège waffle was originally developed in Belgium, "The Liège (pronounced"lee-ayjh") waffle is unlike any waffle you've ever had. Made from yeast-leavened dough (not a batter) and specially imported Belgian pearl sugar, this mouth-watering piece of heaven is guaranteed to put a smile on your face. Baked at the perfect temperature, the sugar pearls melt on the inside and caramelize on the outside for a sweet, delicate crunch," (The Waffle Lab Website).
I ordered the Breakfast Sammie Waffle. It came with melted Swiss and cheddar cheese covering the outside and inside of the waffle and a cage-free egg nestled in-between. This menu item is a cheese lover's dream. My first few bites I was in love. The cheese was thick and melted perfectly, but about half way through the flavors started to become too repetitive on my pallet. It would help if this dish came with some sort of fresh veggie or perhaps even a dipping sauce to add some taste variety. If you find the same to be true for you when ordering this item, The Waffle lab offers various add-ons to create your own unique waffle experience.
My boyfriend, Chavez, got Foster the Waffle. This waffle was from the sweet selection on the menu, made with caramelized bananas topped with a whiskey caramel sauce and whipped cream.  The bananas were cooked flawlessly with the caramel adding a delicate crispiness. His waffle was the gluten-free alternative, and all items can be made gluten-free friendly. 
The Waffle Lab holds its own amongst the many popular breakfast/lunch dinning spots in Fort Collins. I suggest making use of the add-ons to create a waffle combination best suited to your taste buds. The waffles are thick, hold a tender crunch, and remain soft in the middle. If it wasn't for the Colorado set ambiance with the local art and hipster diners you may think you are actually feasting on a Liège waffle in Belgium while curing a hangover.