STUFT Burger Bar–Bring Your Own Burger Experience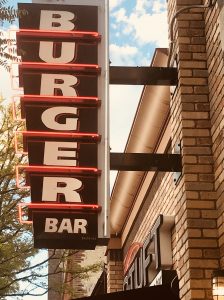 STUFT Burger Bar had humble beginnings in Old Town Fort Collins, as it grew in popularity it expanded as a local Northern Colorado franchise to Windsor and Greely. STUFT the perfect place to go when craving an all-American burger with a side of fries and a shake, the '50s dinner's dream experience.
STUFT's menu is yours to create. They offer a BYOB (Bring your own burger) menu which is placed on a clip board with a pencil, so that each patron can pick and choose between bread options (i.e. a glazed donut is a sweet option), sauces, vegetables, additional toppings, and cheese. This allows you to create as modest or as extravagant of a burger based on your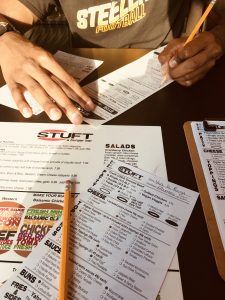 preferences. The BYOB menu leaves a space to fill in a name for your creation, and if it is popular it will be featured in their restaurant. On top of the BYOB menu they offer their own burger combinations and a gluten-free menu.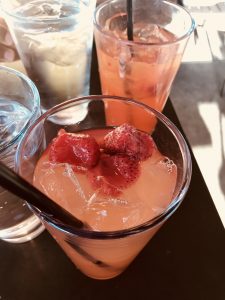 It was a hot evening and as we sat outside on the patio a cool drink sounded refreshing. We both ordered handmade lemonade with fresh strawberries. The lemonade was sweet and quenched my thirst. The strawberries didn't seem fresh though and there was clearly a syrup added to create a pink hue and sweeter taste, so this was misleading on the menu.
My burger was inspired by a craving for Mexican food. I named it Viva la Raza. Viva la Raza was a single beef patty on a brioche bun, with pepper jack cheese, roasted green chili,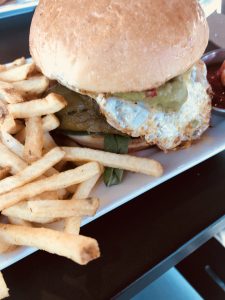 guacamole, red peppers, spinach, tomato, caramelized onions, topped with a fried egg. It was grilled nicely and was very filling. I would have preferred a little more spicy green chili. I picked fries as my side and enjoyed dipping them in my ketchup/mayo concoction. Chavez named his burger in honor of his favorite football team, Black and Yellow for the Pittsburgh Steelers. His burger was similar to my own. He ordered two beef patties on a gluten-free bun with bacon, caramelized onions, red peppers, a fried egg, and guacamole. The gluten-free bun was a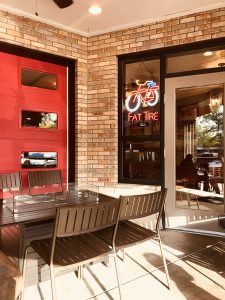 little dry and took away from the flavor of the burger. Chavez enjoyed the sweet and spicy seasoning that coated the bacon pieces. He got a side salad that was brought out with fried onions and a vinaigrette. The salad had to be remade due to concerns of cross contamination with the fryer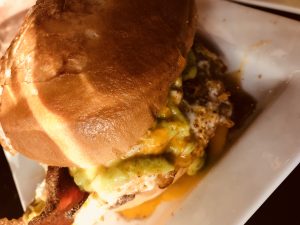 and non-gluten-free foods.
The service was a little slow at STUFT even though it was a relatively empty restaurant for the time we were there. A few mistakes were made with our orders. The waitress made up for the dinning issues by offering half off of our meal. So, although service wasn't ideal, we were appreciative that the waitress apologized and offered such a discount.
We left after soaking up a little more of the sun from the patio. I walk away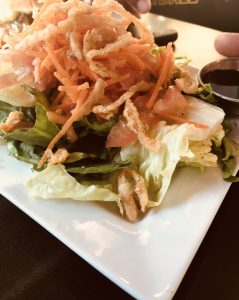 wondering if Viva la Raza or Black and Yellow will live on to be featured at STUFT; I guess I will have to return to find out.