Famous Toastery Underwhelms Taste Buds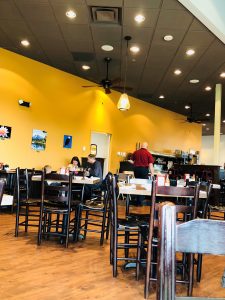 When writing one of my weekly food articles I try to create positive reviews that lightly highlight areas of improvement. My visit to Famous Toastery this past weekend was highly underwhelming and altogether basic, which made me greatly ponder the angle I wanted to take for this article. We chose Famous Toastery after seeing it a couple times while driving down Harmony Road. It is in a newly developed business area close to the Interstate-25 exit. The inside of the restaurant was newly built, but other than the featured artwork on display it was a very simple floorplan and interior design. Famous Toastery is a franchise restaurant that serves classic American breakfast and lunch and has a full bar.
The restaurant has a motto of, "every server is your server." They held true to this saying; several servers checked in on us during our meal. The concept behind this idea is a nice one, as sometimes it is hard to catch your assigned server's attention in the rush of a busy day. The actual implementation of this idea doesn't necessarily make sense for the restaurant business. We had several servers check our table to see if we were ready to order in a matter of a few minutes. So, although we appreciated the prompt service, it seemed like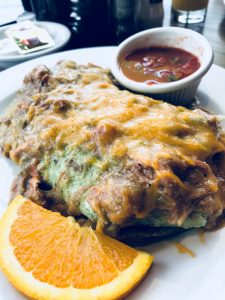 unnecessary redundant work for the staff.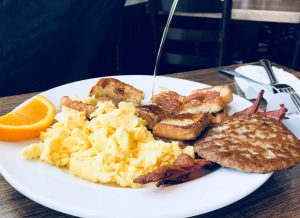 For my meal I had a cup of coffee and a breakfast burrito with a slice of French toast. The coffee was good, the essential cup of joe offered at many breakfast establishments. The burrito was smothered in green chili, wrapped in a spinach flour tortilla, and had pulled pork inside. It also came with a side of salsa. I enjoyed the burrito and the chili and salsa added a nice spice to it. I got the slice of French toast to see how it compared to other breakfast places in town. I was especially curious with it being served from a place called Famous Toastery. The French toast was decent, soft and had a hint of nutmeg. Chavez got the French Toast Combo (gluten-free), which came with two eggs and his choice of bacon and sausage. He said his meal was good as well but plain.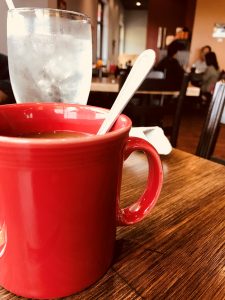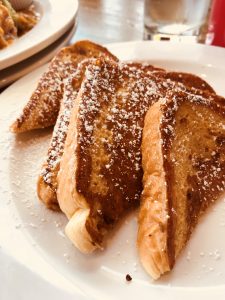 Our meal at Famous Toastery was good, but not great. Nothing seemed to make Famous Toastery special or made their menu items stand out. I ate my whole meal and was satisfied with both food and service, but there just isn't anything noteworthy to share about Famous Toastery. It seems to parallel places like IHOP or Denny's. All in all, I paid for a meal I could have easily made at home, basic ingredients and basic flavors.