Welcome to Bohemia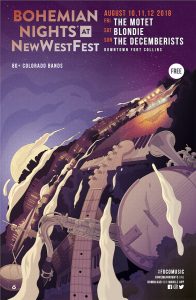 It's time for an annual festival that keeps the town abuzz for weeks before and after the event: Bohemian Nights at NewWestFest. This free, three-day music festival, as most of you probably know, is going to be completely chock full of musical performances on six different stages. A good portion, if not all, of these performances are led by Colorado-based groups, once again bringing Colorado's wow-factor to the highest it can be.
Bohemian Nights has one goal: to provide new/emerging and established musicians that represent Colorado and reveal Fort Collins as having the potential of a music city. Because this is their goal, they deliberately created a free event from August 10th to the 12th with the help of the Downtown Fort Collins Business Association to help others come to realize this goal. You can expect a wide variety of music and a kid-intensive Music Adventure. There will also be 250 specialty booths, such as art and food booths.
The Kids' Music Adventure will be available August 11th and 12th (10:30 a.m. to 5 p.m.) in the southwest corner of Library Park. There will be live music, real instruments for the children to interact with, and workshops that children can participate in. For the first time this year, your kids can Build-a-Band by learning an instrument, creating a song and playing it on the Kids' Music Adventure Stage. There is also the Early Music Maker program, put on by the Foundation Music School, at 11:15 AM and 3:30 PM at the Music Therapy RAMboree tent.
In addition to both of those new events, there will be workshops by The Little Shop of Physics, the Fort Collins Museum of Discovery (FCMoD), CSU Music Therapy RAMboree, Boys and Girls Clubs of Larimer County, and Foundation Music School.
And that's just the kids-centered stuff.
For attendees of all ages, there are six stages upon which there are a plethora of performances– with three headliners across the festival, including The Motet (Funk Dance, on the Mountain Avenue Stage, Friday night), Blondie (Rock, Mountain Avenue Stage, but simulcast on Old Town Square, Library Park and Linden Street Stages, Saturday night), and The Decemberists (Indie Folk Rock, Mountain Avenue Stage, Sunday night). The Mountain Avenue Stage will be streamed live on KRFC-FM (88.9 FM) and https://www.krfcfm.org/.
For full information, view the links at the bottom of this post.
Bohemian Nights at NewWestFest takes place Friday, August 10th, from 5 PM to 10 PM; Saturday, August 11th, from 10 AM to 10 PM; and Sunday, August 12th, from 10 AM to 7 PM. Please bring a water bottle, as there are free water stations throughout the festival, and be sure to check out everything there is to see. For a map of locations, visit the link below.
For information about the Lineup: https://bohemiannights.org/bohemian-nights-at-newwestfest/lineup.html
For general information/accessibility information/FAQs: https://bohemiannights.org/bohemian-nights-at-newwestfest/festival-info.html
For location information: https://bohemiannights.org/map/bohemian-nights/index.html
For previous years' posters and a video archive: https://bohemiannights.org/bohemian-nights-at-newwestfest/poster-and-video-archive.html
Crystal Angevine is a CSU Alum, who dreams big and works hard. She loves being in the outdoors, lives for her family, and tries hard to be the change she wishes to see in the world. On any given
Saturday
, she might be found knitting, doing other handcrafted arts, or playing video games. She grew up in Northern Colorado, but still loves exploring Fort Collins and the surrounding areas. What better way to do that than by telling the world about the plethora of events dear old FoCo has to offer?