Glamor on the Home Front
Fort Collins is anything but a dull place to be.
It isn't surprising for you to find events that attract people of all ages, colors, creeds and ideologies. It also isn't surprising to find events that focus and emphasize community engagement.
This week, the event was the PRISM of CSU Drag Show, entitled Geek vs Glam. This show was free to the public and functioned as a fundraiser for the CSU Pride Resource Center for their use in teaching and engaging those who need their services.
In fact, the show raised nearly $1800 for the Resource Center.
The show featured performers both new and returning such as Lenny Littell, MaveRick, Natalia Wynters, and even some CSU students themselves. The emcees, Evelyn Evermoore and Vivica Galactica, moved the show along nicely, providing witty repartee and camaraderie. If you had gone Sunday night, you would have been in for quite a few belly laughs, as well as maybe learning a few things.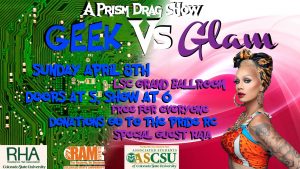 One of the biggest things fans looked forward to for the evening was Raja Gemini, one of the stars of the popular show RuPaul's Drag Race. Raja put on two really powerful performances. To be honest, there were no bad performances. It seemed each performer worked the crowd, performances ranging from the hilarious to the cerebral, from the surreal to the demonstrational. At some points, you could find all of the above in the same performance.
That evening, guests experienced something you'd never expect: a sense of community that mirrors Fort Collins culture.
You expect community out of charity events or theatrical events. But this drag show not only produced feelings of community, but exemplified them. People of all ages were there, with content that all could enjoy. There were people of all faiths, all colors, and all types of families. The house was packed, standing room only as the show opened.
Not only were all participants welcomed, but at the end of the show, participants were encouraged to be a part of the community that makes the show happen. The presenters even went so far as to broaden the scope: get involved was the message of the night, and not even just PRISM of CSU, but any community that you're involved in.
Glamor met Geeky, and the community came together once again to make a fun and enlightening experience for all who could be present. If you're interested in more events from PRISM of CSU and the CSU Pride Resource Center, feel free to check out their Facebook pages below.
PRISM of CSU Facebook: https://www.facebook.com/prismcsu/
CSU Pride Resource Center: https://www.facebook.com/CSUPrideResourceCenter/
Crystal Angevine is a CSU Alum, who dreams big and works hard. She loves being in the outdoors, lives for her family, and tries hard to be the change she wishes to see in the world. On any given
Saturday
, she might be found knitting, doing other handcrafted arts, or playing video games. She grew up in Northern Colorado, but still loves exploring Fort Collins and the surrounding areas. What better way to do that than by telling the world about the plethora of events dear old FoCo has to offer?