Fort Collins' Own Celebrations of Diversity
A Splash of Culture
Fort Collins' Own Celebrations of Diversity
The beautiful month of May is about to hit us full force next week, and with it, a rise in events and festivals galore. In fact, next weekend, is a great festival all about Family, Culture, and Community: The Northern Colorado Cinco de Mayo Festival 2018. 
Brought to you by Cinco De Mayo Of Northern Colorado INC, the festival is a free two-day event in Old Town Fort Collins, at Linden and Walnut Streets (Old Town Square). This event is a Fort Collins tradition, occurring annually around May 5. It is geared towards anyone in Fort Collins who wants to go, as a way of bringing education and the sharing of cultural diversity to the community.
Cinco de Mayo has been celebrated around Fort Collins for 30 years, and it hasn't lost its roots in that time. The Cinco de Mayo is celebrated in Mexico and other countries as a reaffirmation of their commitment to freedom and independence. This celebration has allowed people of diverse cultures and backgrounds to come together to enjoy this culture with dancing and community. To the right and below, you can see the poster for 2016 and a poster for the Cinco de Mayo Car Show from 2017 (as part of the festival).
This year, beginning Saturday, May 5th, at 10 AM, there will be everything from a Kidzone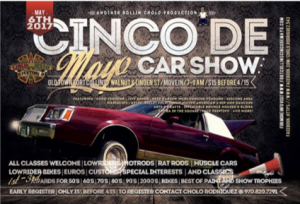 (complete with bouncy houses, operational until 7 PM) to food and merchant vendors (available all day) to a Beer & Margarita Garden (for those 21 plussers, opening at 11 AM).
Beyond those day-long events, there are numerous smaller events throughout the day, including Zumba in the Square (10-11 AM), the LINCOLN MIDDLE IB WORLD SCHOOL JAZZ BAND (11:15 AM to 12:15 PM), Grupo de Danza Quetzalcoatl (12:30-1:30 PM) and bands and singers galore!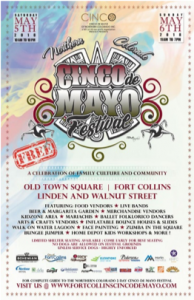 The best part is, all of these events are free for you to attend as you please. And this is just the first day! The first day (May 5) runs from 10 AM to 10 PM. The second is just as jam-packed as the first, running from 11 AM to 7 PM.
If you want to know more of the events you can expect, please visit this link:
http://www.fortcollinscincodemayo.com/entertainment-lineup-for-2017.php
If you want to explore their website further, or possibly volunteer to help run the event: http://www.fortcollinscincodemayo.com/
Crystal Angevine is a CSU Alum, who dreams big and works hard. She loves being in the outdoors, lives for her family, and tries hard to be the change she wishes to see in the world. On any given
Saturday
, she might be found knitting, doing other handcrafted arts, or playing video games. She grew up in Northern Colorado, but still loves exploring Fort Collins and the surrounding areas. What better way to do that than by telling the world about the plethora of events dear old FoCo has to offer?