"My 420 Tours" Cannabis Grow Tour in Denver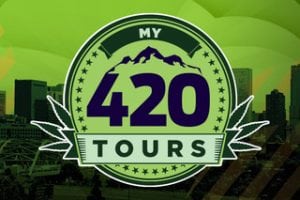 This week I went on the My 420 Tours Denver cannabis grow and dispensary tour at Euflora.  We arrived at the My 420 Tours offices and signed in for the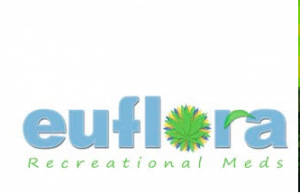 experience. Guests were invited to try the CBD infused coffee before the tour began. Once we were all accounted for, we got on the tour bus, which was stocked with grinders, papers and everything needed to smoke some herb! The tour guide also made sure everyone knew the waters were complimentary and he encouraged everyone to drink as much as possible because everyone was from lower elevation out of state. It was very interesting to see where everyone was from, their professions and why they were interested in cannabis. As everyone lit up on the drive to the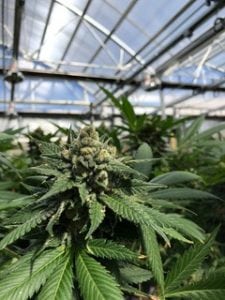 cannabis grow tour, conversations began.
One man explained his deteriorating back injury and his search for a better quality of life through cannabis. He explained that his spine was breaking over time and that he would prefer to use cannabis over pharmaceuticals to medicate. The tour guide's background was in nursing and he described his story of administering pharmaceuticals by day to patients and medicating with his cannabis for himself.  Stories about health professionals who prefer cannabis over pharmaceuticals and those suffering from painful conditions wanting to switch to cannabis are common within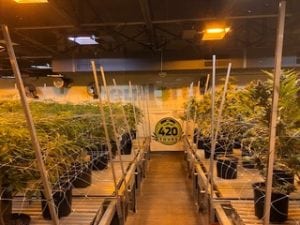 the cannabis industry.  The pharmaceuticals do not solve the problem and are harmful to the body and mind. As an athlete who chooses to consume cannabis, I can clearly see their choice to medicate naturally and promote one's overall health and wellness at the same time.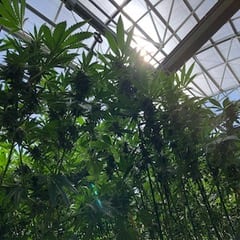 As the tour continued, we arrived at Euflora's greenhouse and the guide explained how the plants were started, what the clones were planted in and how the growth of the plant continued throughout the greenhouse. We saw small clones, the mothers and several thousand plants throughout the tour.  The tour guide was very informative about how the plants were grown and how they got from the greenhouse to the dispensary. We smelled several different strains from their curing station. We headed out to Euflora's dispensary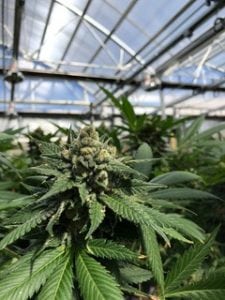 to check it out and try some products.
Once we arrived at the dispensary, we quickly realized the tour guide was correct in saying the dispensary was similar to an Apple store. The shop was bright and clean and had iPads at each strain station to explain the strain's details. The staff was very helpful in answering any questions. I chose to get a Death Star strain preroll for the ride back to the office. Euflora also has an onsite indoor greenhouse visible at the dispensary. The guide explained differences from the greenhouse grow to the indoor one. The buds were beautiful at both grows!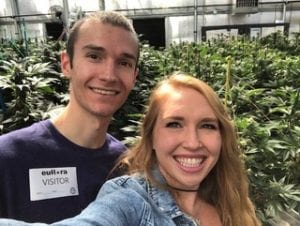 As the tour came to an end, we enjoyed Euflora's tasty flower. Having the opportunity to spend a day discussing cannabis with so many people from non-legal states it reminds me there is still a long road ahead of us. People from all over, from all different backgrounds are interested in the opportunity to learn more and have cannabis as an option. Having the plant available to everyone for their personal health and wellness is critical for the well-being of the people and planet!
Heather is the CEO and Co-Founder of 
Green House Healthy
, a health and wellness company promoting cannabis as part of a healthy and active lifestyle. Her company creates healthy experiences through educational and athletic events, teaching cannabis positive fitness and nutrition classes, and providing promotion and media services. She is a NASM Certified Personal Trainer, trail runner, writer, public speaker and epilepsy warrior. In 2017, she became the first female to complete an entire 420 Games National Tour, an athletic event series focused on raising awareness about cannabis and its consumers. Heather has placed in several races and plans to continue to trail race to raise awareness for epilepsy, healthy lifestyles and the benefits of cannabis. She has several years of experience with cannabis, including having worked on an all organic outdoor farm with 6000 plants, from seed to sale. It is her mission to share the many benefits of cannabis for people, animals and the planet!