10 Fun Things To Do Week of June 21st: Groundwaves, Skygazing, Bull Riding and MORE!
OnFortCollins.com proudly presents our newest feature, FUN10, a list of the top 10 things to do in the Fort Collins this week, and every week! Every Sunday, we'll drop a new FUN10, to give you a head start on your week and a heads up on what's going on over the coming seven days. Check out FUN10 every Sunday for the details on ten awesome events happening around town. It's a cool read, and a great way to get started planning your entertainment for the week.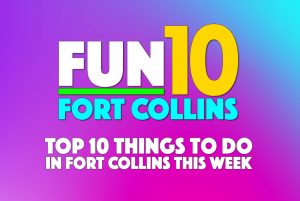 Due to the cancellation of so many regularly scheduled events in Fort Collins – with more coming in every hour – we're focusing this week's edition of Fun10FortCollins on fun entertainment you can enjoy in the safety of your own home or while practicing safe 'social distancing' as the state begins to open back up.
FUN10 — ten ways for you to have fun in the Fort Collins, this week and every week, running every Sunday, only on your site for fun, free, local entertainment, OnFortCollins.com!
So what's on the FUN10 for this week? Read on …
Marc Rebillet – Drive-in Concert Tour
Viral sensation and electronic musician Marc "Loop Daddy" Rebillet today announced that he will embark on the first-ever drive-in concert tour at movie theaters throughout the US.
You can catch Marc Rebillet's Drive-in Concert Tour at Holiday Twin Drive-In (2206 S Overland Trl Fort Collins) this Monday Jun 22 and Tuesday Jun 23 at 8 p.m.
The tour is set to begin in June and a portion of all proceeds will be donated to GlobalGiving Coronavirus Relief Fund. The concerts will remain compliant with individual state social distancing regulations, allowing fans to enjoy the show from the safety of their own vehicles.
The tour will forgo traditional opening acts and will instead embody a standard drive-in movie experience by showcasing short films. The shows will still provide elements of a typical concert experience, granting fans the ability to purchase artist merchandise, food, and more, in a safe way.
For more information, please visit https://www.facebook.com/events/561300858094438/.
Let's Shoot A Short Film!
The bright lights of Hollywood have come to Fort Collins!
Let's Shoot a Short Film! Remote Film-making Intensive for Teens begins this Tuesday Jun 22 and runs through Friday Jun 26, online.
Take this exciting class from an experienced film, tv, stage, and voiceover actress who has lived the Los Angeles actress life and is excited to share it with you! This class is also taught by film production specialist Jesse Nyander. This camp offers one week to learn the ins & outs of making a short film with an original script by Mary Beth Eversole with production and editing by Jesse Nyander. Students learn tips for quick memorization, camera angles, script breakdown, and what it's like to work on set, come join in the fun of Film Acting Camp for Teens!
Students will leave this camp with a short film for their film reel!
Instructors – Mary Beth Eversole, Jesse Nyander
For more information, please visit https://www.facebook.com/events/181841699873997/.
Groundwaves June 2020
With ambitions to keep Groundwaves going in 2020, and in response to COVID-19, Murs in partnership with the Music District has formulated an online format to continue our Hip-Hop open mic event.
Any MC from the Rocky Mountain region is eligible, as well as any previous Groundwaves participants, regardless of region… follow the link here to submit to Groundwaves 2020 and learn more: https://www.themusicdistrict.org/groundwaves/
**Submission deadline for Groundwaves June 2020 is Friday, June 19**
This year, Groundwaves will still be hosted by Murs and take place live on our YouTube channel:  https://www.youtube.com/musicdistrict
Email groundwaveshiphop@gmail.com with any and all questions.
Wrekonize Live at Hodi's Half Note
Hey Fort Collins, are you ready for some live music?
Wrekonzie with Special Guests will perform live at Hodi's Half Note (167 N College Ave Fort Collins) this Thursday Jun 25 from 7:30 – 11 p.m.
Tickets are $15 in advance and $20 on the day of show.
For more information, please visit https://www.facebook.com/events/225406085127215/.
Fort Defiance Live at Magic Rat Live Music
Make plans to experience Fort Defiance, live in concert, this Thursday Jun 25 from 8 – 10 p.m. at Magic Rat Live Music (111 Chestnut St. Fort Collins).
Fort Defiance is an Americana duo from Nashville, Tennessee, hailed for their honest songwriting, timeless harmonies, and high-energy stage performance.
Meeting in the summer of 2014, Jordan Eastman and Laurel Lane began touring together under the promise they would not attempt to date each other – one year later, they were married and had developed such a chemistry that requests for shows came pouring in.  In response, they quit their jobs, moved into the van, and began touring relentlessly – playing over 250 shows, in 46 states the first year, without the help of management or outside booking agents – and they haven't slowed down since.
Their passion and grassroots sincerity has garnered heavy attention from around the country, causing critics to call them "breathtakingly seductive" (That Music Mag), "perfectly haunting" (The Indie Sound) and "an absolute must see band" (I Love KC Music).
This is a 21 and over show
https://magicratlivemusic.com/live-music/fort-defiance/
Skygazing
Take a glance at the night skies from your yard or local nature space, then join for a program designed for kids and families.
Join the City of Fort Collins Natural Areas, virtually, this Friday Jun 26 at 9 p.m. for Skygazing!
Watch live with a Master Naturalist and learn what to look for in the night sky tonight! Discover why dark skies are so important for humans and wildlife.
This program will take place virtually through Facebook live on the Natural Areas Facebook page. Register to receive a reminder a few days before the program and to receive tips on viewing the night sky. The program will last approximately 10 minutes and then enjoy gazing at the moon from your home or neighborhood!
Location: Your phone or computer to watch live!
For more information, please visit https://www.facebook.com/events/189272872262538/.
Wild Bunch Bull Riding
It's time to socially distance, cowboy style!
We know you've been stuck in the house for way too long and you're itching to see some rodeos – so we're bringing them to you!!
Join Sundance Steakhouse (2716 E Mulberry St. Fort Colins) this Friday Jun 26 at 6 p.m. for Wild Bunch Bull Riding!
Tickets will be required and COVID regulations will be enforced, but that won't stop us from having a great time! Space will be limited, due to state and local regulations, so you'll want to be sure to grab your tickets when they go on sale! (We need just a few more days to work on the details to make it as easy as possible for you!)
We'll have all your old favorites, bull riding, bull fighting, and of course mutton busting!
For more information, please visit https://www.facebook.com/events/700393083861430/.
Old Man Saxon w/ PJ Kool, Rev da IV & Nick Sanville
Head to Hodi's Half Note (167 N College Ave Fort Collins) this Saturday Jun 27 at 9 p.m. for some live music from Old Man Saxon w/ PJ Kool, Rev da IV & Nick Sanville.
Old Man Saxon is a rapper from Denver, most recently featured as the crowd favorite on the hit Netflix series with Cardi B, Chance the Rapper and TI, Rhythm + Flow. Saxon's been a rapper since he was 13. His music has been featured on HBO's Silicon Valley, Netflix's hit film Someone Great, and Madden commercials. The music video for his hit single "The Perils" had over 100,000 YouTube hits in its first 24 hours of release (now at 3.3M, and 3M on Spotify). He's performed at Hip Hop Kemp in Czech Republic and Hiero Day in Oakland, and he's opened for artists such as Devin the Dude, Camron, Ghostface Killah, Andre Nickatina, Curren$y and Oddisee. Since his first headline show sold out at The Marquis in November, he's officially on tour, with dates in Denver, LA, SF, Atlanta, New York, Philly and more.
In just two years, Old Man Saxon has gone from broke & homeless in Los Angeles to esteemed rap professor, father and international entertainer. He has released 3 EP's -The Perils, The Pursuit and Goldman Sax. His first LP, The Peacock Honey, dropped Dec 6th
https://www.instagram.com/oldmansaxon/
Virtual Discovery Lab: Nocturnal Animals
Have you ever wondered why some animals are at their most active at night? In this Discovery Lab, your family will experience how nocturnal animals like the Black-Footed Ferret use their senses to explore the world around them- long after we humans have gone to bed.
Join Fort Collins Museum of Discovery online this Saturday Jun 27 from 11 a.m. – 12 p.m. for a Virtual Discovery Lab: Nocturnal Animals.
Get your lab coats ready and join us virtually for Discovery Lab! Discovery Labs are hour-long programs designed for families to explore a topic together. From dissections to coding, what will you discover next?
Registration closes June 25. Instruction for this program will take place live on Zoom on June 27.  All materials and supplies will be available by delivery or pickup before the workshop. Communication regarding delivery or pickup will be sent after registration.
For more information, please visit https://www.facebook.com/events/879726945860425/.
Hendershot Live at Equinox Brewing
Ready for some live music this weekend?
Hendershot performs live at Equinox Brewing (133 Remington St. Fort Collins) this Saturday Jun 27 from 6 – 8 p.m.
For more information, please visit https://www.facebook.com/events/2322509071374435/.
Stay tuned to OnFortCollins.com, your site for fun, free, local entertainment for upcoming events in our weekly column, FUN10, every Sunday!
#Fun10FortCollins
Tess Abney is a freelance writer who was born and raised in the Quad Cities. She spends most of her time attempting to successfully raise three boys. In her free time, writing is her passion. Whether it is sharing local events and businesses with readers or sharing her thoughts on life, she finds comfort in the way words can bring people together.