10 Fun Things To Do Week of May 24th: Camping, Cooking, Hula Hooping and MORE!
OnFortCollins.com proudly presents a brand-new new feature, FUN10, a list of the top 10 things to do in the Fort Collins this week, and every week! Every Sunday, we'll drop a new FUN10, to give you a head start on your week and a heads up on what's going on over the coming seven days. Check out FUN10 every Sunday for the details on ten awesome events happening around town. It's a cool read, and a great way to get started planning your entertainment for the week.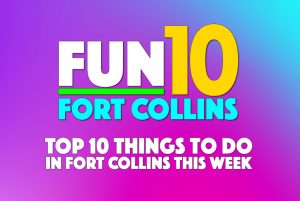 Due to the cancellation of so many regularly scheduled events in Fort Collins – with more coming in every hour – we're focusing this week's edition of Fun10FortCollins on fun entertainment you can enjoy in the safety of your own home or while practicing safe 'social distancing'.
FUN10 — ten ways for you to have fun in the Fort Collins, this week and every week, running every Sunday, only on your site for fun, free, local entertainment, OnFortCollins.com!
So what's on the FUN10 for this week? Read on …
Groundwaves May 2020
With ambitions to keep Groundwaves going in 2020, and in response to COVID-19, Murs in partnership with the Music District has formulated an online format to continue our Hip-Hop open mic event.
Any MC from the Rocky Mountain region is eligible, as well as any previous Groundwaves participants, regardless of region… follow the link here to submit to Groundwaves 2020 and learn more: https://www.themusicdistrict.org/groundwaves/
**Submission deadline for Groundwaves May 2020 is Friday, May 22**
This year, Groundwaves will still be hosted by Murs and take place live Tuesday May 26 on our YouTube channel: https://www.youtube.com/musicdistrict
Email groundwaveshiphop@gmail.com with any and all questions.
Beginner's Bird ID Class
Are you interested in birdwatching but don't know where to start? In this free webinar, Community Naturalist Zach Hutchinson will give those new to birdwatching the basics of bird identification. We'll also cover topics like binocular selection, field guide usage, and other helpful free resources.
Cost: Free
Register here: https://audubon.zoom.us/meeting/register/tJEtce6srDMuGNWXREd3tOzoMtoR8BChGoVc
For more information, please visit https://www.facebook.com/events/549948585711907/.
Hula Hooping with Lindy
Join Lindy Circus Duchess on Saturdays at 10:00 am for an online fun hoop class to motivate, invigorate, learn new skills and just feel joyful!! All levels welcome and encouraged!
Hula Hooping is a circus "flow art' that everyone can master. There are both on and off body hula hooping techniques as well as single or multi-hoop skills we will learn. Combine all this with favorite music and dance movements, and you may discover a fun new way to burn some energy, meditate, unwind, get fit, or just laugh again like a kid.
Join Zoom Meeting
PayPal donations to fortcollinscircuscenter.com are not required, but appreciated if you are able. See you soon!
https://zoom.us/j/340819199?pwd=cWRwcytkRGVKeE1td21BTDdlSlFuQT09
Meeting ID: 340 819 199
Password: 939057
Drive-In Movies at Holiday Twin Drive-In
Are you ready for some socially distanced fun? Then make plans to visit the Holiday Twin Drive-In this weekend!
Holiday Twin Drive-In is closed Monday-Thursday. All Tickets must be purchased online! Concessions orders will also be made online. Please only order when you are at the Drive-In. (Click Eats or the Burger and Drink)
Here is this weekend's lineup:
Friday, May 22nd – Monday, May 25th
Side 1: Onward (PG) then Call of the Wild (PG)
Friday, May 22nd & Saturday, May 23rd
Side 2: Bad Boys for Life (R) then Bloodshot (R)
Sunday, May 24th & Monday May 25th
Side 2: Indiana Jones: Raiders of the Lost Arc (PG-13) then Jurassic Park (PG-13)
Visit https://holidaytwin.com/ for more information.
Learn more about their COVID-19 Operation Plan.
Back Country Camping at Lory State Park
Lory State Park is now open for back country camping. Please visit the parks camping page for additional information regarding the back county sites. Campsites are popular during weekends and may be booked. Please make reservations at cpwshop.com or 1-800-244-5613.
Please observe social distance guidelines during your stay at campsites.
Park visitor centers, picnic sites, playgrounds, and CPW Area Offices remain closed to the public at this time.
All Colorado State Parks non-campground outdoor areas of parks, including trails, boat ramps, marinas and shorelines remain open.
Please use cpwshop.com or the park's self-service stations to purchase passes for day use.
Restrooms remain open and are regularly cleaned at this time.
Please bring your own hand sanitizer. There may be no running water available.
For park-specific questions, please call the park directly and we will get back to you as soon as possible.
Please note any additional closures or cancellations remain subject to change at the park's discretion.
For updates regarding CPWs response to COVID-19, including reservation refunds, hunting questions, or steps to recreate responsibly outdoors, please visit CPW's COVID-19 page.
Pinot's Palette Opens for In-Studio Classes
They're back! The pioneer of paint and sip experiences, Pinot's Palette (159 W Mountain Ave Fort Collins), has once again opened their doors for in-studio classes!
Pinot's Palette is, of course, staying within the state and county guidelines for your safety and will be limiting their class sizes to 10 painters until further notice.
*LIMITED SEATING AVAILABLE. Purchase seats online to reserve your spot*
Please practice social distancing by staying 6 feet apart at all times.
Your group can still sit together – let us know in the seating chart area who you would like to sit with or give the studio a call.
Masks are required and the studio will be sanitized on a regular basis.
The Bar will be open to purchase your snacks and drinks!
To view a full list of classes available, visit https://www.pinotspalette.com/fortcollins.
Classes and Gallery Reopening at Smokestack Pottery
Smokestack Pottery (119 E Lincoln Ave Fort Collins) is happy to announce that they have reopened for classes and gallery hours!
Here's a message from Smokestack Pottery:
"If you are interested in shopping for pieces in the gallery you are more than welcome to come in, but let's try to keep it to 4 people at a time. For the students and guests we are taking every possible precaution to uphold social distancing and restrictions as recommended. Face coverings are required at all times. For the students there will be 10 wheels placed 6 feet apart. Frequent hand washing and other everyday preventive actions will be applied. We are serious about the safety of our students, our community, and ourselves. We will be sanitizing every contact surface, such as wheels, glaze area, door knobs, counters, and the bathroom between each class. I want to thank everyone for their incredible support during this time. The donations and frequent check in phone calls have made me realize what an amazing community we have here at Smokestack. I know everyone is ready to get back at it, and it will take a group effort to enforce these regulations, but I know we will get it done. Please call Sue with any questions 970-484-8183 smokestackpottery1@gmail.com"
For more information, please visit http://smokestackpottery.com/.
KUP Project Tiny Concerts with Fort Collins Symphony
Fort Collins Symphony is currently offering online Keep Us Playing "KUP" Project Tiny Concerts on their website.
For a full list of Tiny Concerts available from the safety of your home, please visit http://www.fcsymphony.org/tiny-concerts/.
To make a donation to KUP, please click here.
At Home Experiences with The Cooking Studio
The Cooking Studio is a place for amateur cooks, corporate teams, kids, couples, and even aspiring bakers to learn, explore, and unleash their inner chef.
Led by a great group of chefs, our cookery classes offer something for every level of skill, whether you're a seasoned pro looking to sharpen your technique or a newcomer to the world of culinary arts.
If you're part of a small business or corporation looking for employee engagement and team building events where everyone can participate, there is no better way than holding a team cooking competition!
Searching for something to do on date night? We have couples cooking classes, a favorite with those looking for an interactive dating experience that ends with a great meal, good wine and lively conversation.
Kids aren't left out — we have classes and camps made just for them too! Baking, cake decorating, basic & advanced culinary skills, and lots of cooking challenges keep your kids engaged while they learn their way around in the kitchen.
Visit https://www.the-cooking-studio.com/ for a full list of At Home Experiences!
Live from the Playroom
Live From The Playroom is The Rock and Roll Playhouse's new free musical livestream series, keeping your entire crew entertained at home every weekday at 3:00PM ET and Sundays at 1:00PM ET.
Live From The Playroom offers kids and families delightfully bite-sized programs featuring 20-minutes of music that the whole gang can dance and sing to. We're jamming with some of our favorite local musicians and teachers from across the country in an effort to support our musical community.
We can't wait to sing and dance with you and the kids later, see you soon!
For more information, visit https://www.facebook.com/events/691840378307056/.
Stay tuned to OnFortCollins.com, your site for fun, free, local entertainment for upcoming events in our weekly column, FUN10, every Sunday!
#Fun10FortCollins
Tess Abney is a freelance writer who was born and raised in the Quad Cities. She spends most of her time attempting to successfully raise three boys. In her free time, writing is her passion. Whether it is sharing local events and businesses with readers or sharing her thoughts on life, she finds comfort in the way words can bring people together.