Personal Trainers Consume Cannabis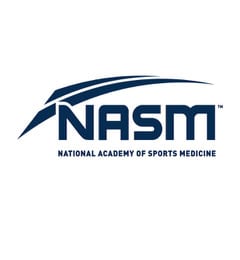 I am a sponsored trail runner and personal trainer and I incorporate cannabis in my daily training routine.  Specifically, I consume either flower, concentrates or edibles before hitting the gym, trails or yoga sessions.  I also apply topicals to achy joints, such as my knees and shoulders and consume hemp foods throughout the day. Cannabis is a powerful anti inflammatory, and when consumed before a training session, allows me to focus mentally. This helps me maintain longer training sessions. My husband, Antonio DeRose, also uses cannabis as a part of his daily health and fitness routine. We've both recently achieved our Personal Training Certifications through NASM, the National Academy of Sports Medicine, and are excited to start hosting our own fitness classes!
We are leading our first fitness class this weekend at Denver NORML's Summer Camp, presented by CannaVenture! I'm really excited to have the opportunity to host a cannabis consumption friendly fitness class among nature. We will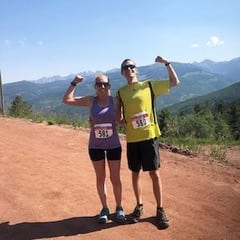 focus on bodyweight exercises, while getting elevated in the Rocky Mountains. The class will consist of basic techniques to improve overall body strength and stabilization, and participants will have the opportunity to incorporate cannabis into the session.
Many individuals avoid physical activity due to pain, inflammation or lack of motivation. Since physical activity is crucial for overall health and wellness, consuming cannabis may be a solution for some to get their body moving and boost mood to prepare for the mental challenges of exercising. It is also very beneficial in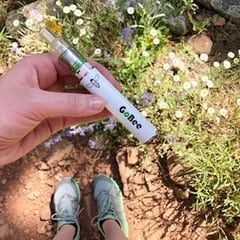 promoting health by supplying the bodies ECS, endocannabinoid system, with cannabinoids the body is designed to utilize.
Consuming cannabis food products has many benefits as well.  It is a nutritional superfood and can be grown organically and sustainably.  In addition, it is one of the only plants on the planet to contain a full amino acid profile content. Meaning it is a complete protein source, and your body can obtain all 20 of the amino acids your body needs from hemp foods. It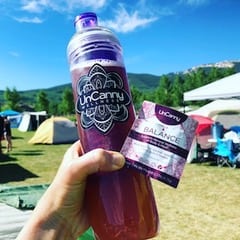 also has a perfect omega 3 and 6 balance, is rich is gamma-linolenic acid, contains nutrients such as fiber, fat, manganese, magnesium, zinc, iron, copper, vitamin E and more. These nutrients are vital to the human body and can be achieved by eating just one plant!  Not only is it nutritious, it's delicious! You can easily add hemp into your diet with hemp milk, hemp seeds, hemp oil, hemp protein powder, hemp flour to name a few! The hemp food industry is growing and be found in your local grocery store!  Give it a try and your body and the planet will thank you!
I've spent the majority of this year studying for my personal training certification exam. This includes reading the entire book and practicing physical fitness techniques. I learned a lot while preparing, but couldn't help but notice while covering the bodies regulatory systems and nutritional sections it was missing information I consider crucial for everyone to learn. The National Academy of Sports Medicine did not include information on the endocannabinoid system. This was not surprising, since the system's discovery is fairly recent, and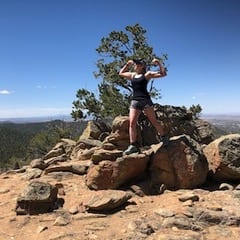 many doctors are not educated either. However, since its discovery, it is said to be the most critical systems for regulating physiological and cognitive functions throughout the entire body. NASM also suggests using pain relievers such as ibuprofen. I think they should suggest using pain relievers that are natural and do not have damaging side effects, such as cannabis. The nutrition section covered the importance of protein as building blocks within our body, but did not list hemp as a source. Considering hemp food is a complete plant protein source, is available in your grocery store and offers many other nutrients, I was shocked to not see it listed.  It is my mission to see hemp food and ECS information expanded to the medical and fitness professionals, so they can share their knowledge and expertise with those who need it!

My goal in life is to help others and the planet, and becoming a personal trainer is one aspect I will use to achieve my goal.  Another is education and by combining my training skills with my knowledge about utilizing cannabis as part of a healthy and active lifestyle, I'm confident it will benefit others as well as our planet!
Heather is the CEO and Co-Founder of 
Green House Healthy
, a health and wellness company promoting cannabis as part of a healthy and active lifestyle. Her company creates healthy experiences through educational and athletic events, teaching cannabis positive fitness and nutrition classes, and providing promotion and media services. She is a NASM Certified Personal Trainer, trail runner, writer, public speaker and epilepsy warrior. In 2017, she became the first female to complete an entire 420 Games National Tour, an athletic event series focused on raising awareness about cannabis and its consumers. Heather has placed in several races and plans to continue to trail race to raise awareness for epilepsy, healthy lifestyles and the benefits of cannabis. She has several years of experience with cannabis, including having worked on an all organic outdoor farm with 6000 plants, from seed to sale. It is her mission to share the many benefits of cannabis for people, animals and the planet!