How Hemp Will Help Our World's Health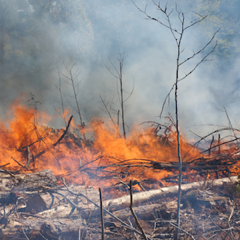 With the recent news about the Amazon rainforest fires, people are taking action to learn about what's going on and find ways to help. The fires have risen nearly 83% since last year, and almost 73,000 fires have been reported across the rainforest. The destruction is reported to be the cause of deliberately set fires for the locals to clear land in order to meet the demand for animal agriculture. The land is deforested and cleared for animals or crops for animals to eat and accounts for 91% of the deforestation. There's been a total of 136 million rainforest acres cleared for animal agriculture. The Amazon rainforest is said to be the lungs of our planet. It creates 20% of the air we breathe, has 40% of the world's tropical forests, holds 20% of the world's fresh water and is home to thousands of species of animals and indigenous tribes.
There's still hope. Even though the rainforest seems so far away from the rest of the world, every decision each person makes has a direct impact on the rest of the world. There are so many options to be more aware as a consumer and spend your dollars on products that are produced with positive impacts on the world. With the awareness and knowledge of certain fast food companies getting their meat products so cheap from the Amazon area, consumers can decide on what they're creating a demand for with their dollars. Knowing where your food and products come from and how they are created makes the world accountable and held to higher standards of operating and progression. Many are choosing to limit or eliminate animal consumption for the climate crisis and other reasons that have become more public.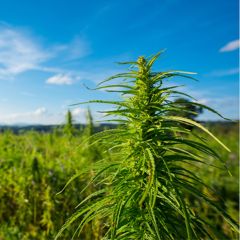 One way the cannabis community is leading the way is with the production and increased availability of hemp as a food source. Hemp has become mainstream as a food ingredient, especially because it has a unique superior plant protein. The food has become very important to plant-based athletes and beyond because it contains all the amino acids your body needs to survive, including the essential amino acids each person needs to obtain from their diet. It's also packed with other vitamins and nutrients and has a perfect omega 3:6 ratio for organ health. Besides the plant-based health benefits for humans, it doesn't need to be grown with pesticides or herbicides, so it positively benefits the health of our overall planet, cultivators, animals and our water supply. In addition, farmers can grow hemp for industrial uses and as food for livestock. Since the plant grows so quickly, they could harvest several times a yea,r and cannabis produces more oxygen than trees.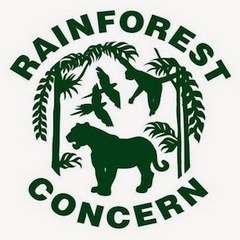 Another way to help support the rainforest is by sponsoring an acre or more of land. My company, Green House Healthy, recently sponsored an acre of the rainforest in Ecuador with the Rainforest Concern. This organization also offers races around the world where people can run and raise funds to support their efforts and make a difference. Raising awareness and discussing topics through social media provide great support too. Everyone has the ability to make an impact and vote with their dollars for a future we want to see. Please join us on our mission to help make this planet a better place for all life.
Heather is the CEO and Co-Founder of 
Green House Healthy
, a health and wellness company promoting cannabis as part of a healthy and active lifestyle. Her company creates healthy experiences through educational and athletic events, teaching cannabis positive fitness and nutrition classes, and providing promotion and media services. She is a NASM Certified Personal Trainer, trail runner, writer, public speaker and epilepsy warrior. In 2017, she became the first female to complete an entire 420 Games National Tour, an athletic event series focused on raising awareness about cannabis and its consumers. Heather has placed in several races and plans to continue to trail race to raise awareness for epilepsy, healthy lifestyles and the benefits of cannabis. She has several years of experience with cannabis, including having worked on an all organic outdoor farm with 6000 plants, from seed to sale. It is her mission to share the many benefits of cannabis for people, animals and the planet!