Union Bar and Soda Fountain Attracts Crowds and Pleases Bellies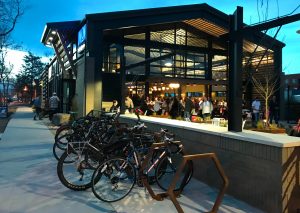 My first thought stepping into Union Bar and Soda Fountain, an American style eatery, nestled in the heart of Old Town was, "Wow, it's busy in here." The line of hungry patrons overflowed out the front doors. People were also scattered across the lawn playing corn hole and huddled around the fire pits seeking refuge from the brisk Colorado wind.
The bar is the centerpiece of the restaurant, spanning up to the ceiling.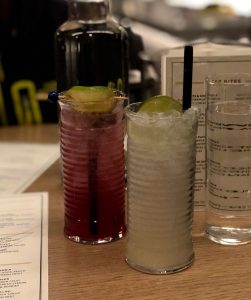 The modern design, garage door opening and Union Station vibe all welcome the diner inside. The menu includes appetizers, sandwiches, salads, Blue Plate Specials, and a vast drink menu offering sweet concoctions of floats, shakes, sodas, and sundaes.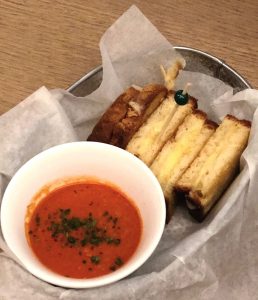 Despite a line to get to the hostess stand, we were sat within 15 minutes of getting on the waiting list. I started with the Peachy Keen cocktail. The pepper bitters added to the rum, peach liqueur and lime soda created a spicy kick that hit the back of my throat. Although the punch from the heat threw me off, it mixed well with the sweet elements of the drink. My boyfriend got Not My Ricky which he described as fruity, but the strongest essence I got was the gin.
Our appetizer were the Grilled Cheese Dippers. They had melted gooey cheese, perfectly toasted buttered bread, a creamy tomato soup dipping sauce, and as an extra plus they were gluten free. My boyfriend recently found out he has a serious gluten allergy and we have both been learning how to cook with the best substitutions. It has been refreshing to find many accommodating restaurants in Fort Collins. Union Bar offers a separate gluten-free menu.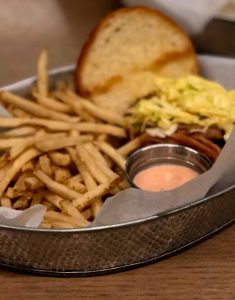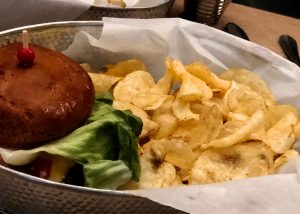 The main course were Slow Country and Union Burger. Slow Country is a pulled pork sandwich with slaw served on a buttery brioche bun. In both of our dishes we felt the meat was the best part. The pulled pork on my sandwich stood for itself and was cooked perfectly that it didn't require heavy seasoning or sauce. Although, a tomato shallot-relish was included with it. The side of french fries were a little plain and could use some extra love with salt.
With friendly and quick service, we wrapped up our meal at Union Bar, and I would not hesitate to dine here again. The only difference, is next time I'll be sure to call ahead of time and check on the wait.
*There is limited street parking so if you park in the new Firehouse Alley parking garage they will give you $2 off your meal by showing your parking stub.