Tom+Chee makes eating fun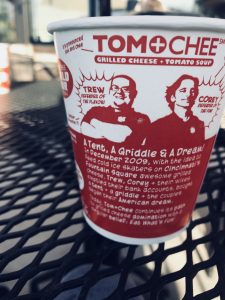 After a grueling leg day at the gym, nothing is better than earning the excuse for a cheat meal. A cheat meal calls for a restaurant that offers greasy comfort food. Tom+Chee (pronounced Tom and Chee) plays to the pleasure of indulging in a cheat meal with a motto to, "Eat What's Fun."
While I typically prefer to review local restaurants, I couldn't pass up trying Tom+Chee after reading their Story. Tom+Chee is a restaurant dedicated to a love of the simple American classics, Grilled Cheese and Tomato Soup. Their story started with humble beginnings in Cincinnati, Ohio in 2009. Over the years they have been featured on Man Versus Food and Shark Tank, which after it aired Tom and Chee received 20,000 franchise request. Their website provides a little more detail on their interesting story.
Both Chavez and I decided to try one Tom+Chee, a classic grilled cheese, and one creative option from the menu. The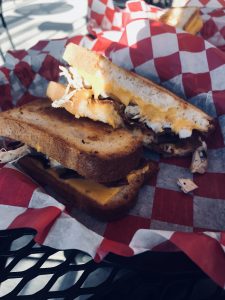 classic grilled cheese has toasted buttery bread, and thick melted cheese. Mine was on a Wheat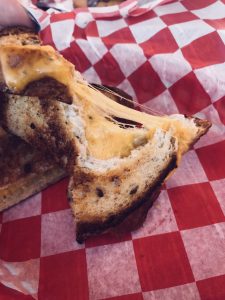 Berry bread and Chavez enjoyed the Gluten Free Bread. The sandwich was nicely seasoned. I chose an easy mild cheddar, Chavez chose American.
My second grilled cheese was the Smore with chocolate, pieces of graham cracker and marshmallow mascarpone sandwiched by a glazed donut. This grilled cheese donut was definitely sweet, but it wasn't as heavy as I expected. I think it helped that the marshmallow was in a mascarpone mixture, because it created a smoother light texture versus the sticky nature of marshmallows.
Chavez's built his second grilled cheese with grilled chicken and bacon. His bacon was a thick cut and the chicken was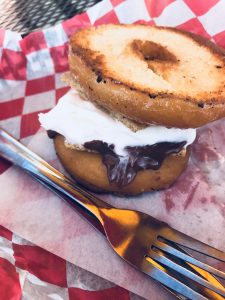 slightly smoked. His Gluten-Free bread was a bit thicker than mine, and even though it was denser and grilled it wasn't too hard. Tom+Chee also has vegan options.
Our meal was even better as we enjoyed the summer-esque weather sitting outside. Leg day was over, our cheat meal was a success, and Tom+Chee served us fun in a food basket. It was a good day.