The Mainline Alehouse Stands Out Above The Crowd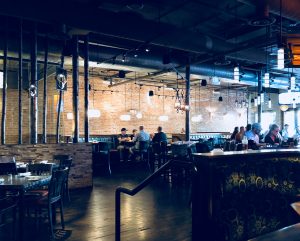 Disclaimer: Mainline Alehouse plans to be closing soon
The Mainline Alehouse occupies space in Old Town, Fort Collins nestled between two other restaurants, but it holds its own. The inside of The Mainline is a mix a modern clean design with touches of a woodsy/outdoor essence. The tree-like structures lined throughout the restaurants are eye catching. More importantly the Mainline served as the last place I would cover for OnFortCollins.com, a last meal if you will.
I ordered a shandy from the multi-page list of beers on tap, from Left Hand Brewery,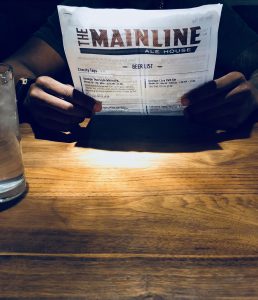 called Peach Beerllini Randler. I love Left Hand Brewery beers. The brewery is out of Longmont, Colorado and their beers never disappoint. The Peach Beerllini was very light in taste with a quiet peachy fruity flavor.
For the entrée I ordered the Salmon Primavera with pieces of Atlantic salmon, squash, zucchini, broccoli, onions, oven roasted tomatoes, rosé sauce, and mixed in a linguine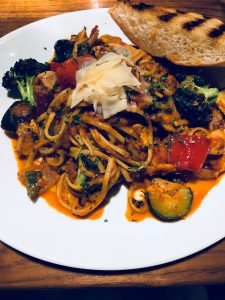 pasta. The sauce had a light buttery-tomato base taste. The flavor almost reminded me of lo mien dishes I have ordered from Chinese restaurants, which was strange but still very good. The salmon was served mixed in with the pasta and sauce as pieces. It was good but lost in the other flavors. I think it would have been better served as a filet laid over the pasta with a fried crispy skin.
Chavez got the Pork Belly Ruben with pecan smoked shoulder bacon, thousand island,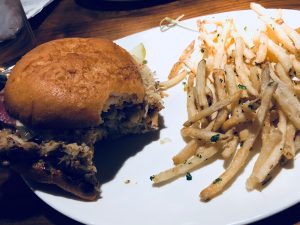 sauerkraut, melted swiss, and gluten-free bread. Although the menu list thousand island as the sauce on the sandwich, Chavez believed it to be horseradish. Whatever sauce it was, it was over-powering on the sandwich making it hard to enjoy the other flavors. The pork pulled apart easily and had simple seasoning. Chavez also ordered a house salad with balsamic vinegar, which created a light tasting salad and helped it to not taste too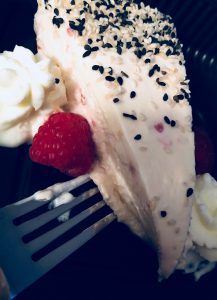 dry.
For desert, I ordered the Raspberry Cheesecake. The cheesecake was served crust-less with two fresh raspberries and two dollops of whipped cream. The piece of cheesecake looked like it had some sort of sesame seed sprinkled on top. I would have preferred a crust to help break up the heaviness and richness of the cheesecake. I also felt it had a cream cheese presence that was stronger than other cheesecakes.
I took my last few bites, wrapped up my notes from the meal, took some snaps of the restaurant, and together Chavez and I walked into the summer heat. I can't help but wonder where will we eat tomorrow? I know in Fort Collins, finding a good place is never an issue.