Slyce offers a break from the 9 to 5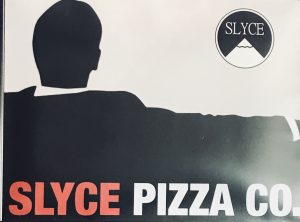 In the hustle and bustle of the work week sometimes it is hard to make time to pack all my lunches. Luckily, I work close to Old Town where great food options are within arm's reach. On the corner of Mountain Ave. and South Mason St. sits Slyce Pizza Co. Slyce offers pizza by the slice, a perfect option for my quick lunch break.
Slyce has a very local Fort Collins vibe with bicycles branded throughout their restaurant and marketing. Also, equally Fort Collins are the various local beers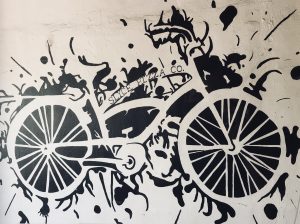 on tap. Slyce offers Vegan options and also makes whole pizzas for dine in, pick up, or delivery. Slyce serves the cravings of all bar goers looking for a late-night treat, as they stay open until 3 a.m. on Fridays and Saturdays.
The slices are big and come in many options. You could order something as simple as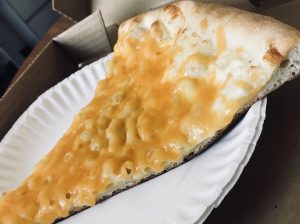 cheese or as wacky as Steak-N-Fries, a pizza with steak and fries smothered in BBQ sauce. The pizza is warmed and ready to go within a couple minutes of ordering it. I decided to order from both ends of the spectrum to get a good idea of the quality of pizza Slyce is serving.
My first slice was a pepperoni and hamburger meat pizza on a marinara base with mozzarella cheese. The slice had a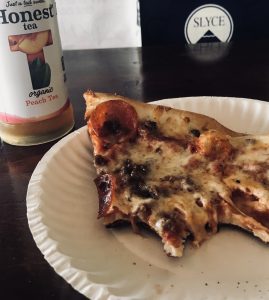 little grease but not too much. The crust was thinner and had a decent crunch. My second slice was Mac-N-Cheese. I was a little unsure about ordering this, but I am so glad I did. The macaroni was cooked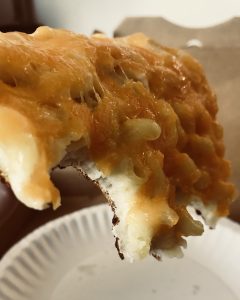 perfectly. It was soft macaroni, but not mushy from the heat or cheese. Nor was it hard or burnt. The combination of cheddar and mozzarella created melty cheesy goodness. Even with the cheese at the forefront of the flavors it was not overkill. It also was not greasy. I was pleasantly surprised.
I grabbed my to-go box and happily finished my leftovers at my desk, after all I have work to do. Is it time for your break?