June Foodie Walk in Old Town, Fort Collins -Fun, Free, and of course Food.
The Fort Collins Foodie Walk is a public event taking place on the third Friday of each month. The Foodie Walk features 12 culinary shops with interactive showcases, seasonal flavors, and tasting samples. The Downtown Fort Collins website describes a foodie as someone who loves food for consumption, study, preparation, and recreation, "Foodies wish to learn everything about food, the best and the ordinary, and take in the science, industry, history, and characters surrounding food. Culinary shops in Downtown Fort Collins focus on unique quality ingredients, locally sourced and organic produce in their shops," (downtownfortcollins.com).
With Foodie Walk punch cards in-tow (Get all 12 punches from each shop and get entered into a prize drawing), Chavez and I strolled the streets of Old Town eager to see what each shop had to offer for the month of June. Below are brief descriptions of a few of our flavorful stops.
Savory Spice Shop
At Savory Spice Shop they were offering three samples of Bloody Mary mix (mild, medium, and hot)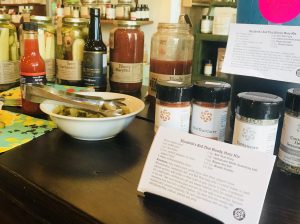 and several BBQ sauces, each of which were made with their spices. The medium Bloody Mary mix seemed milder in heat, but it was very smooth and did not have an overkill of pepper like some Bloody Marys tend to have. The seasoned pickle samples offered with the mix were sweet and tangy, leaving a little spice on my tongue. Speaking of sweet and tangy, the Sweet and Tangy BBQ sauce I tried was gluten free and absolutely delicious. It had an apple butter essence and spicy kick. It did not have the overly strong sweetness some BBQ sauces tend to carry.
Nuance Chocolate
The Nuance milk chocolate sample was rich and smooth. It was so good it made us return to this Foodie stop to purchase a chocolate bar. The dark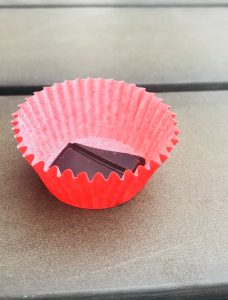 chocolate sample was also rich and left the natural lingering taste that dark chocolates tend to do. Both were melt-in-your-mouth delicious. Along with the chocolate samples, Nuance Chocolate had an employee offering a brief presentation on how they make their chocolate from scratch with cacao beans from ethical growers around the globe.
Ku Cha House of Tea
Ku Cha House of Tea was sampling out Jasmine Oolong Tea and Mango pudding. The tea had a floral scent with a light simple taste. The pudding had a flan-like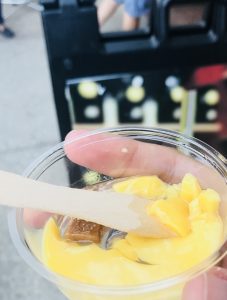 texture. In the center of the pudding was a dried square piece of mango. The pudding has natural mango flavor versus and artificial syrupy taste.
We hit up a few other Foodie stops and enjoyed the opportunity to learn more about food, flavors, and what the town we live in has to offer. This is an event, a free event, that will bring out the Foodie in anyone.
To get read more about each shop and see what their monthly Foodie samples are click here.