What do Superheroes, the Old West, and Comedy Have in Common?
"Healing yourself is connected with healing others."
-Yoko Ono
The true theme of any Fort Collins event is that no single person should be in this world alone. Sometimes, we need people to fight on our behalf, sometimes we need to fight on the behalf of others, and sometimes, we need to take a brief moment to pause it all. The hardest part is knowing how and when to make a difference.
Heroes Come in All Forms
Just about everyone knows someone who has experienced mental health issues. Whether that someone is a family member, a friend, or yourself, chances are you've seen the way mental health impacts quality of life. Sometimes, it's in the whispers of people passing by, in comments from well-meaning individuals regarding whether a person has showered or slept, or in those way-too-intense moments of judgment when someone finds out that you've cancelled an event or group meeting for the hundredth time.
Oftentimes, stigma comes from sources that don't intend to separate or ostracize members of a group, but it still happens, usually when people don't quite understand what it means to have a mental illness.
That's where Healthier Colorado comes in.
On Saturday, September 22nd, at 9 AM, Healthier Colorado is sponsoring the Heroes in Health Fort Collins event. Heroes in Health aims to help destigmatize mental illnesses and host a community wellness fair. At 9 AM, there are bike, cape and mask decorations. At 10 AM, the bike parade kicks off through town. Participants are asked to come in their best superhero costumes.
The event has partnered with organizations all over Fort Collins that aim to bring mental health on the same level as physical health in our community. You can expect a free lunch, games and activities.
Heroes in Health is happening at City Park (on Mulberry) until 12 PM this Saturday. Check the links below for registration details.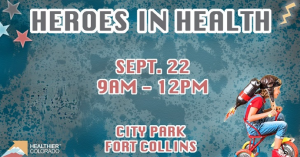 They'd love to see you riding to support mental health.
Community in the Old West
As you no doubt probably know by now, a big part of supporting each other in the community is participating in these events. While there are many great causes, sometimes you don't need a cause as an excuse to get people together under the same sky and experiencing amazing things.
The best part about Fort Collins is when one event ends, there's always another about to begin.
When you get done working towards creating a better world, you can decompress at Old West Fest. The Second Annual Old West Fest is taking place on Saturday, September 22nd, from 12 PM to 7 PM.
Wolverine Farm Letterpress and Publick House (316 Willow Street) is hosting the event, and it looks like they've got a stellar plan for the afternoon.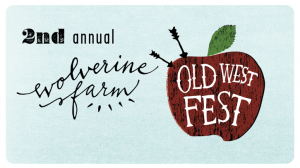 The free festival includes Maker Demonstrations (provided by Melinda Bernhardt, Patrick Richardson, and Rico Lighthouse, about Pickling and Preservation of locally grown food), a community apple cider press (bring 100 lbs of apples from 12 PM to 4 PM, pay $7, and end the day with 5 liters of pasteurized cider), the free-to-compete Ginger & Baker Pie Contest (bring two identical 9.5 inch pies and your own serving utensils—after RSVP-ing of course—and arrive by 1:45 PM), and a free-to-compete beard and mustache contest put on by the Rocky Mountain Beard and Mustache Club (I checked. It's a thing!). For the pie contest, if you want to sample and judge the contest, there is a $5 fee. There will also be live music after 4 PM.
All the info you need about the festival is in the links below.
So. Onward. Dust off those chaps.
When in Doubt, Heal
As much as I would like this last one to be all about the fun, I need to preface this portion with a way-too-sobering reality.
By the time you've gotten to this part in the post, you've likely experienced about 8 minutes of reading. Every single minute in the US, 20 people experience physical violence at the hands of an intimate partner. That means, by the time you've gotten here, 160 people experienced some form of physical violence by someone who should be their closest partner and safest haven.
Naturally, most people reading this will want to help prevent these moments from happening. And if you do, congratulations, there's a wonderful event for you.
Reader, meet Bike Laugh Heal. Mara Marek, comedian and creator of the podcast Happy Never After, has taken it upon herself to bike from New York City to San Francisco with the goal of raising $1 million to help prevent domestic violence.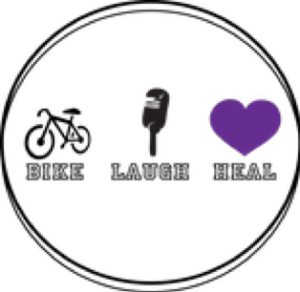 This Sunday, September 23rd, Mara will be stopping at Maxline Brewing (2724 McClelland Drive #90) in Fort Collins to join forces with 970Comedy to raise funds for a Fort Collins-based domestic violence shelter. This stand-up comedy show features Jacob Erdman, Sam Bueno, ShaNae Ross, Colin Golitko and Cody Hunter, alongside Mara Marek. The event runs from 7 PM to 10 PM.
Please check out the links below, both if you would like to attend and if you don't think you'll be able to make it, as you can still support the cause without attending.
Now go. Be someone's hero.
"Heroes didn't leap tall buildings or stop bullets with an outstretched hand; they didn't wear boots and capes. They bled, and they bruised, and their superpowers were as simple as listening, or loving. Heroes were ordinary people who knew that even if their own lives were impossibly knotted, they could untangle someone else's. And maybe that one act could lead someone to rescue you right back."
-Jodi Picoult, from her book Second Glance
For details and registration for Heroes for Health: https://secure.everyaction.com/p3Q-Oknk80KopDjZfj6y7w2
For the Facebook page for Heroes for Health: https://www.facebook.com/events/2148381662057075/
For the Old West Fest information page at Wolverine Press, including registration for the pie contest: https://www.wolverinefarm.org/event/old-west-fest-2018/?instance_id=22490
For the Old West Fest Facebook page: https://www.facebook.com/events/234650410559017/
To learn more about Bike Laugh Heal: http://bikelaughheal.org/
For the Facebook page for Bike Laugh Heal's Fort Collins event, including a way to get tickets: https://www.facebook.com/events/1898133656933898/
To follow Mara Marek's progress via her blog: https://www.maramarek.com/blog/categories/bike-laugh-heal
Crystal Angevine is a CSU Alum, who dreams big and works hard. She loves being in the outdoors, lives for her family, and tries hard to be the change she wishes to see in the world. On any given
Saturday
, she might be found knitting, doing other handcrafted arts, or playing video games. She grew up in Northern Colorado, but still loves exploring Fort Collins and the surrounding areas. What better way to do that than by telling the world about the plethora of events dear old FoCo has to offer?