Don't Forget to Enjoy the Time — Winter Holiday Cheer Ramping Up This Weekend
As anyone who has ever lived near a growing community knows, the holidays are as chaotic and varied as trying to decide exactly what to get for the people you love, no matter what winter holiday you celebrate at home. December starts this weekend, and with it, so many winter events are coming to light. Buckle up!
Beware the Cookie Cutters
Downtown Fort Collins prides itself on being a hub of activity — with everything from the lights, to the shops, to the small-town feel that allows us to escape from the busy-ness of our lives. That small-town feel is brought into crisper view by the reality that our downtown is packed with diverse and unique businesses that you can't really find anywhere else.
One of the biggest things you can do this holiday season is to spread the joy — shop local and support our local small businesses.  If you want gifts that have meaning and love put into them, downtown is where you go.
If you like to bake gifts that have meaning and love put into them, then you'll definitely want to keep reading.
On Friday, November 30, a group of participating businesses in downtown Fort Collins are providing cookie cutters with your purchases. There are ten unique cookie cutters to be found, from 9 AM to 9 PM, and the experience promises to bring warmth to your heart. The search is on!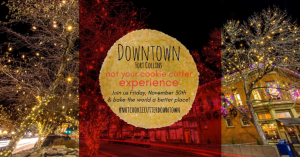 If you decide to do this, share your shopping or baking photos to social media with the tag #notcookiecutterdowntown, and you have the ability to get additional surprises!
Check the website here for more information about which businesses are involved!
Elves on Shelves
Chances are you've experienced quite a few memes regarding Elf on the Shelf, as well as its many parodies (some of which are absolutely hysterical). But for many, this is a fun holiday tradition that brings a lot of magic and wonder to people's hearts. So, it's no mystery why Front Range Village Shopping Center would jump on the opportunity to make the world brighter this holiday month.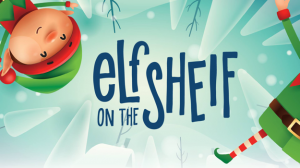 Here's how it works: between now and December 13th from 10 AM to 1 PM, you can try to find the elves hidden at participating stores. First, you'll need to print the form on the Facebook page (here) and use it to find and write down the names of each elf you find. When the form is completed, you turn them into Learning Express Toys by noon on December 13th in order to be entered to win one of the three Front Range Village Prize packs.
Each store has an elf each day, so no worries if you're late to the game or don't make it out each day.
SOAP!
It would be a lie if I told you that this next event misled me at first. The Winter SOAP Show made me think of a crafter's market, and I was super excited anyway. But when I researched more, I fell even more in love with the idea of this show.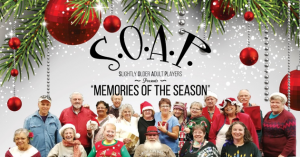 SOAP stands for Slightly Older Adult Players, and they are presenting "Memories of the Season," a comedy show hosted by the City of Fort Collins Recreator. This is an annual winter show, with comedy skits and music by the SOAPTones. Tickets are $6 a person, and can be purchased in advance either at the Senior Center or by calling the number on the Facebook page here.
The performances take place at the Fort Collins Senior Center, and there are three available (November 30th from 1:30 PM to 3:30 PM, November 30th from 7 PM to 9 PM, and December 1st from 2 PM to 4 PM).
Farming Never Ends
A few weeks ago, the summer season wrapped up, leaving many wishing for warmer weather and missing their supplies of fresh produce and other farm goods.
No worries, though, because there is the Winter Farmers Market on Saturdays from 9 AM to 1 PM at the Opera Galleria in Downtown Fort Collins. The Market runs from now until April 6th. Some dates in December (the 15th and 22nd) are open until 3 PM, as there are still plenty of gifts and products to find for many people on your list.
More than 40 vendors will be at the market, with everything from soaps (locally made—the real ones this time), to wine, to chocolate and cheese, to local vegetables and meats. If you are a vendor, or know one, there is an application open that remains open throughout the season, though approval is on a case-by-case basis. For more information, check it out here.
As if that wasn't motivation enough to check it out, you should also make note of Saturday, December 1st. You get to Meet the Farmers of the Winter Farmers Market. Farmers is used extremely loosely here, and from 9 AM to 1 PM on Saturday, you can meet the people behind the booths, those who make the cheese, farm, ranch, bake, roast and more at the Opera Galleria.
Santa's on the Move
For those who celebrate holidays that involve Santa, don't think that he's been forgotten in this list of events. Whether you want to visit Santa at the Bath Garden Center, have breakfast with Santa at The Farm, take pictures at Wagz, or participate in a shopping quest, this weekend will have something fun for you.
Santa has a lot of places to be this December. Fridays from 2 PM to 5:30 PM and Saturdays from 9 AM to 11:30 AM, Santa will be at the Bath Garden Center. It is $10 a family to visit Santa, and you have the option to purchase professional photos from the former of The Photo Shop (Karen Yovanoff), starting at $35. Payments are made at the event, and here are no tickets. Find it here. These visits continue until December 22nd.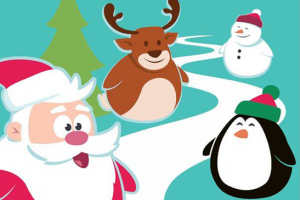 If you don't want to see Santa amongst the plants, you can have Breakfast with him at The Farm at Lee Martinez. Saturday, December 1st and Sunday, December 2nd, marks Santa's annual visit to The Farm. You can meet the big guy, enjoy breakfast and hot chocolate, participate in hayrides and visiting the animals, and enjoy a special holiday gift. At this time, Sunday morning is full and no longer accepts registrations, though, Saturday still shows promise! The event runs from 9 AM to 10 AM each day, and tickets run $10 a person. Santa will then be on The Farm from 3 PM to 6 PM those days as well, though, admission is not required for the second event. Get your tickets through this Facebook page.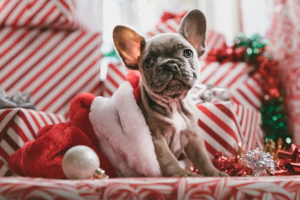 Some of us aren't parents to human children yet, and maybe we never will be (which is more than ok). Sometimes, though, those of us who aren't human parents are fur-baby parents, usually in the form of dogs and cats, but for anything from hamsters to betta fish, to reptiles and amphibians (are those scale babies?). Well, some fur babies have the opportunity to meet Santa at Wagz Pet Market and Grooming, brought to you by Joseph Andre Photography and Wagz. From 12 PM to 4 PM on Sunday, December 2nd, you can take your dog to meet Santa and get some photos. Wagz is collecting winter accessories, food, and monetary donations for Homeward Alliance in addition to allowing you to have this opportunity. The donations will be delivered to the Murphy Center on Homeless Awareness Day on December 8th. Any products to be donated that are purchased in store will be 20% off that day. Message on the Facebook page here to book a time, since space is limited and walk-ins are only accepted upon availability.
This next one isn't really visiting Santa so much as finding him! The Downtown Fort Collins Business Association is hosting the Downtown Santas Shopping Quest (as presented by Aetna). This is an annual event that entails searching high and low through the businesses of downtown for the Santa Claus Figurines on now through December 16th. Much like the Front Range Village event above, this one will have a chance to win one of three gift cards redeemable at over 150 Downtown Business Association member businesses in Old Town. It is free to the public to participate. You'll grab a Quest Sheet from a participating business, fill it out, and drop it off at any participating business. Prizes range from $100 to $500. Check the site to see who is participating.
Winter Festivals and Holidays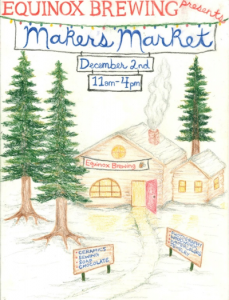 If scavenger hunts and Santa aren't on your list for entertainment, and you would rather go hunting for gifts to give, look no further than the Equinox Makers Market on Sunday, December 2nd. Equinox Brewing is hosting, and there will be all sorts of handmade goods by local artists. This is another place where the real soap comes in.
There will be photography, painting, chocolates, soaps, sewing, ceramics, woodworking, weaving jewelry, and of course, fresh, tasty beers. Equinox opens at 11 AM and the vendors will be set up until 4 PM. And outside the building, Atacolypse Now will be service fresh tamales.
Check out the page!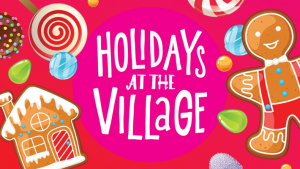 Even if you don't want to visit Atacolypse Now and Equinox Brewing, there's still parties this weekend. Fortified Collaboration and Front Range Village Shopping Center are hosting Santa and his sleigh, in the courtyard of Front Range Village Shopping Center on Saturday, December 1st at the Holidays at the Village event. The courtyard will be unrecognizable, as there will be a gingerbread village, ready for selfies and groupies. There will be holiday crafts and activities, hot cocoa, a gift wrapping station, and events in the stores around. Santa will arrive via carriage by 1 PM. This is the perfect chance to find those pesky elves!
Plan your day here.
So no matter what you fancy your weekend looking like, there are plenty of reasons to go out and enjoy the beginnings of this holiday month. Above all, no matter what winter holiday you and your family celebrate, please take a moment to spread love, light, and cheer to those around. It really makes a difference, even to those people you don't know. Happy December, everyone! See you next post.
Crystal Angevine is a CSU Alum, who dreams big and works hard. She loves being in the outdoors, lives for her family, and tries hard to be the change she wishes to see in the world. On any given
Saturday
, she might be found knitting, doing other handcrafted arts, or playing video games. She grew up in Northern Colorado, but still loves exploring Fort Collins and the surrounding areas. What better way to do that than by telling the world about the plethora of events dear old FoCo has to offer?