Brewery News, Charitable Good Causes, Always New Experiences — Fort Collins Keeping Busy in November
A Visitor Comes to Stay
While Fort Collins is known for its craft brewing, and as a leader in the craft brewing scene, we're still always happy to see new faces in our midst.
Founders Brewing Company is based out of Grand Rapids, Michigan. The company was founded in 1997, and eventually became a welcoming experience for all. In the last 21 years, the company has, well, come of age (so to speak), and is branching out to introduce some of its beverages in other states.
Enter: The Founders Brewing Company Welcome Party at Black Bottle Brewery and at The Mayor of Old Town. Both locations will be introducing the All Day IPA (a balanced ale with an array of malts, grains and hops), Solid Gold (premier lager with high quality ingredients), and Breakfast Stout (a beer for coffee lovers, double chocolate coffee oatmeal stout).
On Monday, November 12th, representatives will be at Black Bottle Brewery from 5 PM to 7 PM with all sorts of gear (while supplies last), and you can help welcome those beers above to the state for good. On the same date, there will be other representatives at The Mayor of Old Town from 6 PM to 9 PM. You can spend the evening learning more about the company's history and trying one of their beers.
Find both events here: https://www.facebook.com/events/2022903568000159 and https://www.facebook.com/events/496046864212613/. For more about Founders, visit here: https://foundersbrewing.com/

Meatless Mondays in Fort Collins
Even though Christmas décor is on the shelves of most retail stores, we still have Thanksgiving looming on the horizon. Most readers are currently experiencing the following symptoms: watering mouth, rumbling tummy, an intense desire to gorge themselves on meat and stuffing and gravy and potatoes, and goodness knows what other traditions they share with their families (like cranberries?).
However, most Thanksgiving feasts contain massive amounts of meat products. While that is not necessarily a bad thing (there is a lot of research for both sides of the discussion), there is a movement throughout the international scene called Meatless Mondays.
Meatless Mondays functions on the idea that skipping out on meat for one day of the week is good for your health and good for the planet. How, you ask, do people marry this idea to that of Thanksgiving?
Well, this event is hoping to do just that. Meatless Monday is also the name of a monthly event at Wolverine Farm Letterpress and Publick House (in the upstairs), and this month, the focus is on Thanksgiving meals.
Sarah Morales, RD Nutritionist, will be presenting a program that involves delicious feast items and learning more about the benefits of plant-based eating (as they pertain to your health and environment and fitting into your budget). It is important to note that some recipes are vegan (contains no animal products), some are gluten-free, and some do include dairy.  There will be food and door prizes at each class.
Featured recipes this month include Vegan Shepard's Pie, Roasted Winter Vegetable Salad with Feta, Pumpkin Seeds and Basil Vinaigrette, Potato Leek Soup, Pumpkin Chili, Cranberry Apple Quinoa Salad, and Butternut Pumpkin Tofu Pie. The Letterpress also has beer, wine, and other beverages available in the downstairs area.
Tickets are $35 a participant, likely for the meal and space, and the event runs from 6 PM to 7:30 PM on Monday, November 12th. Check the event page (https://www.facebook.com/events/502813113525857/) for more information and tickets.
Creatively Living
Anyone who has ever relied on their ability to create for their livelihood (writers, artists, etc) knows that it's hard to maintain your life when you don't know where or when you'll get paid next. It can be a very nerve-wracking way to go about your passion.
That's why the Larimer Small Business Development Center Network (SBDC) is hosting Small Business After Hours- Diverse Income Streams for Creatives, hosted in conjunction with Downtown Fort Collins Creative District and Franklin Taggert Courses, Programs and Workshops.
You can learn about opportunities to make money in addition to your main income. This workshop will highlight teaching opportunities (in-person and online), Licensing images, music and design, art and craft marketplaces, content marketing, among many other possibilities. You will receive a resource list and suggested next steps, along with links to specific opportunities.
This event is Tuesday, November 13th from 4 PM to 6 PM at Larimer SBDC. The session is free but does require registration. There will also be drinks and snacks.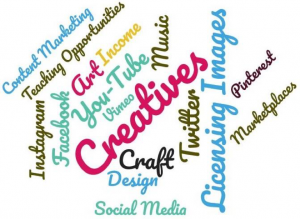 For more information, check out the Facebook page here: https://www.facebook.com/events/920076544862455/
And for more information about SBDC: http://www.larimersbdc.org/
Babies and Beer (No Not Together!)
I know a lot of new parents—moms, dads, and caregivers galore! First things first: Congrats on your bundle of super-happy-frazzled-ness. Second things now: you don't have to give up spending time with fellow parents (of whatever sort you can find).
Lace & Lager hosts Babies & Brews, an event that started with a small group of moms who took a prenatal swim class together. It has grown a lot since those serendipitous class days, and they still are there to celebrate the beer, the babies, and the birth stories.
This Wednesday, November 14th at 4:30 PM head to the taproom of The Hop Grenade if this is your kind of thing. It may start at 4:30, but you can come whenever. Check the party page out here: https://www.facebook.com/events/299767404139869/
Road to Ski-ness
It seems, lately, that my posts would not be complete without telling you about some charitable events. This event benefits Diamond Peaks Ski Patrol. It's the 2018 Season Kickoff Fundraiser at Road 34!
Diamond Peaks Ski Patrol is a backcountry patrol that serves Cameron Pass near Fort Collins. They offer search and rescue services, as well as avalanche education courses. Diamond Peaks arose out of a need to meet the characteristics of Cameron Pass that were not originally defined by the National Ski Patrol. There were over 100 miles of trails not maintained on a regular basis, as well as no phone or marginal emergency radio communications. As a result, the area needed specially designed and adapted equipment and required negotiations with the U.S. Forest Service. Since the patrol was imagined in 1990, they've become a great resource for the area. Check them out here: http://www.diamondpeaks.org/
On Wednesday, November 14th, from 7 PM to 10 PM, at Road 34, you can enjoy classic ski movies and some beer. Tickets are $15 a person, and include one beer (courtesy of Road 34), one raffle ticket, and a custom logoed Voile ski strap (from Never Summer Outdoor School and Dave Katz). This benefits the volunteer Diamond Peaks Ski Patrol. See the Facebook page here for the tickets: https://www.facebook.com/events/270716653583233/
Holiday Lighting: The Next Wave
As we move towards the winter holidays, brace yourself for all the lighting events that Northern Colorado (and even greater Colorado) offers. This next one is brought to you by the Budweiser Brewery Experience.
The Brewery Lights at the Fort Collins Brewery and Biergarten kicks off on Thursday, November 15th. This free, family friendly event begins at 6 PM with a lighting ceremony (I hear there's a tree). In addition to the free option, there are several paid options such a Bud Lights & Brewery Lights, Fire Pit Fun, and the Brewery Express Train.
The Bud Lights & Brewery Lights includes a 45-minute Brewery Tour, a Brewery Lights glass for adults and tumblr (as spelled on the Budweiser site) for kids with 1 fill, $1 off fills with glass/tumblr at the bar during the event, and a tour of the brewery at night to enjoy the lights to and from the brewery. Guest who book online will get a token for food, drinks, or activities during the event.
The Fire Pit Fun Package allows you to reserve a private fire pit for up to six people. This includes complimentary soda and cocoa, s'mores kit, and 12 tokens that could be used for food or malt beverages. Fire pit access is generally allowed for 4 hours.
The Express Train is $5 and does not run on December 7th through the 9th.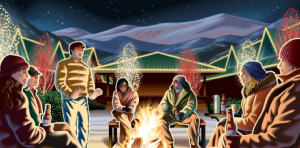 This annual event has new features! If you want preferred parking, you can pay $5, and there's a kids' craft area. Thursday nights are also theme nights, ranging from 80's ski theme to sci-fi to ugly sweater. There's more information about the themes on the website. Sunday also provides Family Night Sunday with live music.
This event is recurring and will run every Thursday through Sunday from 5 PM to 9 PM until December 30th. Please note they will be closed on Thanksgiving.
Check out the website here for more information: https://www.budweisertours.com/locations/brewerylights/events-calendar.html (you'll need to scroll down to the Fort Collins event).
Cache La Poudre, Cash for CPRW
Here's a story most Fort Collins residents are familiar with: 2012, the High Park Fire and Hewlett Gulch Fire burned almost 90,000 acres of the Poudre Watershed. This damage meant a need to bring many together to plan the best way to restore the area. From this idea emerged the Coalition for the Poudre River Watershed (CPRW). This group works across the entire watershed for the Poudre (from the headwaters to the confluence with the South Platte River) in order to continue recovering from the disasters of 2012, as well as plan how to respond in the future.
This nonprofit group still needs to fundraise though, and this is where you come in. CopperMuse is the location of the CPRW Fundraising Night. The night features $6 happy hour specials, and 18% of all proceeds are going to be donated to CPRW to help continue this environmental stewardship.

So, come enjoy dinner and drinks at CopperMuse from 6 PM to 9 PM on Thursday, November 15th and help protect and maintain our local environment.
Check it out here: https://www.facebook.com/events/575867486199308/
Identity is Hard
It isn't hard to find stories that are heart-wrenching and close-to-home. The last event of this post lends us a reminder that, while the holiday season is filled with family and love for many, there are many who also don't necessarily have the same access to loving spaces.
The Lyric is bringing us an advance screening of Boy Erased, a movie featuring Jared, the son of a Baptist pastor in small-town America, outed to his parents when he's 19. He's faced with an impossible choice—go to conversion therapy or be permanently removed from his family, friends, and his faith.  The story is of identity, and how hard it is to find yourself while having to question every aspect of who you are.
Boy Erased is based on Garrard Conley's 2016 memoir and features Lucas Hedges, Nicole Kidman and Russell Crow. It premiered at the Telluride Film Festival, with an international premiere at the Toronto International Film Festival, both in September 2018.
Tickets are $9.50 for general admission and $7.50 for students and seniors over 65. The show is Thursday, November 15th, at 7:15 PM, at The Lyric.  Find it here: https://www.facebook.com/events/340189599872265/
So, take in a movie, do some charity, enjoy some drinks, you do you, and do it safely! See you next post!
Crystal Angevine is a CSU Alum, who dreams big and works hard. She loves being in the outdoors, lives for her family, and tries hard to be the change she wishes to see in the world. On any given
Saturday
, she might be found knitting, doing other handcrafted arts, or playing video games. She grew up in Northern Colorado, but still loves exploring Fort Collins and the surrounding areas. What better way to do that than by telling the world about the plethora of events dear old FoCo has to offer?