Colorado Poet Diana Khoi Nguyen Shortlisted for National Book Award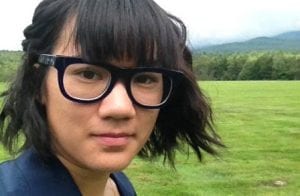 Ghost Of is Diana Khoi Nguyen's remarkable award-winning poetry debut; this collection is an extensive, jarring rumination on the loss by suicide of her younger brother — the ghost and principal muse of the work. Nguyen's voice is augmented by family photographs which combine with her poetry to produce innovative multi-media forms; these give a deconstructed dimensionality to her tender lamentations. The result is nothing short of ingenious and sincere vulnerability, a portal into deeply personal histories.
Diana Khoi Nguyen's work is assuredly appreciating a much larger audience thanks to its most recent acclaim. After examining the initial longlist of ten poets nominated for the National Book Award in Poetry one might notice that Diana Khoi Nguyen is one of three debut poets, one of two poets published by small presses, and the only Coloradan poet of the total ten poets nominated on the longlist. The shortlist was announced today, and Diana's Ghost Of is one of five total nominees; the other finalist nominees for the award:
Rae Armantrout, Wobble
Wesleyan University Press
Terrance Hayes, American Sonnets for My Past and Future Assassin
Penguin Books / Penguin Random House
Justin Phillip Reed, Indecency
Coffee House Press
Jenny Xie, Eye Level
Graywolf Press
I initially interviewed Diana as a part directly following her work's release in April (read the article here); following this news, Diana agreed to further inquiry and discussion of her artwork.
I'm sure receiving news that your debut poetry collection Ghost Of is nominated for the National Book Award has been a landmark moment for your career as an emerging writer. Can you describe your overall reaction to the work's nomination?
It is embarrassing to admit that I immediately burst into tears while walking two dogs: one big, one small. The news came to me indirectly via simultaneous multiple texts from different friends congratulating me — I was confused, then checked the internet and burst into tears. Tears of gratitude for the work connecting with strangers beyond my imagination, tears of relief, a marker that I was underway in a major goal of my life: a serious dedication of life efforts to an attempt at art-making.

The subject matter of Ghost Of is profoundly personal. As a poet, how do you react to such raw vulnerability being shared on such a public scale?

With extreme discomfort. It's a conscious, constant push to be comfortable — because there is growth in the process. It was my intention to share this personal and familial grief in a poetry-public way with the hope of connecting with others-in-grief. To feel less lonely, to belong via words, the imaginations of others.
How has writing Ghost Of affected your grieving process?  
It is the grief process, part of it. Writing it enabled me to unlock the emotions I had kept dammed for over a year since Oliver's death. I sobbed throughout the writing of the triptychs, and return to that emotional state every time I read those poems at readings. Weeping is not something I am fearful of, as I did previously; it's a reminder I'm able to feel, strongly.
At times, Oliver's clipped absences from family photos are filled with poetry that speaks directly to him. Can you describe the process and perhaps the after-effects of reaching toward your brother in these moments?

In the months after his death, I felt immobilized, devoid of any discernible feeling. Two years prior to his death, he had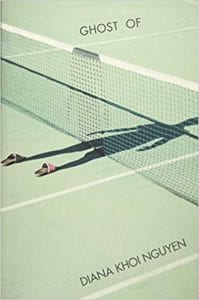 cut himself out of family portraits that hung on the walls of our family house, terrible harbingers of what was to come: he cut himself out of photos before finally cutting himself out of the fabric of life. The marred photos hung in the walls after the cutting, and also after his passing — terrifying representations of death. Around the time of the first year anniversary of his death, I forced myself to confront these images face to face. I scanned them, sat with them well into the late hours of the evening, and immense emotion swelled inside me. There was this desire to reclaim the artifact, to drain them of their awful power: I began to fill them in, to speak to my brother in ways I wish I had years before his death, before he cut himself out of frames. Doing so helped unleash our shared lifetime of emotions, memories, and histories — it was a way to be with him in the past, present, and future (if the dead have a future).
In our last interview you mentioned you were a poet by necessity, because "[you] can't not write." As a poet of compulsion, what is it that compels you to the page again and again? 
Routine, habit. Twice a year: once in summer and once in December (around the anniversary of his death), I write in 15 poem-a-day marathons with close friends around the country — as a forced, pressurized praxis. As someone who is prone to being an object at rest, I believe I would never write a poem if it were not for this biannual marathon. Yes, I can't not write, but it's also really hard to write, so this praxis helps bridge the gap.
The road to success, especially for emerging poets, is an often frustrating, mysterious process fraught with rejection. How did you navigate the publishing process to get to this point? What advice do you have for other writers working on debut works?
I did and still do think of it as a filing of taxes; apply for every opportunity and submit to as many places as you can, given emotional, financial, temporal (and other) resources. Apply, submit, and forget you did so. When (and it is a when) good news comes, the surprise of it is bright. Try not to fall into that vortex of obsessively worrying about possible rejection, etc. I wish good feelings at all times, for all persons. We cannot make acceptances happen, but we can fold the uncertainty of submission into a positive way of being. Self-care first, but never stop filing your poetry taxes.
The National Book Award category in Poetry is an essential category that acknowledges the achievement of poets and the importance of poetry. The category disappeared altogether for the years 1990-1991. In a political climate where funding for the arts are being cut left and right, what words do you have advocating for the vital importance of its continued support?
While poetry may not appear as essential as those matters which directly enable physical and emotional safety and security, I would argue that poetry — and the arts in general — are crucial to the safety and security of all persons in a nation, especially one as divided as ours today. Art captures subjectivities, personal, familial, and social histories — reminding us to feel, to wonder, to hold in our minds the shared imagination of another. Art distinguishes us as a sentient species.
The 69th National Book Awards Ceremony will be held on November 14th.
To read the collection's namesake poem "Ghost Of" click here.
Purchase your copy of Ghost Of here.
Bianca Glinskas hails from sunny Southern California, where she studied English and Creative Writing at California State University of Long Beach.  Bianca's work has appeared in literary magazines including 
Knock Your Socks Off,
Ordinary Madness,
 and 
Glass Mountain Magazine.
Bianca's column arose as a natural attempt to answer the call of Denver's lively, pulsating literary scene. When she isn't reading or writing, Bianca enjoys doing yoga, playing viola, exploring the outdoors, drinking at breweries, and holing up in coffee shops for hours on end. For any inquiries regarding Bianca's coverage of Denver's literary scene, please do not hesitate to contact her directly at 
bglinskas@gmail.com
.