4 Places I Love in Colorado
I'd like to talk a little about some places I return to fairly often.  Places that I've found by driving where I had been to with my dad when I was younger or places I've come upon just exploring new roads with no agenda.  Some haven't changed much over the years, thankfully. Others are getting more crowded. Crowds can be good for the economy, but bad for everything else.  I do like that more people seem to be trying to appreciate what's out there, but it comes at a price. Some of us like to find the quiet places away from the crowds and those places are harder to find now.  Sometimes, even way up in the mountains where I was hoping there'd be only a few locals around, I come to a parking lot full of cars. So I leave. I don't dislike the people. I just want some space and peace and quiet.  I think a lot of us want that. Too many of us at once, in fact. I see a fair number of people like me, who travel alone or with other quiet friends who just want to enjoy nature without running machines or making noise. How do people like us share nature with people who like to run ATVs and UTVs and loud boats and diesel trucks and generators and so on?  Some campers and outdoor recreationists make so much noise and don't seem to have a common courtesy for those around them. It's only getting worse every year and I am admittedly saddened by it. Here are some places I hope to continue visiting in the years to come, so please be respectful if you visit these places as well. All we're asking for is to be relatively peaceful when you do. 
A somewhat obvious destination is Rocky Mountain National Park.  30 years ago or so, my dad started taking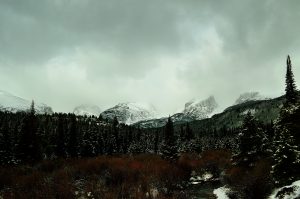 me hiking in the park. I loved it.  I don't hike like I used to, but I've been on most trails in the park, some several times.  You can do a short hike, a day hike, or backpack through the park for days. Since there are no grizzly bears in Colorado, there are few dangers on the trail other than adverse weather or your own folly.  I've hiked alone many times with no incident, but I would not recommend that for anyone who is inexperienced or vulnerable. Hiking is definitely the big lure of the park, along with elk viewing and some other wildlife if you're lucky.  I've always loved seeing the elk; either in the fall or in the early summer when they have babies and velvety antlers and gorgeous darker brown coats. The peaks are incredible all year round and there are winter sports to enjoy. Visit, but don't crowd it.  Use courtesy on the roads and trails and remember to share space. Pictured is the Bear Lake area of Rocky Mountain National Park.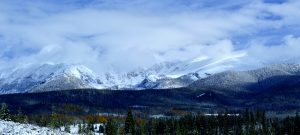 In the Northern mountains, Between Fort Collins and Steamboat Springs, is North Park.  A huge valley surrounded by mountains. Slightly overpopulated, but much less than Estes Park; it still has the feel of a place that hasn't been changed too much by the last decade.  There is mostly a lot of ranch land and a small town called Walden, but Colorado State Forest State Park offers outdoor recreation like fishing, hiking, and camping. I love the huge open space mixed with mountains and forest.  A beautiful landscape with some wildlife like moose and elk. Pictured is Colorado State Forest State Park at the foot of the Medicine Bow range.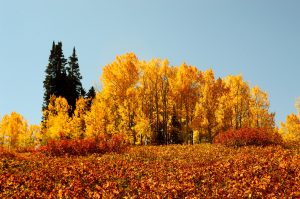 Buffalo Pass is a rough road that goes from North Park over to Steamboat Springs.  An alternative to Rabbit Ears Pass for those with patience and a tough vehicle. I've found great camping on the North Park side, in both established campgrounds and dispersed spots.  The wildlife is good as I almost always see something and hear coyotes at night. My friend and I saw a lot of cougar sign last time we went. There are incredible views of North Park as you climb Buffalo Pass and of Steamboat Springs on the West side.  In the fall, I've seen some of the best colors on the west side of the pass. Incredible. Please use the area respectfully and don't leave trash at your camp. Pictured is the stunning fall color on the west side of Buffalo Pass.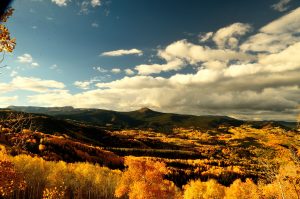 Another of my favorite places is the Flat Tops Mountains.  South of the Steamboat Springs area and north of I-70, it's a gorgeous setting with some great forests and fewer people than the front range and ski towns.  The colors in fall are wonderful and there is plenty of dispersed camping. I love it there. Places like that give me hope that I can still go somewhere in Colorado where it doesn't feel like crowds and commerce are taking over yet.  A scenic bi-way that traverses the range gives incredible views of some landscapes that still feel like the old west, and some big forests could still hide animals that we thought were gone. Pictured is the incredible landscape and fall colors looking west from somewhere on Flat Tops Scenic Bi-way.
These are places I go for peace and to try to bridge the gap between now and a time before things got so hectic in life.  If and when you go to the places you love in the mountains, remember that others are nearby and trying to enjoy peace and solace.  Respect those around you and don't make too much noise and definitely don't leave trash at your campsite. There is plenty of trash and noise in the city, so we don't need to take it all to the mountains as well.  Let's keep Colorado beautiful and livable for everyone.
As a Colorado native, Russell prefers to spend a lot of his free time in the high country avoiding the crowds and finding new adventures or returning to some of his favorite places for peace and scenery.  He was born near Fort Collins on the Front Range and fell in love with the mountain skyline where the sunrises and sunsets are incredible.  Although he's traveled the Rockies north to Canada, there's no place like home.  Colorado has so many diverse landscapes that it will take years to explore it all.  He finally got a camera to take on his adventures so he could share what he'd seen on his outings and photography quickly became his favorite hobby.  Since he learned to drive, he's been getting to know the back roads of Colorado as he looks for wildlife, scenery, and new places to camp.  A free thinking wanderer, he likes to share his experience and photographs with others who revere Colorado's beauty.