You're in for a Treat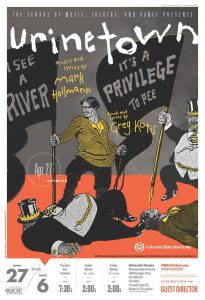 Some of the most intense events are the ones hardest to find. By intense, it means, "raucous times, side-splitting humor, and a little bit of toilet humor that even adults can enjoy."
Colorado State University's theatre department put on the musical Urinetown (written by Greg Kotis), with guest director Richard Cowden at the helm. Cowden is currently the coordinator of Graduate Programs in Arts Administration at Castleton University in Vermont. He's a former coordinator of performing arts at Metropolitan State University in Denver, as well as one of the artistic directors at Denver's Edge Theater Company.
With a talented director, all they needed was a talented cast. And talent there was, from all members of the cast, from lead performer Jake Cuddemi, who played protagonist Bobby Strong, to Bruce Gammonley, playing the antagonist Caldwell B. Cladwell, to every character in between on the moral charts.
It was a good time, with well-delivered lines, well-defined characters, and well-timed breaking of the fourth wall. As you might know, this means there were several instances of the characters speaking directly to the audience, planned in the script, and executed flawlessly in the style of satirical thinking.
One of the biggest things to remember about Urinetown is it is a satire– examining all those things about our world that are usually serious and heavy. Focusing on a dystopian-style world that has been in drought for twenty years, the show examines ideas of revolution, capitalism, bureaucracy, corporate mismanagement and the like, by restricting toilet usage to only certain areas of town, introducing fees to pee, and spotlighting the corporation's part in those actions, as well as what can happen if nothing is done to solve the problems at hand.
Please note, the show is not exactly a General Audience program for adult themes and violence, but ages 12 and up could likely find quite a bit to enjoy.
The show runs April 27 through May 6, with shows Thursday through Saturday at 7:30 PM, and Sunday May 5 at 2:00 PM. Tickets are free for CSU students, $8 for under 18, $16 for seniors (62+), and $18 for general adults. You can find more information and order tickets here: https://theatre.colostate.edu/events/urinetown-musical-greg-kotis-2018-04-27/
For more information about what the Colorado State University's Center for the Arts is up to, follow this link here: https://theatre.colostate.edu/
Crystal Angevine is a CSU Alum, who dreams big and works hard. She loves being in the outdoors, lives for her family, and tries hard to be the change she wishes to see in the world. On any given
Saturday
, she might be found knitting, doing other handcrafted arts, or playing video games. She grew up in Northern Colorado, but still loves exploring Fort Collins and the surrounding areas. What better way to do that than by telling the world about the plethora of events dear old FoCo has to offer?