'Tis the Season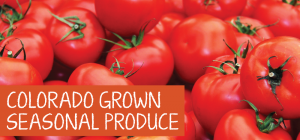 One of the best things about spring in Colorado is the availability of fresh produce as we move into the summer growing season. It doesn't hurt that Fort Collins focuses so much on health and wellness.
If you've ever been around Fort Collins in the summer, you know that there are events galore. But one event that many frequent every growing season is the Fort Collins Farmer's Market. Located on Harmony and Lemay in front of Ace Hardware, the market prides itself on staying open rain or shine, bringing various goods and produce to the people of Fort Collins.
Many of us have grown up with locally grown food on our tables, and oftentimes, we prefer it. The Fort Collins Farmer's Market gives us the opportunity to have that. The Colorado Agricultural Marketing Cooperative was organized in 1984 as part of a movement to help locals support local agriculture, in the face of continued housing and shopping development along the Front Range of Colorado. Each vendor is expected to contribute skills to ensure the success of the market. The markets are limited only to Colorado grown produce.
Strolling through the Farmer's Market is a good way to find things you never realized might need local support- everything from vegetables/fruit to meat, from body care to pet care. There's salsa, kombucha, dog treats, horse treats, BBQ sauce, and so much more to be found, if you just care to enjoy the weather on a good day.
Days of operation include Sundays (now through November 11) from 10 a.m. to 2 p.m. and Wednesdays (June 14-Sept 26) from 10 a.m. to 2 p.m. It's a good idea to browse through the links below so you can plan your trip- there is simply just so much to see and learn. The general website also has a crop calendar that lets you know what produce to expect to see during which month. You can even sign up for their newsletter!
Hope to see you there!
For information on market locations: http://www.fortcollinsfm.com/market-locations/
For information about vendors: http://www.fortcollinsfm.com/vendors-new/
For information in general: http://www.fortcollinsfm.com/
Crystal Angevine is a CSU Alum, who dreams big and works hard. She loves being in the outdoors, lives for her family, and tries hard to be the change she wishes to see in the world. On any given
Saturday
, she might be found knitting, doing other handcrafted arts, or playing video games. She grew up in Northern Colorado, but still loves exploring Fort Collins and the surrounding areas. What better way to do that than by telling the world about the plethora of events dear old FoCo has to offer?