The Sun Rises on the Irish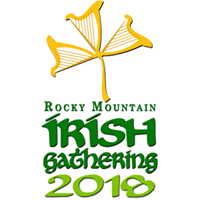 Heritage plays a big role in many people's lives. We care about where our families and our blood comes from. We care that we have family traditions, and we oftentimes want to feel like we belong, like we've found "our" people.
And sometimes, we just really obsessively love a culture- such as the Irish- and all the quirks that come along with it.
On August 3rd, 4th and 5th, the Rocky Mountain Irish Gathering is celebrating 10 years of telling a story: the story of Ireland. They pride themselves on being family fun, with informational exhibits to showcase Irish history, a kid's zone, and vendors/entertainment of the Irish kind.
Their schedule is packed with some intense entertainment– starting on Friday, August 3rd, at 5 PM, they open their gates for a meet-and-greet and one-hour tribute to the Irish rock band, The Young Dubliners. The band also has a performance Friday night from 8:45 to 10 PM. Entry fees for this night are $5 from 5-7 PM, and then $8 after 7 PM.
Between the two events with The Young Dubliners, you can enjoy the musical renderings of drum and pipes by the Mile Highlanders, pipes and guitar by renowned soloist Eric Rigler and guitarist Dirk Freymuth, and get your punk on with The Prodigals.
Other than The Young Dubliners, the others groups will be performing Saturday and Sunday as well. Added to the musical lineup will be House of Hamill, The Byrne Brothers, Cleghorn, and renowned Irish traditionalist musicians Adam Agee and Jon Sousa. You can also find dance performances by Colorado Celtic Steps School of Irish Dance and McTeggart Irish Dance.
These events will occur on Saturday, August 4th, from 10 AM to 10:30 PM, and Sunday, August 5th, from 10 AM to 7 PM. During these times, admission is $12 a head, with children 10 and under entering free.
This is by no means an exhaustive list or description of the events you can expect at the festival. Please follow the links below for more information.
This green event is located around Civic Center Park in Fort Collins. They are encouraging guests to use the recycling bins located throughout the festival and ride the Max bus system or ride their bikes. There are plenty of bike racks available in the nearby parking lots. See the map in this post to help you navigate your way.
Don't forget, too, that the Rocky Mountain Irish Gathering is raising money for the Rocky Mountain Irish Wolfhound Association. If you bring exact change on opening night from 5 PM to 7 PM that entire $5 is being given directly to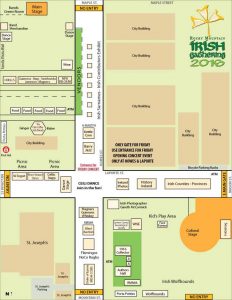 RMIWA.
The Gathering is still looking for volunteers, as well, so if you have the time and the mind, please fill out a quick application to let them know you are interested.
For Festival Info, click here: https://rockymountainirishgathering.com/festival-info/
For Entertainment info, click here: https://rockymountainirishgathering.com/entertainment/
For Rocky Mountain Irish Wolfhound Association info, click here: https://rockymountainirishgathering.com/rmiwa/
If you want to become a vendor, click here: https://rockymountainirishgathering.com/vendor-info/
For their Facebook page and more info on goings-on unfolding in live action: https://www.facebook.com/RockyMountainIrishGathering/
Crystal Angevine is a CSU Alum, who dreams big and works hard. She loves being in the outdoors, lives for her family, and tries hard to be the change she wishes to see in the world. On any given
Saturday
, she might be found knitting, doing other handcrafted arts, or playing video games. She grew up in Northern Colorado, but still loves exploring Fort Collins and the surrounding areas. What better way to do that than by telling the world about the plethora of events dear old FoCo has to offer?