Sweet Sounds of Sunday Night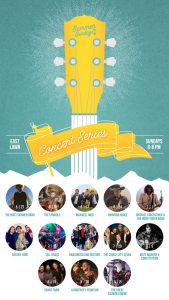 A lot of people get to Sunday evening and wonder where their weekend went. You might feel like you didn't get everything done that you wanted to, you might be dreading your school/work week (that does happen sometimes- everyone gets the Sunday doldrums at one point or another,) or you might feel like there isn't anything to look forward to once you get to Sunday night.
However, Fort Collins, ever the city of engagement, does have something to look forward on Sunday nights, beginning May 27. Imagine a warm summer's evening where you and the family get to listen to awesome music and enjoy each other's company outside.
It's called the Foothills Mall Summer Sunday Concert Series, or as the Foothills Mall website calls it, simply Summer Sundays. Beginning this Sunday, running from 6-8 P.M., Summer Sundays will bring sweet music to the East Lawn of Foothills Mall. The East Lawn is the part of Foothills Mall sandwiched between the main stores and the Cinemark Movie Bistro. These events will run until the beginning of September.
Summer Sundays is being kicked off by THE MATT SKINNER BAND, a 4-piece band featuring alt-country roots-rock. After that, there will be performances every Sunday, with music ranging from Colony Funk (funk, soul, rock and blues on July 8), to The Choice City Seven (R&B on July 29), to The Great Salmon Famine (funk on September 2). It appears that a good number of the bands playing are also local talent.
The best part is that the event is free to the public, though you might get there and decide you want a nice, big soft pretzel or some other savory snack at the mall (happens to the best of us). You should check out these bands and support local art this way, if anything to just hear something you might not have heard before. So bring the family, enjoy the community, and listen to some kickin' music from local artists.
If you are interested in researching the bands playing, you can find that information here: https://shopfoothills.com/summersundays/
If you are interested in the bands listed above, the links are below.
Colony Funk:
https://www.facebook.com/colonyfunk/
http://www.colonyfunk.com/home.html
The Great Salmon Famine:
https://thegreatsalmonfamine.bandcamp.com/
https://www.facebook.com/greatsalmonfamine/
The Choice City Seven
https://www.facebook.com/choicecityseven/
The Matt Skinner Band
http://www.mattskinnerband.com/
https://www.facebook.com/mattskinnerband/
Crystal Angevine is a CSU Alum, who dreams big and works hard. She loves being in the outdoors, lives for her family, and tries hard to be the change she wishes to see in the world. On any given
Saturday
, she might be found knitting, doing other handcrafted arts, or playing video games. She grew up in Northern Colorado, but still loves exploring Fort Collins and the surrounding areas. What better way to do that than by telling the world about the plethora of events dear old FoCo has to offer?