Prideful isn't always bad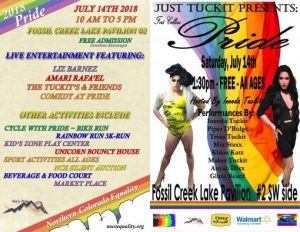 Pride Month (AKA June) has passed, but apparently we do things differently in Fort Collins. This weekend is Fort Collins Pride 2018. Also known by the name NoCo Pride: Pride Outside, the event is Saturday July 14th, from 10 AM to 5 PM, at the Fossil Creek Pavillion (northwest side).
Like many, you probably wonder if that event is family friendly. Guess what? It is! There's live entertainment throughout the day, including a family friendly drag show at 1:30 PM hosted by Ineeda Tuckit. There are also events at Pride like the 3k Rainbow Run at 9:30 AM, Cycle with Pride 7 Miles at 11 AM, and a comedy performance at 2:30 PM.
On top of it, there will be an entire area dedicated to kids with the Kid's Corner Play Center and the Unicorn Bouncy House. And of course, shops and food will be available for purchase.
You may need to purchase goods and food, but just showing up is free!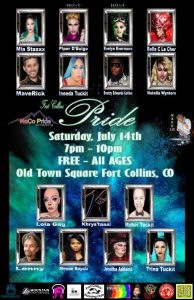 And for those who don't want to stop at 5 PM, there's Night Pride– a drag show in Fort Collin's Old Town Square from 7 PM to 10 PM. This show is also free and for all ages and will include names like MaveRick, Mia Staxx, Evelyn Evermore, and of course, Ineeda Tuckit. Many of the folks who perform in the 2:30 show will also perform here.
Also for those who don't quit, there's a NoCo Pride After Dance party from 5 PM to 2 AM at R-Bar and Lounge on Laurel Street in Fort Collins. There's a $10 cover at the door if you just want a stamp, or $15 cover if you want the rainbow wrist bracelet (which doubles as a combo
ticket- keep reading!). After 10 PM, you can dance with DJ Tatiana.
And if R-Bar isn't enough after for you, Downtown Artery on Linden Street is also hosting an After Party, featuring Household Collective, some of Fort Collins' hottest DJs. There will also be DJ services by DJ Mandi Lixx and DJ Roa, as well as DJ Rescue of the Dandy Warhols. Price for just going to the Artery is $10 at the door, $15 for a combination ticket that allows access to both R-Bar and the Downtown Artery.
And of course, those last two parties are 18+.
For such an activity-packed event, you can thank Northern Colorado Equality for all their hard work and passion.
***Please be respectful of all other persons and identities upon attending any events written about on this blog. We want to have fun and enjoy our time in the community, not worry and feel unsafe. If you attend an event, please bring the best you out there.***
To see the Facebook Page that details the schedule: https://www.facebook.com/events/2017189321878607/
To see the Northern Colorado Equality page: https://nocoequality.org/pridefest/
To see the Downtown Artery info page: https://www.downtownartery.com/events/official-pride-after-party-dj-rescue-dandy-warhol
Crystal Angevine is a CSU Alum, who dreams big and works hard. She loves being in the outdoors, lives for her family, and tries hard to be the change she wishes to see in the world. On any given
Saturday
, she might be found knitting, doing other handcrafted arts, or playing video games. She grew up in Northern Colorado, but still loves exploring Fort Collins and the surrounding areas. What better way to do that than by telling the world about the plethora of events dear old FoCo has to offer?