Local, Local, Local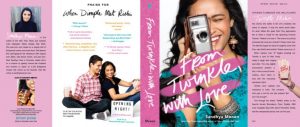 When you see information about local authors—people from Colorado who have put their hopes and dreams out there—chances are your heart leaps a bit in pride, and love, and maybe excitement.
It's even better when you get the chance to see them in person regarding their work.
One such author that caught the eye heading into the following weeks is Sandhya Menon. She is an Indie bestselling author, as well as a New York Times bestseller. She primarily writes for a teenage and teenage-at-heart audience, and as luck would have it, she will be in town on May 23, 2018, at 6 P.M. for a book talk and signing for her newest work, From Twinkle, With Love, to be published May 22, 2018.
The book, as far as sources can confirm (okay, so it was on the author's website, linked below), is a romantic comedy, featuring a strong female protagonist at its center. From Twinkle, With Love already has a number of accolades—from selection by the Junior Library Guild to making Popsugar's 10 Exciting Summer Releases, to starred reviews from Kirkus, Booklist, and School Library Journal. The reviews tout the work as being light, humorous, and covering many complex issues for teenagers.
To further create hype regarding her work, Menon is hosting a preorder campaign for those who choose to preorder her book, adding such cool things as an art card with custom art featuring characters and quotes from those characters, bookmarks, and a whole slew of other really cool stuff.
With all this hype, it is no surprise that Menon (who resides in Colorado) would be around to visit, discussing her latest work and offering to sign copies for the audience. This event is free to attend (though the book does cost money to buy) and will be taking place at Old Firehouse Books (232 Walnut Street, Fort Collins).
For information about the author: http://www.sandhyamenon.com/bio/
For information about her books: http://www.sandhyamenon.com/books/
For information about her events: http://www.sandhyamenon.com/media-and-events/
Crystal Angevine is a CSU Alum, who dreams big and works hard. She loves being in the outdoors, lives for her family, and tries hard to be the change she wishes to see in the world. On any given
Saturday
, she might be found knitting, doing other handcrafted arts, or playing video games. She grew up in Northern Colorado, but still loves exploring Fort Collins and the surrounding areas. What better way to do that than by telling the world about the plethora of events dear old FoCo has to offer?