First Friday Culture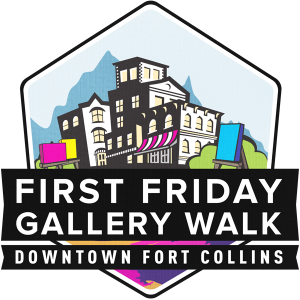 Fort Collins carries with it culture of all shapes and sizes. And the best part about it, is that oftentimes, the richest experiences are the most affordable. Even better, there are so many events that happen on Fridays in Fort Collins.
Flash-forward to the First Friday Gallery Walk in Downtown!
For those of us not familiar with the Gallery Walk, it is just what it sounds like. It is a self-guided tour through 15 art-friendly establishments in Old Town.
Historic Old Town is the site of quite a few galleries, museums and artsy shops that stay open late to allow patrons to peruse new installments, attend artist talks, and participate in interactive displays.
The next Gallery Walk is Friday, July 6, from 6 to 9 PM. You can expect to view such a variety of things. There is everything from perusing shirts hand printed by Akinz, to visiting the Carnegie Center for Creativity and the Fort Collins Museum of Art, to visiting Pinot's Palette Paint and Sip Studio to create art of your own.
The experience is 100% self-guided, and therefore, means you can spend as long as you want wherever you want. You don't even have to stay the whole three hours!
There are any number of pieces to enjoy, from products handcrafted right in Fort Collins to installments by local artists. The walk is free to all comers; though, if you visit any number of locations and decide you want something (shirts, trinkets, what have you), you will need to pay for those. This is an excellent chance to support local business.
Most locations are family friendly. However, Pinot's Palette does serve alcohol as part of its service to customers, so you may want to be aware of that should you take anyone under 21 along with you.
For more information about the First Friday Gallery Walk, including locations included, map, and further links for exploration:  http://downtownfortcollins.com/event/first-friday-gallery-walk/2018-07-06/.
Crystal Angevine is a CSU Alum, who dreams big and works hard. She loves being in the outdoors, lives for her family, and tries hard to be the change she wishes to see in the world. On any given
Saturday
, she might be found knitting, doing other handcrafted arts, or playing video games. She grew up in Northern Colorado, but still loves exploring Fort Collins and the surrounding areas. What better way to do that than by telling the world about the plethora of events dear old FoCo has to offer?