Calling All Media Junkies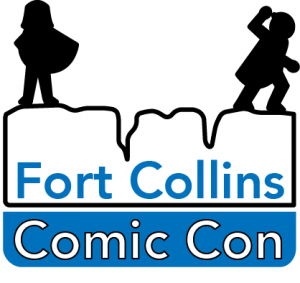 If there's one thing you should know about Fort Collins, after reading several months of these posts by now, it's that Fort Collins has a community for just about everyone. You should also know that charity runs deep in the veins of FoCo-ians.
This week's highlighted event is one mirroring many other events of its kind. The Denver version of the event occurs usually in June, San Diego has a version that happens in July, and Fort Collins has one at the end of August.
What is it? You probably already know: Fort Collins Comic Con, or FC3.
FC3 has a simple goal—an affordable and local Convention experience that encourages children's literacy and increases access to local creators and culture. By bringing together a slew of wonderful people and characters at the Northside Aztlan Community Center, Fort Collins Comic Con has been able to donate upwards of $75,000 over three years to the Poudre River Library District.
One of the many benefits of having this fun Convention in Fort Collins, is that it is a small-scale event with everything that you can expect from a larger scale Convention in one of the many hubs across the world. This event allows people who would normally have to spend time and resources trekking to Denver to come together affordably and to encourage literacy in children.
Attendees to the event are encouraged to dress up as their favorite characters and take plenty of photos, as well as to attend interesting panels (such as classes, screenings, lectures, demos, open forums, and the like). There will even be a Vendor area featuring 140 creators of all kinds—writers, artists, shops.
If you like table-top games, Gryphon Games and Comics will have all sorts of drop-in games and demos. If you have an awesome costume, you can show it off at noon both days during the Cosplay Catwalk. If you're a teen and a "nerd" (the best of us are nerds, I hear), there's even a Teen Nerd Prom at the Old Town Library (grades 6 through 12). If you're a parent to the tiniest geeks: check out the superhero and Ghostbusters training camps! There are so many opportunities for fun and an enjoyable experience.
From a small town event in 2015, FC3 has grown from 1,800 to more than 3000 attendees, raising tens of thousands of dollars a year for the Poudre River Library District. For more information on the benefits to the library system as a result of Comic Con, check out the FAQ page via the link below.
As with any large event, there are a set of guidelines you should follow if you attend. Among those guidelines are recommendations for parents, attendees, volunteers, cosplayers, and others, as well as a harassment-free environment. For the most part, this is a family friendly event—though some vendors and certain panels may contain topics that would be on-par with an R-rated film. For more information about the rules for FC3, please follow the appropriate link below.
This event takes place August 25 and 26 from 9 AM to 8 PM at the Northside Aztlan Community Center. Vendor hours are from 10 AM to 6 PM. Badges for individuals over 13 are $20, while badges for ages 6 to 12 are $10. Children under 5 are free. Badges can be picked up from a comic book store of your choosing within 48 hours of ordering. However, if you do order after August 21, you must pick them up on the day of the Con. For more information, see below.
Don't forget to let your geek flag fly!
For FAQ: https://fococomiccon.com/faq/
For rules: https://fococomiccon.com/rules/
For the homepage: https://fococomiccon.com/
For a badge: https://fococomiccon.com/get/fc3-badges-2018/
Crystal Angevine is a CSU Alum, who dreams big and works hard. She loves being in the outdoors, lives for her family, and tries hard to be the change she wishes to see in the world. On any given
Saturday
, she might be found knitting, doing other handcrafted arts, or playing video games. She grew up in Northern Colorado, but still loves exploring Fort Collins and the surrounding areas. What better way to do that than by telling the world about the plethora of events dear old FoCo has to offer?