10 Fun Things To Do Week of May 17th: Art, Comedy, Plants and MORE!
OnFortCollins.com proudly presents a brand-new new feature, FUN10, a list of the top 10 things to do in the Fort Collins this week, and every week! Every Sunday, we'll drop a new FUN10, to give you a head start on your week and a heads up on what's going on over the coming seven days. Check out FUN10 every Sunday for the details on ten awesome events happening around town. It's a cool read, and a great way to get started planning your entertainment for the week.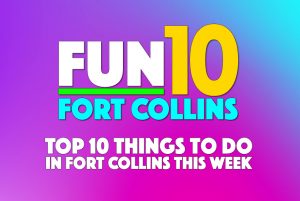 Due to the cancellation of so many regularly scheduled events in Fort Collins – with more coming in every hour – we're focusing this week's edition of Fun10FortCollins on fun entertainment you can enjoy in the safety of your own home or while practicing safe 'social distancing'.
FUN10 — ten ways for you to have fun in the Fort Collins, this week and every week, running every Sunday, only on your site for fun, free, local entertainment, OnFortCollins.com!
So what's on the FUN10 for this week? Read on …
Hodi's Open Mic is BACK!
Hodi's open mic, hosted by Luke Gaston is back!
Monday May 11 from 7 – 10 p.m., after the "safer-at-home" order starts for Foco, MeanderThal Productions is here to help you adjust to the the new normal with a Drive-In Comedy Open Mic in the parking lot on the SW corner of Drake & Shields.
This is done just like the drive-in movies — you stay in your cars, tune in on your FM radio, and enjoy a live stage show from the relative comfort of your automotive womb! If you must leave your cars for bathroom breaks, please observe distancing and mask regulations.
Virtual All Levels Yoga
Join HK High Kicks online this Tuesday May 19 and Thursday May 21 at 12 p.m. for some Virtual All Levels Yoga!
Props Needed: Yoga mat, blanket or towel, yoga strap, two blocks or same size large books.
*Register for class through HK! You will receive a Zoom invite via email.
*Set up a free Zoom account, download the app or view class from Zoom website.
*Simply choose which screen to view the class – iPhone, Android smartphone, a Macbook, tablet or PC.
*Prepare your at home yoga space. Roll out your mat and join online!
*Classes start on the hour.
*Buy 5 yoga classes & Get 1 Free!
Gorehound's Comedy Underground
Make plans to experience Gorehound's Comedy Underground this Wednesday May 20 from 8 – 11 p.m.
Drive In comedy showcase, featuring Colorado comedians Cloe Hunter, Elliot Weber, Owen Matthews, Jeff Albright & Tobias Livingston! Hosted by Cody Cardinal, this bimonthly showcase supports local comedians and Gorehound's Playground, a locally owned horror movie genre collectors store, with memorabilia, rare movies and an in-store movie room. Donations are suggested by Venmo or any of your dirty cash you want us to clean for ya.
With the "safer-at-home" orders for Foco, MeanderThal Productions is here to help you adjust to the the new normal with a Drive-In Comedy in the parking lot on the SW corner of Drake & Shields.
This is done just like the drive-in movies — you stay in your cars, tune in on your FM radio, and enjoy a live stage show from the relative comfort of your automotive womb! If you must leave your cars for bathroom breaks, please observe distancing and mask regulations.
Groove Theory: Producer Meetup
Join The Music District online May 20 at 7 p.m. for a digital version of Groove Theory: Producer Meetup. This month features an Ableton masterclass video watch party, prerecorded by Encanti of Zebbler Encanti Experience.
We will be using Zoom video conferencing for this meetup – please ensure that you have Zoom installed on whatever device you plan to use to connect during the event: https://zoom.us.
Keep an eye on this event the day of for links to the Zoom call.
Our mission is to provide a place and format for music producers and audio engineers of all levels to share new, original works-in-progress and to get constructive and supportive feedback from fellow producers so we can all improve our craft.
7pm: Encanti Video Watch Party
8pm Producer Meetup and track sharing
Teach Me To Grow Plant Sale
Come on by (820 W Magnolia St. Fort Collins) to scoop up some premium quality organic plant starts grown here in Fort Collins in the Teach Me To Grow greenhouse!
Wednesday 5/20 and Saturday 5/23 (9-1pm)
Tomatoes
Peppers
Eggplant
Strawberries
Broccoli
Cabbage
Flowers
Cucumber
MORE!
Plants range from $3-$7
We will be practicing social distancing, of course. PLEASE BRING YOUR MASK! And a box to put your plants in if you have one (we have some too!).
Email andrea@teachmetogrow.com for a complete list of what we will have, or just show up!
THESE PLANTS GROWN WITH LOVE!
Remember and Honor Our Veterans Online Presentation
Everybody has a unique story, sometimes they are just waiting for someone to ask it. We collected all the facts and figures, but not nearly enough of the personal stories…stories that add a powerful dimension to the facts and figures." Brad Hoopes loves history, especially the World War II era. A few years ago, he learned that the Library of Congress collects the stories of veterans. He decided to start interviewing veterans locally.
He bought a video camera and just started doing it. He has interviewed more than 500 Northern Colorado veterans of various conflicts. He focuses on the human experience and perspective, which adds a powerful dimension to the facts and figures. The same is true in our genealogy, our ancestors' lives are more than facts and figures (birth, marriage, death). Their stories add a powerful dimension if we can find them.
Brad Hoopes will share some of the stories he has collected, as well as some suggestions for how to collect your own stories from family members.
Presenter
Brad Hoopes has for the last 16 years a passionate project of interviewing and preserving the stories of veterans. This has led to an all-out effort to honor veterans in any way he can, serving on numerous boards and committees. An off-shoot of his project was a book he wrote, "Reflections of Our Gentle Warriors" and publishing a magazine. Brad is a CSU graduate and lives in Loveland.
All visitors interested in genealogy and family history is welcome to join our online program! Please register on our website at https://www.lcgsco.org/events/remember-and-honor/ to obtain online instructions and handout.
She HerSelf Exhibition Virtual Reception
Artworks gallery has re-opened and are hosting a virtual reception with virtual artist talks by Amy Jorgensen and Randi Ganulin. She HerSelf Exhibition will kick off Thursday May 21 at 6 p.m.
rsvp to contact@c4fap.org and you will receive the Zoom information the day of the event.
For more information, please visit https://www.facebook.com/events/705696230180579/.
Opening Day at Larimer County Farmers Market
Larimer County Farmers' Market kicks off their 45th season on Saturday May 23 from 9 a.m. – 1 p.m. in the parking lot of the Larimer County Courthouse (200 West Oak Street Fort Collins).
There have been some changes made this season, in response to Covid-19. To view these guidelines, please visit https://lcfm.extension.colostate.edu/2020-customer-shopping.
2020 "No Boundaries" Realities Ride
The 2020 "No Boundaries" Realities Ride will take place Sunday May 24. Here is a message from Realities Ride and Rally:
"In an unprecedented year in world history – our world record ride will do something equally unprecedented as we are asking our Realities Riders to register and ride on Memorial Day weekend. While honoring all public health advisories we want to see bikes everywhere this Memorial Day weekend.
We want the world to see that nothing can stop us from riding for and supporting our children in need.
This year there will be no official start time, ride route, lunch stop or end destination. There will be no Rally, music festival, stunt shows, bike shows, or tattoo contests – but with your help there will still be a Realities Ride! Set your own start time and route and safely Ride to support our kids this Memorial Day Weekend."
All Registered Riders that Ride for our children this Memorial Day will be:
1. Provided a 2020 Realities Ride T Shirt
2. Sent a Realities Ride 2020 Image you can print out – take a photo with wherever your Realities Ride takes you to post so we can share it with our kids
3. And be entered into a drawing for prizes and more.
We hope you will choose to Register Today and invite everyone you know – everywhere in the world to ride the Realities Ride this year. Because this year's Realities Ride can be ridden anywhere and everyone can make a difference in the life of a child.
Register today at www.realitiesride.com
Healthy Kids Virtual
Healthy Kids Virtual is an adaptation of the usual HKRS Race Day experience! HKRS believes in leading an active healthy lifestyle. During the time of social distancing, it is important that parents encourage children to stay active!
A Virtual Race is a race that can be run (or walked) from any location you choose. You can run, jog or walk on the grass, on the sidewalk, on the trail, on the treadmill or on the track. Your child will run their age appropriate race distance, at their own pace, and Mom and Dad record the time! Parents then upload the time after each race into the Series specific results sheet found on our Results Page. Families can also choose their own start and finish line, or if available, use an existing one provided by HKRS! Don't forget to run the Parent Mile on Week 5 Mom and Dad!
Share your running photos with our virtual community! Find us on Facebook @HealthyKidsRunning or Instagram @healthykidsrs! #GetUpandGo #HealthyKidsVirtual
For more information, visit https://healthykidsrunningseries.org/race-locations/fort-collins-co.
Stay tuned to OnFortCollins.com, your site for fun, free, local entertainment for upcoming events in our weekly column, FUN10, every Sunday!
#Fun10FortCollins
Tess Abney is a freelance writer who was born and raised in the Quad Cities. She spends most of her time attempting to successfully raise three boys. In her free time, writing is her passion. Whether it is sharing local events and businesses with readers or sharing her thoughts on life, she finds comfort in the way words can bring people together.