10 Fun Things To Do Week of May 10th: Storytime, Cocktails, Music and More!
OnFortCollins.com proudly presents a brand-new new feature, FUN10, a list of the top 10 things to do in the Fort Collins this week, and every week! Every Sunday, we'll drop a new FUN10, to give you a head start on your week and a heads up on what's going on over the coming seven days. Check out FUN10 every Sunday for the details on ten awesome events happening around town. It's a cool read, and a great way to get started planning your entertainment for the week.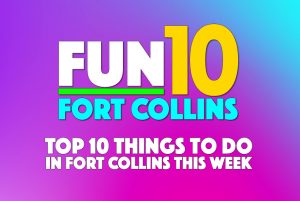 Due to the cancellation of so many regularly scheduled events in Fort Collins – with more coming in every hour – we're focusing this week's edition of Fun10FortCollins on fun entertainment you can enjoy in the safety of your own home or while practicing safe 'social distancing'.
FUN10 — ten ways for you to have fun in Fort Collins, this week and every week, running every Sunday, only on your site for fun, free, local entertainment, OnFortCollins.com!
So what's on the FUN10 for this week? Read on …
Vineyard Kids Storytime
Join your Vineyard Kid friends and leaders every Tuesday afternoon for our Online Storytime!
Each week one of our kids volunteers will lead you through a short story. This will be more than just a story. Be ready to get up out of your seats!
This week's Vineyard Kids Storytime will take place on Tuesday May 12 from 1 – 1:30 p.m. on both Facebook Live and Google Meets. Visit Vineyard Kids on Facebook for more information.
MoA Art Snack for Kids
As part of the Museum of Arts "Masks Matter" online digital initiative, MoA has envisioned a series of online tutorials for kids to create masks at home, which draw on the designs and concepts from the 2020 Museum of Art Fort Collins Masks Exhibition.
These free tutorials will be presented by Education Coordinator, Elizabeth Morisette along with her lovely daughter, Twyla. Each tutorial will be about 15 minutes long using items already found at home and we encourage participants to post a photo of their finished project for inclusion on MoA Social Media Accounts- @moafortcollins
While these tutorials are free, please consider making a donation to the Museum by visiting https://www.coloradogives.org/index.php?section=organizations&action=newDonation&fwID=36499
We greatly appreciate your support.
Visit https://moafc.org/ for more information.
Wednesday Cocktails and Tunes with Max
Wednesdays have officially improved! Bathe those kids, throw on some Disney cause it's Mom and Dad's time! Grab a beer(s) or mix a drink(s) and sit down and hang with Max!
Max Mackey will be hosting 'Wednesday Cocktails and Tunes with Max Vol. 8' this Wednesday May 13 at 7 p.m. on Facebook Live!
Virtual Tip Jar:
Venmo – @MaxMackeyMusic
Paypal – paypal.me/maxmackey
Make plans to have some fun with Max this Wednesday night!
Thursday Nights with Michael Kirkpatrick
Join musician, Michael Kirkpatrick, every Thursday from the comfort of your own home as the world evolves!
How: Go to facebook.com/michaelkirkpatrickmusic and click!
Who: Michael and possibly maybe some fancy guests
What: Musical performance on Facebook Live Stream
When: Every Thursday at 8pm MST until the venues open
Where: Everywhere
Why: Because you need Live Music, an audience to interact with and I need to get my rocks off!
These are free performances, but the tip jar is open!
Venmo: @kirkpatrick-music
Virtual Classes with Pinot's Palette
Enjoy the Pinot's Palette experience from the comfort of your home! Register for one of their live, virtual events. The studio's artists will guide you step-by-step through the project. The experience is completely interactive – you'll be able to ask the artists questions throughout the event.
Painting kits include all the supplies you need and are fun for all ages. After registering, Pinot's Palette will send you an email with all the information you need, including: day & time of painting, supplies needed, how to login to Zoom, and the class link. If you do not receive a class email 24 hours prior to start time please send an email to fortcollins@pinotspalette.com.
Can't make the live event? Class links are valid for 4 days and then they become inactive. After 4 days you will no longer have access to this event.
For a full list of this week's classes, visit https://www.pinotspalette.com/fortcollins.
Safer at Household: A 2 Day Livestream Festival
Join Household Collective this Friday May 15 and Saturday May 16 for Safer At Household: A 2 Day Livestream Festival!
The online festival can be found at www.twitch.tv/householdrecords and will feature music from talents like Anthony Cole, Joey Trouble, Ler, Masstree, Misstree, Nic Kato, Nick Irvin, Panamaa and more!
For more information, please visit https://www.facebook.com/events/1107362446301428/.
Sing Along on Facebook Live with Jojo!
Looking for a fun-filled way to add a little joy to your Friday mornings?
Clothes Pony & Dandelion Toys happily presents, Sing Along on Facebook Live with Jojo! this Friday May 15 at 11 a.m. on Facebook Live.
Jojo can't wait to sing, shake, and dance up a storm with you and your sweet children!
Storytime in the Home with Fort Collins Museum of Discovery
Join Fort Collins Museum of Discover every Friday morning for Storytime in the Home on Facebook Live!
This week's Storytime will take place on Friday May 15 from 10:15 a.m. – 10:45 on Fort Collins Museum of Discovery's Facebook page.
Tune in each week for a new storybook! After the live reading, check out https://fcmod.org/blog for a fun craft you can make at home!
The Beauty of Blackness Fine Art Show Live Interviews
Join The Beauty of Blackness on Facebook Live for 1 on 1 interviews with the BOBFAS Artists every Saturday night!
Live interviews of the artists showcasing their work at The Beauty of Blackness Fine Art Show, scheduled to be held this Sep 3-6 at the Opera Galleria, are being held every Saturday night at 7 p.m. on Facebook Live.
Colorado, this is your opportunity to meet the Beauty Of Blackness Fine Art Show Artist live for the first time. Come hear them talk about their art, share their ideas and ask them questions. They are looking forward to meeting you!
This week's interview will be with Thomas Lockhart, and will take place on Saturday May 16 at 7 p.m.
For more information about this year's BOBFAS, visit https://www.thebeautyofblacknessfineartshow.com/.
Deep Restoration & Rejuvenation with Om Ananda Yoga
Om Ananda Yoga will live stream a Deep Restoration and Rejuvenation workshop this Sunday May 17 from 4 – 5:30 p.m.
Are you experiencing stress and anxiety? Do you feel drained or exhausted? Are you living with doubt and fear? This workshop is for you. Gentle asana will ready us for deep relaxation and restorative breathwork. Prepare for restoration in your body, mind, and spirit.
Prep: You will need a yoga mat, several blankets, pillows, or a bolster, and a journal/paper.
Cost: $15, 15% member/staff discount. If you are unable to pay, please email info.omanandayoga@gmail.com. Om Ananda Yoga will be gifting 2 spots to people in need!
Registration: Sign up on the Workshops page. You will receive an email 30 minutes before class with a link. Class size is limited to 12.
Sarada Erickson ERYT-500, co-founder of Om Ananda Yoga, and Director of Teacher Trainings. Sarada fell in love with restorative work as a way to deeply balance. Restorative work allows us to move into stillness and open to our innate intelligence and deeper wisdom.
Stay tuned to OnFortCollins.com, your site for fun, free, local entertainment for upcoming events in our weekly column, FUN10, every Sunday!
#Fun10FortCollins
Tess Abney is a freelance writer who was born and raised in the Quad Cities. She spends most of her time attempting to successfully raise three boys. In her free time, writing is her passion. Whether it is sharing local events and businesses with readers or sharing her thoughts on life, she finds comfort in the way words can bring people together.