10 Fun Things To Do Week of June 14th: Food, Father's Day, Family Resources and MORE!
OnFortCollins.com proudly presents our newest feature, FUN10, a list of the top 10 things to do in the Fort Collins this week, and every week! Every Sunday, we'll drop a new FUN10, to give you a head start on your week and a heads up on what's going on over the coming seven days. Check out FUN10 every Sunday for the details on ten awesome events happening around town. It's a cool read, and a great way to get started planning your entertainment for the week.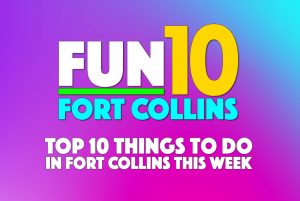 Due to the cancellation of so many regularly scheduled events in Fort Collins – with more coming in every hour – we're focusing this week's edition of Fun10FortCollins on fun entertainment you can enjoy in the safety of your own home or while practicing safe 'social distancing' as the state begins to open back up.
FUN10 — ten ways for you to have fun in the Fort Collins, this week and every week, running every Sunday, only on your site for fun, free, local entertainment, OnFortCollins.com!
So what's on the FUN10 for this week? Read on …
Cake Making & Decorating Camp
Do you have a junior chef at home that enjoys desserts?
Check out The Cooking Studio's Cake Making & Decorating Camp, which takes place this Monday Jun 15 through Thursday Jun 18 from 9 a.m. – 12 p.m.
This popular cake decorating camp is for students 8 – 15 years old. We make two different kinds of cake, multiple fillings and lots of frosting. Kids make and decorate two individual cakes. Our instructor is a professional cake decorator and can teach students as many techniques as they want to learn!
This camp sells out every year so reserve your spot now!
Kids Club Skills Covered in this Class:
– Baking
– Desserts
Curious about the kids club? Click here for more info: https://www.the-cooking-studio.com/kids-cooking-club/
Grand Opening of Bistro Nautile
The newest addition to Fort Collins, Bistro Nautile (150 W Oak St. Fort Collins) will be celebrating their Grand Opening this Monday Jun 15 from 4 – 8 p.m.
About Bistro Nautile
Bistro Nautile is a French-Influenced bistro owned and operated locally by three Fort Collins restaurateurs who care about food and the people that eat it. Our focus is on truly farm-fresh ingredients. Chef-owner Ryan Damasky partners with a variety of local vendors to provide the freshest seafood possible, Colorado Certified Angus Beef, Colorado poultry and local eggs, greens and vegetables, meticulously prepared and presented in a comfortable atmosphere by servers who are competent, friendly and just a little weird. We offer dinner service Mon-Sat from 3-10pm, Happy Hour from 3-6pm and Sunday Brunch weekly from 9am-3pm. Please join us for a dining experience where we will count you as a friend, as part of our family, and expect that by the end of your time with us, you will have the same affection for our craft that we do.
For more information, please visit https://www.bistronautile.com/.
Grand Opening of Stitch or Dye Auto Upholstery
Do you currently have torn or sagging headliner in your automobile? Stained, dirty or broken visors? Well, there's a new kid on the block that can help you with that!
Come celebrate the Grand Opening of Stitch or Dye Auto Upholstery (216 Racquette Drive Ste 7 Fort Collins) this Monday Jun 15 from 8 a.m. – 5 p.m.
From Stitch or Dye's Facebook page:
"Just a little background so you know what you will be getting when you trust your vehicle to Mike. His mom was a tailor with her own clothing design shop. Stitching is in his blood! He started the business in Houston, Texas over 30 years ago. After 16+ years in Orange County, CA, Mike recently relocated to FOCO because his wife came here to start her nursing career. We have adopted FOCO as our forever home. We love it here so much! You will never be just a job to us. Mike is a down-to-earth guy and knows that every customer deserves the best quality at the best price. No hidden fees or fine print! To say thank you to our new and beloved community, anyone who likes our page will get 10% off their service! Call Mike today to set up your appointment or stop in and say HELLO on the 15th. We look forward to meeting you!"
Nurses and Military with valid ID always get a 15% discount!
FoCoMX Drive & Jive
The FoCoMA – Fort Collins Musicians Association,  Odell Brewing Co, and Sustain are bringing the Drive & Jive summer concert series to the Holiday Twin Drive-In in Fort Collins, Colorado. This new weekly Tuesday series will feature some of Northern Colorado's hottest musical acts.
Once the sun goes down, the stage will heat up with tunes to keep you jivin' (in your car) late into the night! Bands will perform from the main stage and will be projected to the big screen + broadcast via FM radio transmitter for fans to enjoy from the safety of their vehicle.
June Line-Up:
June 16 – HoldFast. and NIGHT CHAMP
June 24 –  Write Minded and Boss Eagle *WEDNESDAY Show*
June 30 –  The Shamen and Cary Morin & Ghost Dog
Doors Open: 6:00 PM
Show Time: 9:00 PM
$30 per vehicle includes two tickets /$10 each additional person
All Ages Encouraged Kids 5 and under free/ Kids 5+ $10
Remember kids, bring your mask, maintain a 6 ft distance from others at all times, and do your part to keep everyone safe. Lawn chairs, blankets and small, portable FM transmitters (boom boxes) are permitted.
All tickets must be purchased online and in advance at holidaytwin.com. The drive-in is running at half capacity until further notice, and we encourage you to snag your tickets early!
To learn more about venue policies and safety precautions, please visit holidaytwin.com.
Tune-Out Tuesdays
Is the daily grind getting you down? Need a reset from your hectic month?
Stop by the OtterBox Digital Dome Theater at FCMoD over your lunch break this Tuesday Jun 16 to treat yourself to a mid-month tune-out. Enjoy a short "Sky Tonight" astronomy presentation, then sit back and relax to soothing music and stunning 360° visions of the cosmos in the Dome.
If you arrive after noon, it will be dark in the Dome. Pause upon entering to allow your eyes time to adjust to the darkness and a Dome operator will help you find a seat. Bring your lunch – food & drink are welcome in the Dome.
FREE Noon Event!
Please note: this program is designed to give people a quiet time to relax, and periods of long sitting can be difficult for some little ones. It may not be suitable for young children.
For more information, please visit https://www.facebook.com/events/2245078545795353/.
Fort Collins Foodie Walk
The Fort Collins Foodie Walk is "a culinary tour of tasty proportions!" Come educate your taste buds during this monthly self-guided Old Town foodie tour featuring new and exciting taste experiences from 12 Downtown culinary shops on the 3rd Friday of each month. It's FREE and everyone is welcome!
Fort Collins Foodie Walk takes place Friday nights from 5 – 8 p.m. in Downtown Fort Collins (19 Old Town Square Ste 230 Fort Collins).
Participating Businesses:
The Cupboard
Happy Lucky's Teahouse
Ku Cha House of Tea Fort Collins
Savory Spice Shop
Nuance Chocolate
The Welsh Rabbit Bistro & Cheese Shop
Golden Poppy Herbal Apothecary
Kilwins Fort Collins
Rocky Mountain Olive Oil Company
The Fort Collins Food Co-operative
Old Town Spice Shop
Downtown ACE Hardware
To learn more or to view monthly specials, head to FortCollinsFoodieWalk.com!
Open Admission Day at Museum of Art
Join Museum of Art Fort Collins (201 S College Ave Fort Collins) for an Open Admission WEEKEND sponsored by DaVinci Sign Systems on June 20th and June 21st!
They will be open from 12-5pm but you must reserve your spot in advance. Please note the first hour of each day is reserved for our guests who are 65+.
Please register online by following the link https://www.signupgenius.com/go/9040f4aadae22abfc1-16th1.
Spots will fill up quickly so act fast!
Family Resource Fair
This year's summer Family Resource Fair will be held drive thru style this Saturday Jun 20 from 9:30 – 11 a.m. at Realities For Children (308 East County Road 30 Fort Collins). Stork Support will be handing out pre-filled diaper bags to pregnant moms and families with newborns.
Please email info@storksupportofnoco.com to receive a voucher and the link to the pre order forms. Voucher and Forms are available in English and Spanish.
Stork Support will be handing out pre-stuffed diaper bags. If you are a new parent or first time pregnant, please let us know when you email us so can be on the VIP list to receive a diaper bag from us.
Come by car. Carpool with family.
Once you arrive, you'll be asked to fill out a form. At the time of your arrival, you will be able to request Diapers and Formula. Please stay in your car the entire time and wear a face mask when engaging with the volunteers.
For more information, please visit https://www.facebook.com/events/142968377145677/.
2020 Virtual Father's Day 5k
Father's Day 5k has gone virtual!
The annual fundraiser for the Brian Breck Foundation, Father's Day 5k, will take place on Sunday Jun 21 from 7 a.m. – 11 p.m. online.
While we can't be together in person, you still can run with your family and help support the Brian Beck Foundation. Virtual door prizes will be awarded on race day. You can enter your results in your EnMotive account.
To register, please visit https://runtoyouracing.enmotive.com/events/register/2020-father-s-day-5k.
Larimer County Farmers' Market Celebrates Summer Solstice
Larimer County Farmers' Market continues their 45th season this Saturday Jun 20 from 9 a.m. – 1 p.m. in the parking lot of the Larimer County Courthouse (200 West Oak Street Fort Collins).
It's the summer solstice and Larimer County Farmers' Market is celebrating the season with fresh, local produce and products. Stop by the market to help kickoff the summer!
There have been some changes made this season, in response to Covid-19. To view these guidelines, please visit https://lcfm.extension.colostate.edu/2020-customer-shopping.
Stay tuned to OnFortCollins.com, your site for fun, free, local entertainment for upcoming events in our weekly column, FUN10, every Sunday!
#Fun10FortCollins
Tess Abney is a freelance writer who was born and raised in the Quad Cities. She spends most of her time attempting to successfully raise three boys. In her free time, writing is her passion. Whether it is sharing local events and businesses with readers or sharing her thoughts on life, she finds comfort in the way words can bring people together.