Why I Love Going to Music Festivals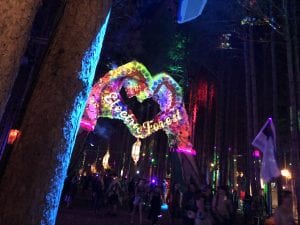 I recently developed a love for music festivals! I share a deep love for the experience of a music festival, as it's like nothing else I've seen. It feels like an EXPERIENCE over just another concert, hangout, etc. I love them for the way they bond us with others and create a sense of belonging. Here are some of the reasons I love them and why you should try going to one someday!
1.The Good Energy
Every time I've been to a festival, the energy has been off the wall amazing. I am a big believer in vibes, and I've always felt nothing but good vibes radiating from people at the festival. Everyone wants to be there, and everyone is happy, saying hi, giving high fives to strangers all with a smile—and it all feels very genuine. It's lovely to be surrounded by so much positive energy that it makes for a very fun, chill environment.
2. The Camping
I love the camping aspect because 1. it's cheaper than a hotel, and 2. I love the experience and the feeling it provokes. I love the camping aspect because it feels very minimalist and very down to earth. It reminds me that we just need a roof over our heads to live and have a good time, not all the materialistic possessions we are used to always having. It brings me back down to earth and reminds me of everything we don't need.
3. The People You Meet
This is an experience that I absolutely love and makes me feel so much better about human nature. You meet so many nice, fun, great people at music festivals. In real life, I find it's harder to talk to a stranger or to become friends with them or have real conversations with someone you just met. However, I feel like it's very easy to do that at a music festival. Everyone is very open, very kind and very down to talk. The best part is you are meeting a bunch of people and usually hanging out with your friends as well! I met a lot of people at a community charging station and each was incredible and friendly. Conversations and bonds with others flow so well at these festivals, and I love the way it helps us all connect with one another.
4. The Music
Obviously, the music is one of the main draws of any music festival! I love hearing my favorite bands perform a killer show, all surrounded by the good vibe of the people and the atmosphere of the festival; it is like nothing else. That being said, it's not just the music, it's the people and environment that make it that much better. The way that everything works at a music festival in collaboration with one another makes for the most, thrilling connected experience.
5. The Forever Memories
I love making memories with friends, and having experiences with friends creates just that. As we age, the memories are what stays with us. The connectedness I felt with strangers, along with my close friends, and the idea of music bringing thousands of different people together are what keep me going and hold us together. It's that feeling of belonging, of being included and together, all appreciating one thing—the music—that keeps me going to music festivals.
Rea McLaughlin is an enthusiastic soul that loves life from Colorado. She loves the Colorado sunshine and enjoys partaking in it often by going climbing, hiking or camping. She attained her BFA in Film Studies from the University of Colorado at Boulder where she fell in love with storytelling. After living in NYC for a year to pursue film, Rea is happily back in Colorado enjoying the mountains and sunshine. One of her favorite themes to explore in her art and writing is the human spirit and human connection. When she's not climbing or creating, Rea loves traveling to music festivals and going to Red Rocks shows. She might ask you for your birth time to check out your astrology chart too! (She is a Leo Sun, Scorpio Moon, Aquarius Rising). She loves to enjoy life and squeeze the very best of out of it.