5 Perfect Coffee Shops To Get Work Done
I am a sucker for delicious coffee and tasty, baked treats. I will always sit down at a coffee shop and do my homework or work that I need to get done for the day, no questions about it. I enjoy finding places who has homemade treats as well as unique drinks. Fort Collins has an array of amazing coffee shops that each have their own twist to them and I am going to tell you my favorites so that you can go enjoy them as much as I do!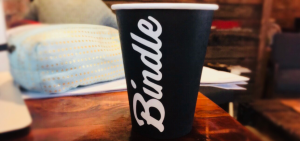 Bindle
Location: 1933 Jessup Dr, Fort Collins, CO 80525
Bindle is in the most adorable area and has the most character of any coffee shop I've ever been in. Sure, it's small, but it is very cozy, and the atmosphere feels very comfortable even right as you walk in. The staff has always been very helpful and friendly to me as well. This coffee shop is in the heart of the Jessup Farm Artisan Village where there is a restaurant (I've heard it's VERY good), some cute clothing stores, and various other businesses that many people adore.
Starry Night
Location: 12 S College Ave #100, Fort Collins, CO 80524
Starry Night is my absolute favorite coffee shop that I have been to since I have lived in Fort Collins. It is big and has tons of table and space for anyone who needs to get school work done or who works remotely. They make all kinds of tasty food. Whether you are visiting during the morning or late afternoon, they have it all. Their Italian sodas are AMAZING and their coffee, in my opinion, is to die for. The employees have tons of knowledge about the coffee industry and are very open to any question you ask.
Dazbog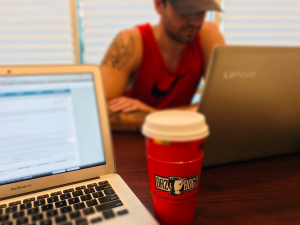 Location: 830 S College Ave #110, Fort Collins, CO 80524
I know that Dazbog is a coffee shop that you can walk into almost everywhere, but the one in downtown Fort Collins is one of my favorites. It is small but extremely cozy and has its own little study room! Another thing I like about the location is that it is close enough to downtown but its far enough from all the chaos, that it is never as busy as any of the other coffee shops. Dazbog also has a great drink menu to pick from and I recommend trying as many drinks as you can!
Mugs
Location:  261 S College Ave, Fort Collins, CO 80521
Mugs is another coffee shop located in the heart of downtown Fort Collins. It is right on the corner of two fairly busy streets but has enough room to cater to everyone that walks through the door. This coffee shop also has the BEST burritos. My favorite is the vegetarian one and I recommend trying any single one of them if you pay them a visit. They have not one, but two rooms full of tables for students who need to get their school work taken care of and plenty of extra space for those who work from their computer.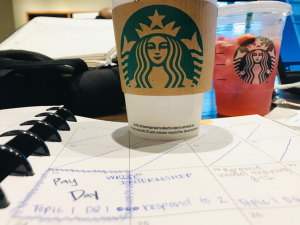 Starbucks
Location: 250 E Harmony Rd, Fort Collins, CO 80525
Once again, I know this is a chain coffee shop BUT this Starbucks is better than any other one I have been to so far. It is huge and has an awesome cold brew bar at the end of the counter. The lighting in there is my absolute favorite because it is calming, but also enough light to get work done. There is plenty of space to work and socialize as well. I usually sit at the massive table right in the middle of the store so I can spread out all of my things and have my own space!
If you are traveling through Fort Collins, staying a few nights downtown, or even in town for a hiking trip, I encourage you to check out one of these shops! You will more than likely be satisfied and love them just as much as I do!
Mikaila grew up in Steamboat Springs, Colorado and is working towards completing her last year in school. She loves sports, the outdoors, books and the gym. Since she was young, she has enjoyed writing in journals but never thought to make a dream out of it. In the past few years, she has created her own blog and has seen some small success. Mikaila plans to share her writing with others while building the courage to make a career out of it.