Three Weird Things That May Predict Heart Disease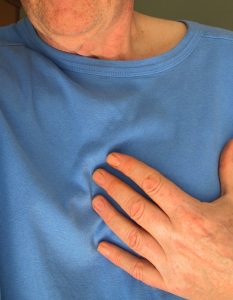 It's February, the month we celebrate matters of the heart. Valentine's Day aside, February is also American Heart Month and Go Red for Women Day, the American Heart Association's initiative to increase women's heart health awareness. What better time to talk about that thing that makes you tick?
The Centers for Disease Control identifies cardiovascular disease as the number one killer of Americans. Most Americans know the most common indicators of heart trouble, such as high blood pressure, high blood cholesterol, weight, and diabetes. Instead of sharing traditional heart health tips, let's talk about some rather unusual predictors of heart disease.
The length of your ring finger. Scientists from the University of Liverpool consider short ring fingers a sign of future heart trouble. Those who have ring fingers longer than their index finger typically have a decreased risk of heart problems. If your ring finger is the same length or shorter than your index finger, the risk of heart disease is considered higher after age 40. The problem is thought to be related to exposure to high levels of testosterone in the uterus.
Take a peek at your ear lobes.  Researchers at the University of Pennsylvania Hospital found a crease in one or both lobes may predict future heart trouble. The lobe wrinkle, called Frank's Sign after Sanders T. Frank, the man who identified the link, is considered a sign of arterial blockage.
Chronic yawning during exercise.  The occasional yawn is nothing to be concerned with, but constantly yawning during physical activity may be a big deal. Why?  A circulatory blockage can cause inefficiency in the body's cooling system. Yawning may be a signal of those blockages and a predictor of future heart issues.
For more information about heart disease, visit the American Heart Association website.
.
Andrea wants to live in a world where the neighborhoods are walkable, bike lanes are plentiful, and the food is fresh, delicious and readily available. A 20-year veteran of the health and wellness industry, she started her career in the fitness industry while earning a master's degree in Exercise Science and Health Promotion, and then on to the burgeoning field of worksite wellness. Andrea has competed in collegiate level soccer, worked as a personal trainer, fitness instructor, wellness coach, and master trainer, climbed 14ers, and completed cycling centuries and metric centuries. All of these experiences give her the opportunity to view well-being from many different perspectives. When she's not helping others to be their healthiest self, you can find her at a farm to table restaurant, down dogging at the yoga studio, or experiencing the Colorado landscape on a bicycle, snowshoes, cross country skis or on foot.