Biosensors Could Make Staying Healthy a Little Easier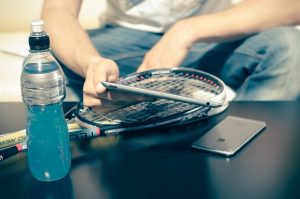 If you look closely at a Gatorade commercial featuring Serena Williams called "You Fuel Us, We'll Fuel You," you may have noticed she is wearing a small patch.  That patch is a biosensor being used as a health monitor—in this case, by assessing sweat. Biosensors are currently being tested in athletes, but have other applications in the world of health.
The sensor itself is a soft, flexible patch that adheres to the skin and is placed directly on the forearm or back. It's a little larger than a quarter and about the same thickness. Fluids can be collected non-invasively and many have important biomarkers that relate to health, fitness and physiology.  The patch can be worn for a few hours and an instant wireless readout of health status can be viewed through an app on your smart phone.
In a recent study published in Science Advances, a Northwestern University research team performed a  2-day field test comparing the sweat patch sensor with blood tests. The results collected by the sweat patch were comparable to those of blood tests, which is good news for those desiring an easy, non-invasive way to track health conditions.
This is the first biosensor of its kind, but several other wireless, wearable biosensors are in development or already on the market, including:
Sensor for UV overexposure
Contact lens for glaucoma monitoring
ECG arrhythmia detector
Smart bandage for monitoring chronic wounds
Heart rate monitor (also tracks respiratory rate, skin temperature, and physical activity, and detects falls)
Smart diaper for urinary tract infections in older adults
Expected to be a more-than-$31 billion industry in the next 5 years, this scientific breakthrough is poised to influence the way we manage our health and health care.   For example, biosensors can be used to:
Monitor your health during exposure to environmental conditions, such as pollution.
Diagnose disease
Monitor diabetes
Detect pathogens in fresh meat, poultry or fish, pesticide levels, or water quality.
Andrea wants to live in a world where the neighborhoods are walkable, bike lanes are plentiful, and the food is fresh, delicious and readily available. A 20-year veteran of the health and wellness industry, she started her career in the fitness industry while earning a master's degree in Exercise Science and Health Promotion, and then on to the burgeoning field of worksite wellness. Andrea has competed in collegiate level soccer, worked as a personal trainer, fitness instructor, wellness coach, and master trainer, climbed 14ers, and completed cycling centuries and metric centuries. All of these experiences give her the opportunity to view well-being from many different perspectives. When she's not helping others to be their healthiest self, you can find her at a farm to table restaurant, down dogging at the yoga studio, or experiencing the Colorado landscape on a bicycle, snowshoes, cross country skis or on foot.