Tuesday Night Summer Mini Golf League!
Grab a friend and come join Old Town Putt (244 North College Ave Fort Collins) for their Spring Mini Golf League starting June 2nd!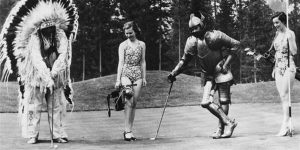 This season will be 8 weeks long –  7-week Regular Season, with a 1 week End of Season Tournament on 07/21/20.
-14 teams max
-Each week will be a fun new format
-Teams of 2 will compete against another team each week to win as many points as possible (alternates can fill in when needed)
-$25 per player includes green fees for all 8 weeks
-18 holes per week
-Prizes for weekly winners and League Champions
-The winning team each week will be automatically entered into the fall Tournament of Champions
-The seventh week will be a seeded consolation bracket tournament based on Regular Season standings, and ALL teams are competing!
The winning 2 person team will receive lifetime memberships to Old Town Putt!!
Week 1: Gruesome Twosome Both players on a team tee off and the opposing team chooses which shot must be used to finish the hole from
Week 2: Blindfolded Buddies One player from each team will have to play the entire hole blindfolded as their teammate guides them Week 3: Alternate Shot Each team of 2 alternates turns taking shots on each hole.
Week 4: Odd Objects & Wig Week Players must hit their first shot with a different object on each hole. Each player that wears a wig will get an extra 10 points towards their team's season total
Week 5: Cinco De Mayo! Wear your best Sombrero to get a free shot of tequila and extra points for your team standings!
Week 6: Silly shots Each hole will have a designated way to play. Alternating teammate plays each hole
Week 7: Total Score Both players will play out the entire hole and their scores will be combined to determine points won Additional points towards season standings will be awarded for hole in ones on holes 2-8.
Week 8: End of Season Tournament!
Players who hit the -12 on the 9th hole add 20 points towards team totals every week!
For more information, please visit https://www.facebook.com/events/639200596646734/.
---
For more fun things to do in Fort Collins this week, check out the latest issue of Fun10FortCollins. 
Tess Abney is a freelance writer who was born and raised in the Quad Cities. She spends most of her time attempting to successfully raise three boys. In her free time, writing is her passion. Whether it is sharing local events and businesses with readers or sharing her thoughts on life, she finds comfort in the way words can bring people together.