Time to Breathe … For Now – 6 FoCo Events to Start Your November Right
This weekend brings us many things, including Fall Back (or you know, more accurately, the end of Daylight Savings Time). But, if you dread that kind of change, you can get your mind off it with a plethora (though a smaller plethora) of new events this weekend.
Magic!
Friday nights at Gryphon Comics and Games, you can bring your kiddo (younger than 8th grade) to participate in a Magic: The Gathering tournament.
For those of you unsure what Magic is, I'll give you a crash course. Magic: The Gathering is a trading card game with fantastic creatures, individuals, and abilities fueled by cards called Mana. Having been around since 1993, there are many ways to play the game, from online to tabletop. If you don't have experience in Magic, don't stress, because it really is a game for all skill and age levels.
If you want to find out more, go here: https://magic.wizards.com/en/new-to-magic
The events run weekly from 4 PM to 7 PM and require you to pay a $5 entry fee to get into the game (not the shop, the game). There are prizes for top finishers, but there's also a free booster pack with your entry. The event is capped at 3 rounds altogether, but overall, it's still a fun experience.
The next event for this is Friday, November 2nd at Gryphon Comics and Games. Find more here: https://www.facebook.com/events/301211433980123/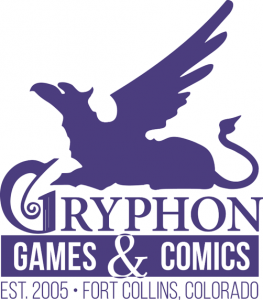 Walking in the Woods with New Belgium
Friday also marks an event hosted by New Belgium Brewery. This is a tour experience, where visitors can learn about the history of New Belgium's sours, and a day in the life of the foeder forest.
This 120-minute tour has ten people a tour group, and runs $65 a person. The tour is every first Friday, and the price includes a souvenir glass to take home. Participants also get walked through the process of crafting their own personal blend.
You are advised to wear closed-toe shoes on the tour and be 21 and over. The tour begins at 4:30 PM.
Check the website here: https://www.newbelgium.com/brewery/fort-collins/all-tours/walk-in-the-woods/
Cooling Off
New Belgium isn't the only one hosting Friday evening events this week.
Odell Brewing is hosting their 3rd Annual Fall Back Fest at Holiday Twin Drive-in. This screening of "Out Cold" is a tribute to winter and the ski season, as well as a send off of Daylight Savings Time. "Out Cold" is about a group of employees at a ski resort in Alaska and the ways they try to outsmart the man hoping to redevelop the resort.
This year, there will be a Best-Dressed Retro Ski Gear Contest. The winner gets $100 in Odell gear and "bragging rights" (their words, not mine).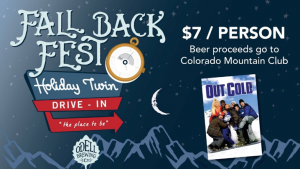 The best part is that you can gain free entry to this event. How? By bringing a winter coat for Odell's Coat Drive with Snowboard Outreach Society! SOS Outreach utilizes outdoor experiences to help gear kids up for life. Emphasis is on courage and life lessons and skills through the program. The focus of the program is assisting underserved youth. Check it out here: http://sosoutreach.org/mobile
The event begins at 4 PM, with the open gate, and from 4:30 PM onward, you can enjoy live music by The Ugly Architect. At 6:30 PM, the screening begins. Tickets are $7 a car, if you don't bring a coat for the coat drive.
Find out more here: https://www.facebook.com/events/239395980066434/
Celebrate the Dead
This weekend isn't just the end of the evil Daylight Savings. It also marks a Mexican festival honoring the dead, and celebrating the lives of ancestors who have passed on.
That festival, as many individuals know it, is Dia de los Muertos, or, more commonly for us English-speaking individuals, the Day of the Dead.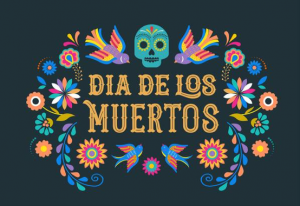 The festival is a multi-day event that began this year on October 31st and will continue until Friday, November 2nd. In honor of this festival, the Poudre River Library District and the City of Fort Collins Recreator are presenting a Dia de los Muertos event at Northside Aztlan Community Center this Friday, November 2nd.
The event will have live music, dancing, bilingual storytime, traditional Mexican food samples, sugar skull decorating, and many other staples of traditional Mexican beliefs. Participants are encouraged to dress up at La Catrina or El Catrin, which are references to the zinc etching of Mexican cartoonist José Guadalupe Posada, whose work seems to be a source for what many know as the decorative skulls and face paint that come with Dia de los Muertos.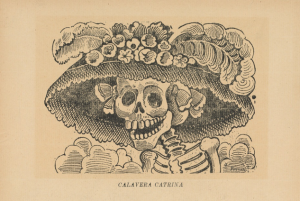 The event is from 5 PM to 6:30 PM and is free to attend. Check it out here: https://www.facebook.com/events/1081184005376612
Holiday Arising
One of my favorite things to do as we approach the various winter holidays is to walk through Old Town while the strands of thousands of energy-efficient, cost-effective, white LED light adorn trees and lampposts alike, bathing the entire area in haunting beauty. The scene as you walk through the area in the evening, amongst so many other people from so many walks of life is exactly what I think of when I think of Fort Collins.
It's warm, and inviting, and it's exactly like you imagine home feeling like.
On Friday, November 2nd, Ginger and Baker, Brinkman Construction and Downtown Fort Collins are hosting an event that brings that warm atmosphere to life. It is the Downtown Holiday Lighting Ceremony, from 5:30 PM to 7 PM.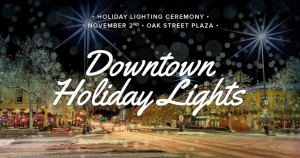 The Lighting Ceremony takes place in Old Town, or more specifically, in Oak Street Plaza. Ginger and Baker will be bringing hot chocolate to the party, and starting at 6:30 PM, there will be a countdown to the lighting! The crowd will witness the lighting of seven city blocks. The lights will then stay on until February 14th.
There will be live music in the form of jazz by Saxophonist/Clarinetist Andrew Vogt and The Andrew Vogt Jazz Quartet, and the event is free to the public.
For more information, click here: https://downtownfortcollins.com/event/downtown-holiday-lighting-ceremony/
Indigenous Experience
November also marks a very important month in our country: Native American Heritage Month. The idea behind this month is to pay tribute to the rich ancestry and ancestral traditions of indigenous peoples.
Whether we like it or not, our history as Americans is deeply entwined with the people who lived on this land before us. Our popular culture has long been embedded with indigenous references and traditions, and our culture as a whole has many, many intense feelings regarding these individuals. Like many minorities, Indigenous peoples have had to fight tooth and nail to be recognized as sovereign peoples within our nation. For more information about National Native American Heritage Month, go here: https://nativeamericanheritagemonth.gov/
In honor of this, a group called CSU AISES (American Indian Science and Engineering Society) is holding the CSU AISES Pow Wow. CSU AISES assists Native students in pursuing their education and careers to help them succeed.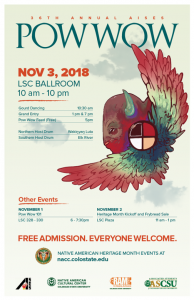 On Saturday, November 3rd, from 10 AM to 10 PM in the Grand Ballrooms at Lory Student Center, the 36th Annual CSU AISES Pow Wow seeks to bring awareness to Native cultures on campus and off. This social event is free to all community members, and it features Pow Wow dancers, drum groups, food, vendors, and more (it's a mysterious more co-sponsored by the Associated Students of Colorado State University and Ram Events).
There will be Gourd Dancing (10:30 AM), Grand Entry (1 PM and 7 PM), and a Pow Wow Feed (Free, at 5 PM). The Northern Host Drum is Wakiŋyaŋ Luta and the Southern Host Drum is Elk River.
Get that info here: https://nacc.colostate.edu/events/colorado-state-university-36th-annual-aises-pow-wow/
There are plenty of events to choose from this weekend, as well as many more. Enjoy a wide variety of cultural and community events this week!
Crystal Angevine is a CSU Alum, who dreams big and works hard. She loves being in the outdoors, lives for her family, and tries hard to be the change she wishes to see in the world. On any given
Saturday
, she might be found knitting, doing other handcrafted arts, or playing video games. She grew up in Northern Colorado, but still loves exploring Fort Collins and the surrounding areas. What better way to do that than by telling the world about the plethora of events dear old FoCo has to offer?