The Week of Giving is Upon us in Fort Collins—Colorado Gives Day and More
It's been said before, and it will be said again: Colorado, specifically Fort Collins, has its heart in the right place. We pride ourselves on giving and loving and being part of our greater community. We want that community to be safe, warm and bright all year round, but it's never more apparent than when we get into the holiday season. Tuesday, December 4th, marks a very important day in our state: Colorado Gives Day.
For those of us who are unfamiliar with Colorado Gives Day, it goes like this: we're celebrating and increasing philanthropy statewide in Colorado through online giving. This 24-hour event can be accessed anywhere, at any time, for any nonprofit you want to see benefitted from your dollars. Donations are accepted here. Please explore the site, as there's a plethora of nonprofits, as well as a special portion of the site for Kids for Colorado Gives. Check out below for Colorado Gives Day events in the Fort Collins area, if you want to get a little more hands on after donating.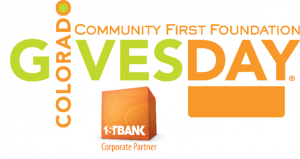 Rewards Beyond What You'd Imagined
Nothing works up an appetite like philanthropy! We all have non-profits we want to support, from those local to us, to those on a larger scale. The fields range from animal rescues to radio stations, and sometimes we just want to get something out of it (sounds counterproductive, but everyone likes giving, as well as getting).
Illegal Pete's Fort Collins is partnering with KRFC 88.9, a local, noncommercial and volunteer powered radio station. Together, they are hosting KRFC 88.9 FM's Free Colorado Gives Day Concert. On Tuesday, December 4th, from 5 PM to 8 PM,  you can go to Illegal Pete's and enjoy food and beverage, while listening to a variety of music. First, at 5 PM, Tiny Mule Songs (Sean Lamborne and his son, Arlo) will perform a fun, kid-friendly set. Following them, we have Brian Johanson, Lois and the Lantern, and the headliner, Write Minded. 50% of all proceeds go to the Power the Tower Project.
The Power the Tower project is this: KRFC 88.9 is trying to raise $197,000 to fund a new and enhanced broadcasting tower to allow the station to reach a broader audience along the Front Range, and possibly beyond! This is the portion of their fundraising that is loud and proud, and really could use the public's help in reaching that goal!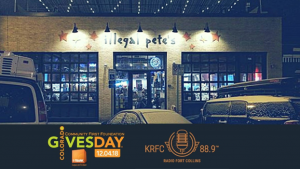 There will be no cover charge, families are encouraged, and who knows? Something good might come of all that food. Find it here.
Even if you decide against going to Illegal Pete's on Tuesday, you can also go to the 6th Annual Party with a Purpose! Nonprofit FoCo Café is celebrating Colorado Gives Day with the help of Odell Brewing. Show your CO Gives Day donation receipt (presumably with a donation to FoCo Café) for free entry, or donate $10 or more at the door per person, and you'll get one beer token (21+), food, music, nonalcoholic beverages, meet others who support the café, get involved with a silent auction for donated items and gift cards Fort Collins wide (like from spa to salon haircuts, to local restaurant cards). You can purchase additional beer tokens at the event. If you donate, the proceeds will be used towards FoCo Café's rent and utility payments in the coming year.
A few things the café does: they work to provide nutritious meals to the people of Fort Collins regardless of their ability to pay. The ingredients are local, organic and sustainably produced. If you eat in, you have four options: pay what you can, pay your normal amount, pay it forward for others to eat, or make a contribution through volunteerism. All people in the community can truly access this café, filling the basic need of food. The café is even handicapped accessible. Find it all here.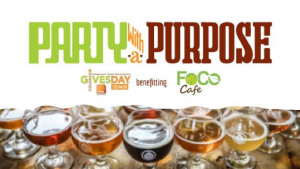 If such a good cause inspires you, you can attend the event on Tuesday, December 4th from 7 PM to 9 PM, at Odell Brewing Company. They aim to raise enough so that more of their budget can go to helping feed people, instead of bills.
The final showcased event for Colorado Gives Day is the Colorado Gives Day After Party Celebration, hosted by Horse & Dragon Brewing Company and Project Self-Sufficiency of Loveland-Fort Collins. You can donate to the Project (more below on that) and then head to Horse & Dragon to celebrate! Be sure to choose CO Gives Day (under the frequency of the donation), and your donation will be boosted by a $1 Million Dollar Incentive Fund. The Brewing Company will be buying a beer for everyone who donates to Project Self-Sufficiency.
Project Self-Sufficiency is a program that aims to help better the lives of single parents, their families and their communities by offering access to education and career development. This 30-year-old project helps underprivileged individuals to develop their own power and help them stabilize, find their strengths, and settle into a career that will launch both them and their families forward into a better future. They have both an office in Loveland and in Fort Collins. Find their info here.
The event at Horse & Dragon is on Tuesday, December 4th, from 6 PM to 8 PM. Your ticket is your donation. Find it all here.
Other Interesting Events
While the beginning of this week is centered on giving, there are still plenty of events transpiring.
Each day this month until December 29th, you will have the opportunity to visit the Holiday Pop Up Shop and Makers Shops. More than 30 makers and businesses from Fort Collins have been chosen by Akinz to bring you everything from bath bombs and beard oil, to jewelry, to spices, to buffalo sauce. This event allows you to continue supporting local businesses, as well as complete that holiday shopping list. Check this Facebook page for a full list of vendors.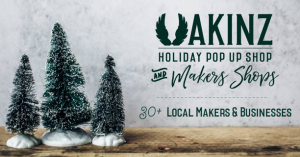 The Pop Up Shops run from 11 AM to 7 PM each day until December 29th. Find the address on the Facebook page and get out there to find some fun.
Speaking of fun: every Monday, Hodi's Half Note hosts Mug Night! Mug Night is a stand-up comedy and open jam, every Monday evening from 7 PM and beyond. Open Jam begins at 10 PM, and it is free to enter. The show is supposed to be all ages, and $10 gets you a mug (that can be reused on Mug Nights) with $2 PBR and $3 micro fills all night. Follow the event here.
Sometimes, though, we have to take our fun with a side of history. For example, did you know that December 5th marks 85 years since prohibition was repealed? Prohibition, for those of us who aren't familiar with it yet, was the time period where the United States outlawed any form of alcohol (from making to imbibing). As a result, many speakeasies arose—basically a black market for booze complete with secret words and knocks and locations. This year, instead of celebrating the repeal on December 5th, William Oliver's Publick House is hosting Speaking Easy in Fort Collins. The event is on Tuesday, December 4th from 10 PM to 11:59 PM at the publick house, and boasts a private (speakeasy style) whiskey class.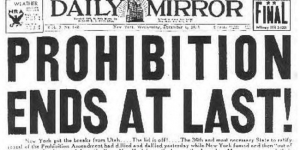 If you decide to go, you need to register for $15, and you will receive instructions about the proper entrance, dress code, and a secret word and knock to allow you to enter the speakeasy. When prohibition officially ends (at midnight), so, too, will the speakeasy. After that, there will be a free, cocktail of the prohibition era. They do have limited space, so be sure to register here!
 Got Past Tuesday—Now What?
Once we get past Tuesday, things settle down a bit. The events forecast boasts both the practical and the interesting as we move into Wednesday.
On the morning of Wednesday, December 5th, the Larimer Small Business Development Center is hosting the Essential Steps to Starting Your Business. This event focuses on start-up assistance and spends two hours from 10 AM to 12 PM providing a fast-paced workshop to give you a feel for what your small business needs from you to get off the ground. It is $20 to register via credit card, here, and if you do not give 24-hours' notice for a cancellation, you could be charged an additional $10.
Questions included in this event will include licensing requirements, resource-assessment, marketing, and capital. It's never too late to assess your dreams.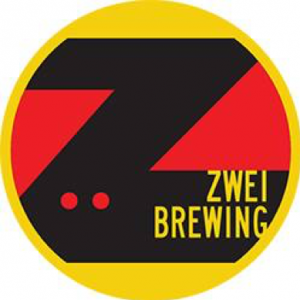 It's also not too late to assess the History of German Brewing with the Department of History at Colorado State University and Zwei Brewing. This is a free private tour about the history of beer and brewing in the U.S. as it focuses in on German immigration. At Zwei Brewing on Wednesday, December 5th, from 5 PM to 6 PM, you can RSVP to learn all about this exciting history. Because of public demand, new tours have been added, so you should definitely check out the Facebook page for more information.
Finally, while we're on the topic of brewing and prohibition, you are prohibited from ignoring this event. The Prohibition Repeal Party with Rosann Winn Jazz Duo is on Wednesday, December 5th from 5:30 PM to 8 PM at the Budweiser Brewery Experience. There will be a 6-course beer and food pairing prepared by Chef Steven Cordova. Each ticket is $44, and the party starts off with samples of one of Budweiser's beers alongside mingling time. The first course begins at 6 PM. You will get to take home a specialty bottle of Budweiser Copper Lager. Find the menu and more at the Facebook page.
So whether you are celebration the end of prohibition (really, in Fort Collins of all places?), or looking for some fun and shopping, or even looking for ways to give back to the community that makes us all so stronger and stalwart, there is always a chance to find something new and exciting around the next corner. Catch you next post!
Crystal Angevine is a CSU Alum, who dreams big and works hard. She loves being in the outdoors, lives for her family, and tries hard to be the change she wishes to see in the world. On any given
Saturday
, she might be found knitting, doing other handcrafted arts, or playing video games. She grew up in Northern Colorado, but still loves exploring Fort Collins and the surrounding areas. What better way to do that than by telling the world about the plethora of events dear old FoCo has to offer?