Suicide Prevention, LGBT+ Support, and Ad Libbed Fun – Participate and Support in Fort Collins
If you've learned anything from reading this blog over the past months, it should be that Fort Collins is an amazing community with ways to serve, support and enjoy the company of the people living around you.
Be A LifeSaver
And no, we're not talking the candy.
Did you know that in Larimer County, a suicide occurs every four or five days? Suicide is also the leading cause of youth deaths, Colorado is consistently ranked in the top ten states for suicide deaths, and Larimer County is affected at almost twice the national average.
The Alliance for Suicide Prevention of Larimer County aims to change that: their goal is to raise awareness, educate the public on prevention, and provide support and resources for those who have felt the impacts of suicide.
So, on Tuesday, September 18, the Alliance for Suicide Prevention of Larimer County is hosting the LifeSaver's Breakfast 2018 from 7:30 AM to 9 AM.  The event does require RSVP (just follow the links below, as far as I can tell it's free to register and attend) and takes place at Timberline Church in Fort Collins. This year marks the 10th annual event. This year's theme: Sharing the Recipe for Hope and Healing.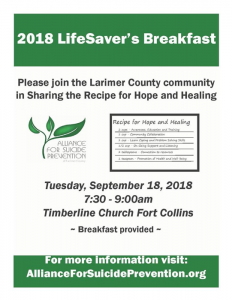 The poster above has a sample recipe to share with the community. The recipe:
2 cup Awareness, Education and Training
1 cup Community Collaboration
1 cup Learn Coping and Problem Solving Skills
½ cup Ongoing Support and Listening
2 tablespoons Connection to Resources
1 teaspoon Promotion of Health and Wellbeing
If you have ever been impacted by a suicide attempt or suicide death, this is a chance to help raise awareness and get support. They do provide breakfast, and the experience is generally welcoming.
Fire up the Barbie
No. Not the doll. The barbecue!
One of the main things that helps individuals feel comfortable confronting mental health issues is support within the community. While the Alliance for Suicide Prevention aims to prevent suicide as a result of mental illness, the CSU Pride Resource Center aims to connect individuals who don't often receive the support necessary to live comfortable lives.
The CSU Pride Resource Center celebrates its 20th anniversary next month. The Center advocates and community engagement amongst CSU members and hosts a number of inclusive events throughout the year, including two drag shows (one a semester), and this year an anniversary dinner. This week, however, they've got a special annual, outdoors event.
Enter: the QueerBQ.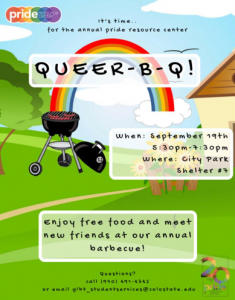 Next Wednesday, September 19th, at 5:30 PM, come and join local LGBTQIA+ residents in eating free food and making new friends. The event is at City Park, Shelter number 7, in Fort Collins and runs until 7:30 PM.
Volunteers to assist in carpooling are also needed. Check out the links below to see if you can get involved or if you would like to attend.
Improvise for the Greater Good
No, really. For the greater good of yourself.
The La-De-Da Performing Arts school is a theater training school meant for all ages—whether you are a first-timer and an adult, a first-timer and a child, or a 15-year experienced performer. The goal is to assist individuals in bettering their theatrical experience. There are camps, classes and an annual musical.  Theater education (and participation in the arts) have often been linked to more positive outcomes for youth and other at-risk individuals.
One of their recurring events in Fort Collins is the Improv Jam! The Jam runs from September 6th to November 15th, (every Thursday) from 7 PM to 8:30 PM. Every Thursday, performers of all skill levels meet up at La-De-Da Performing Arts (4019 S Mason St, Unit 2) and study long form, as well as short form, improvisation.
Classes are $20 a session, and you can get any number of weeks from 1 to 11. If you choose 11, you'll pay around $140 for the total.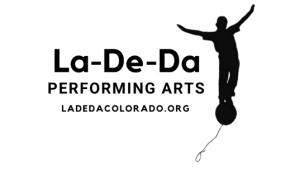 Hope you find a way to connect this week!
For more information about the Alliance for Suicide Prevention: http://allianceforsuicideprevention.org/
For more information about the LifeSaver's Breakfast including registration: https://www.facebook.com/events/465462407301260/
For more information about CSU's Pride Resource Center: https://prideresourcecenter.colostate.edu/
If you would like to help or need the QueerBQ Carpool: https://docs.google.com/document/d/1Y3fhGJO2hz0Pe66fyEzaMx8kIMbkcaoPQ0bMnfSvZvk/edit?usp=sharing
For more information about La-De-Da Performing Arts: https://www.ladedacolorado.org/
For more information about Improv Jam: https://www.facebook.com/events/1881952328768397/?event_time_id=1881952368768393
For registration for Improv Jam: https://www.ladedacolorado.org/sign-up/guided-improv-jam
Crystal Angevine is a CSU Alum, who dreams big and works hard. She loves being in the outdoors, lives for her family, and tries hard to be the change she wishes to see in the world. On any given
Saturday
, she might be found knitting, doing other handcrafted arts, or playing video games. She grew up in Northern Colorado, but still loves exploring Fort Collins and the surrounding areas. What better way to do that than by telling the world about the plethora of events dear old FoCo has to offer?