Spooky—Sporty—Stories: Awesome FoCo Events Perfect for Memory Making
Halloween celebration preparation is in full swing as we move past the first week of October. Crafts galore are being made, schools are celebrating homecoming, and at the end of this next week, National Coming Out Day allows people to start becoming their most authentic selves.
Crafting Craziness
If you have a little one under 18 in your house, chances are that they will spend the next three months receiving a million crafts as gifts from them. And that's okay! They're doing great, and it's wonderful to see the improvement from year to year.
But sometimes, it's nice to actually get the time to do the craft with them. Maybe that's what Bath Garden Center and Nursery had in mind when they created their Free Kids' Arts N' Crafts event!
Bath Garden Center and Nursery is located in Fort Collins on Prospect Road. They've been locally-owned and family-run for about 50 years now, focusing on educating the public and providing low-cost classes about gardening.
You'd think that with the seasons changing, Bath Garden Center and Nursery would be settling down for winter. Instead, they have a plethora of events for all ages to enjoy.
One such event series is their fall and winter craft series, Free Kids' Arts N' Crafts. Beginning back in September, the series is running on Tuesdays from 9:30 AM to 2 PM. Each Tuesday has its own craft, which is posted about a week before the craft day happens. For example, on Tuesday, October 9th, the craft is candy corn owls. They posted a picture of it last week in preparation. It's super nice to have an idea of what's happening before it happens! This is also a good way to know of any changes in their plans for the following week.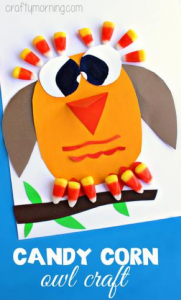 They provide the crafting supplies, though it does occasionally vary from the picture. And that's ok! The crafts are still super fun.
This free event takes place weekly at Bath Garden Center and Nursery on Prospect Road.
The series runs until December 18th. Here's the projected list of projects (subject to change, so check back to the Facebook page):
October 9: Candy Corn Owls
October 16: Popsicle Stick Scarecrows
October 23: Silly Paper Jack-o'-lanterns
October 30: Spider and Bat Headbands
November 6: Tissue Paper Fall Wreath
November 13: Paper Plate Turkey Wreath
November 20: Paper Bag Thankful Turkey
November 27: Crepe Paper Fall Tree
December 4: Spell Your Name Snowman
December 11: Heart Penguin
December 18: Reindeer Hats
The best part of all this? It's absolutely free. So maybe take that little kiddo or even that homeschooled kiddo, or who cares what age kiddo, and make a few memories today.
Homecoming: Return to the Ramily
There's a thing I heard a lot when I was a student at CSU. It was usually along the lines of: "Welcome to the Ramily," "Help out your Ramily," a cutesy little phrase me and many others used to describe ourselves and the way we interacted with our community (note: as far as I know, CSU does not affiliate with those phrases).
CSU's general culture is that we are all part of the whole family. No person exists as a single tree. We are a forest, and we can lean on each other in times of crisis. And the forest doesn't stop at students, staff and faculty. Instead, it includes every single person impacted by a Ram.
One of the biggest things Colorado State University does every year is Homecoming and Family Weekend. This tradition brings the family and the alumni home, bringing us all back to our proverbial roots, back to the places where lifelong memories are made.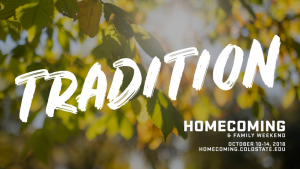 The tradition spans five days- October 10th to the 14th this year- and contains so many events it's hard to list just a few. But! Here's the highlight reel:
October 10th sees the Alumni Night Out at the Guilded Goat Brewery at 5:30 PM, as well as the Homecoming Comedy Show at the Lory Student Center Theatre from 6 to 8 PM. The comedy show features Saturday Night Live alum Sasheer Zamata, and it's free to the general public.
October 11th gives us the Distinguished Alumni Awards Dinner (invite only, buy tickets- chances are if you are eligible to go to this one, you got information about it a month ago) at 5:30 PM in the Lory Student Center Ballrooms A and B.
October 12th has much more going on. The 50 Year Club Luncheon runs from 10:30 AM to 1 PM at the Hilton. This event inducts classes that graduated 50 years ago. This year, they are inducting the class of 1968, and any alum from that class or older is welcome to attend. Check the website below for tickets.
Also, on October 12th, the Festival on the Oval runs rampant (see what I did there?) from 3 to 6 PM on the Oval. Enjoy live music, children's activities, food trucks and a beer garden. This event overlaps with the Homecoming Parade (from 4:30 to 6 PM) that travels from Washington and Laurel Streets to the Oval. Both events are free to public attendance, but food and beer are not free to obtain.
The last big event of October 12th is Friday Night Lights: attend a bonfire by the Lagoon (near Lory Student Center), see some fireworks and witness the A as it lights up from 6:30 to 8:30 PM. This event is also free and open to the public.
October 13th brings you the Parent and Family Breakfast at the Lory Student Center in Ballroom D from 9 to 10:30 AM. This event is open to all students, and students' family members, and requires registration. After that, you can attend the Coors Light Ram Walk Tailgate at 10 AM, located just west of Canvas Stadium. There will be free live viewings of the Stadium Sessions performances (local artists performing at the stadium pre-game), TVs, and food, beer and wine for purchase.
At 2 PM, on October 13th, CSU's Rams go up against New Mexico's Lobos in the big Homecoming Game. Tickets are required so be sure to check the links below.
And to finish the weekend off, October 14th has the Homecoming 5k Race. This year, the race returns to campus, beginning and ending near the South end of the Moby Arena campus. This all-ages event is from 9 to 10:30 AM, with a free kids' fun run at 10 AM. The fun run is led by CAM the Ram.
For much of the Fort Collins community, this weekend is a reason to come back together and revel in memories and relationships that will last a lifetime. Deep down, we're still Rams at our core, no matter how our lives play out. Be sure to check the links below for all the other events aimed at helping Rams be successful each year throughout their CSU journey.
Coming Out as Authentic
For some LGBTQIA+ people, coming out as who they are is easy. They know who supports them, they are comfortable in their skin (for the most part), and they were able to be loud, out and proud.
For others, it's much harder, not knowing who to trust, where to turn or how to maintain a healthy lifestyle as part of who they are.
October 11th marks National Coming Out Day, a day designated to celebrate coming out. This year is the day's 30th anniversary. The very first Coming Out Day was hosted on the first anniversary of the National March on Washington for Lesbian and Gay Rights. The goal was to reaffirm our most basic individual power: coming out to the world as ourselves.
In honor of this day, the CSU's College of Veterinary Medicine and Biomedical Sciences (CVMBS) Broad Spectrum group is holding Closet Confessionals: A National Coming Out Day Celebration, a celebration of Fort Collins' queer community on Wednesday, October 10th from 6:30 to 8 PM at the Lyric.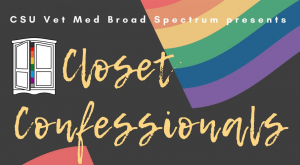 There will be storytellers who will share a 5 to 7 minute stories regarding part of their queer experience- anything from first loves, to coming out, to starting new jobs. Only those who feel comfortable enough will be sharing.
Donations and proceeds of this event go to CSU Broad Spectrum to help bring more educational speakers and larger events to campus. This organization is a student-run, LGBT+ club for Doctor of Veterinary Medicine students at CSU.
Make this week a memorable one.
For more information about the Bath Garden Center Crafts: https://www.facebook.com/events/2088933614484962/
For more general information about Bath Garden Center and Nursery: https://bathgardencenter.com
For more information about CSU's Homecoming and Family Weekend: https://homecoming.colostate.edu/ and
https://homecoming.colostate.edu/events/
For more information about the CSU Broad Spectrum event:
https://www.facebook.com/events/336562433572432/
For more information about Spectrum CSU: https://m.facebook.com/spectrum.csucvmbs/
Crystal Angevine is a CSU Alum, who dreams big and works hard. She loves being in the outdoors, lives for her family, and tries hard to be the change she wishes to see in the world. On any given
Saturday
, she might be found knitting, doing other handcrafted arts, or playing video games. She grew up in Northern Colorado, but still loves exploring Fort Collins and the surrounding areas. What better way to do that than by telling the world about the plethora of events dear old FoCo has to offer?