May the Season Be Bright and Merry, and Full of Local Goods, Love, and Light—Fort Collins this Weekend
In a time of so many busy days, there are plenty of things we get to do that keep us to ourselves—from raising our families, to working our 9-5 (or whatever shift you work), to simply sitting in the dark in your living room on a Friday night watching Netflix and eating Chex mix by the handful (anyone else? no? just me? Okay then).
Check out some of these events to help get yourself connected as we approach the coldest days of the year.
Wolverine Friday
You already know about the First Friday Gallery Walk, so now, you need to remember one more stop on that list. Wolverine Farm Letterpress and Publick House is hosting a First Friday: Local Makers event! From 6 PM to 8 PM on Friday, December 7th, you can view prints, metalwork, woodwork, watercolor, acrylics, collage, fiber and textiles, as well as so much more. All the pieces will be the product of local artists, such as Todd Simmons, Jane Engle Roberti, Kit Gray Illustration, Meg Schiel, Avo Ink, and Pagefiftyfive (among others). Find it all right here, including links to the artist's pages.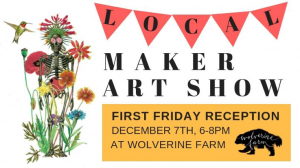 37 Years Strong
This time of year is all about following and creating traditions. Some years, the traditions are stronger than ever, and this year could very well be one of those years, as many people try to find love and hope in the world. Every year for the last 37 years, Canyon Concert Ballet has put on stunning performances of The Nutcracker, at The Lincoln Center. Accompanied by the Fort Collins Symphony Orchestra, the performance features Tchaikovsky's work, and it has a run time of around two hours.
There are four shows this weekend, with one on Friday, December 7th; one on Saturday, December 8th; and two on Sunday, December 9th. Tickets are $35 for adults, $28 for seniors, students, children, and groups ($28 a head, not total). Check out the ticket page for times, as well as to purchase tickets.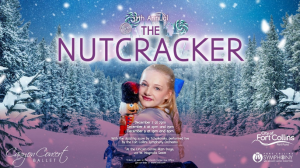 Green and Sweaty Sweaters
You've probably heard of ugly sweater parties, or been told that everyone is going to wear an extremely ugly sweater on the same day at work, or been given a really ugly sweater for your winter holiday from that one family member or friend that you really just don't want to hurt their feelings by hating it so you wear it anytime they are around for any length of time. You have a new way to utilize those sweaters that you don't enjoy (or maybe you do) wearing any other time of year.
We've gotten to the Sweaty Sweater 4 Mile Run/Walk 2018! Brought to you by Green Events (the same group who brought us the Father's Day Run/Walk), you can enjoy this event in so many different ways on Saturday, December 8th.
There is a 4-mile individual race, a 4-mile team race (8 or more people), a youth (17 and under) race, and a sweater contest, all at the Budweiser Brewery Experience. The event runs from 8 AM to 12 PM, and does require you to register. Check the Facebook page for registration fees and website information.
Packet Pickup and Race Day registration begins at 8 AM, the race starts at 9 AM, Awards are at 10:15 AM, and the Ugly Sweater Contest and Fashion Show is at 10:30 AM.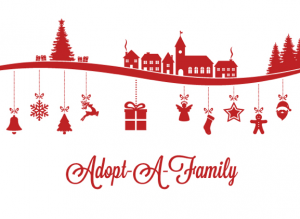 Proceeds from this event will be going toward the Adopt-A-Family program in our community. That program partners with local churches, businesses and the community at large to help meet the needs of local families during the winter holidays. Families in need received a holiday food basket/grocery card, and gifts for the kids. Toys will also be collected at the event for the gifts. If you bring toys, please be sure they are unwrapped and new.
So you enjoy running/walking with family and friends, while giving to those in need.
Gingerbread House-raiser
Green Events isn't the only group raising some funds this year. The Eyeopeners Kiwanis Club is hosting a Gingerbread Home for the Holidays Fundraising Event on Saturday, December 8th, from 9 AM to 1 PM at Fort Collins Foothills Mall.

You and a team of four will get to decorate a gingerbread house, or you can sponsor a house. Sponsors will get social media attention, as well as acknowledgement at the event. This is a competition, with all proceeds going to Eyeopeners Kiwanis. These funds will go to their projects, such as the Fishing Derby, Colorado Feeding Kids Food Packing Events, and distributing copies of the Swimsuit Lesson Book (a book that helps educate children about the danger of sexual abuse).
Check out the Facebook page for more information about the event, including sponsorship.
10 Years of Art
You've probably read about a half dozen maker's market events over the last few posts. This one is incredible in a different way.
It's time for the 10th Annual Holiday Freedom Market at Bean Cycle Roasters. Enjoy 20 local makers, free cookies, and locally roasted coffee from Bean Cycle. This market is volunteer-run, and it is FREE for the makers.  They get to keep 100% of their profits, and you get to enjoy everything from goat milk soap and fiber, to ceramics, to quilts, to Colorado-themed apparel, to CBD products.
The Freedom Market is from 9 AM to 3 PM on Saturday, December 8th. Check it out here.
Making Colorado
If you don't have time to make it to the Freedom Market on Saturday, you can go to the Colorado Makers Market on Sunday, December 9th from 12 PM to 5 PM at Northside Aztlan Community Center!
Here, there will be 120 vendors, with vintage and handmade goods. There is free onsite parking, with free entry. This makers market has been around since 2016, allowing local artists and creatives to sell to their community. If you can't make it this year, it's definitely worth bookmarking it for next year. Check the website here. They have Facebook, Instagram, and Twitter so be sure to follow them too!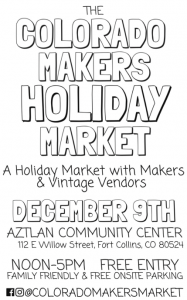 Another Winter Holiday
Sunday has a super important event that we don't hear enough about.
On Sunday, December 9th, Mayor Wade Troxell is the guest of honor as local and state dignitaries and the community come together for the annual Menorah Lighting and Chanukah Celebration. There will be a giant Menorah, Jewish holiday and traditional Chanukah foods.
The event is from 5 PM to 6 PM that day, and entrance is free at Old Town Square in Fort Collins. This is sponsored by Chabad Jewish Center of Northern Colorado, the Coloradoan, and the Allied Jewish Federation of Colorado. This year, Chanukah began on December 2nd and runs until December 8th. For more information about Chanukah Celebrations and Menorah Lightings, please check out the website.
To those of my readers who celebrate this holiday, Happy Chanukah, and may you feel the light you need in the darkness.
To those who don't celebrate it, Happy Weekend, and may you be connected this holiday season.
Crystal Angevine is a CSU Alum, who dreams big and works hard. She loves being in the outdoors, lives for her family, and tries hard to be the change she wishes to see in the world. On any given
Saturday
, she might be found knitting, doing other handcrafted arts, or playing video games. She grew up in Northern Colorado, but still loves exploring Fort Collins and the surrounding areas. What better way to do that than by telling the world about the plethora of events dear old FoCo has to offer?