Massive Pumpkins, 90s Throwback, and Other Shenanigans
Homecoming isn't the only big event up this weekend. From Fall Jamborees featuring a gargantuan pumpkin contest, to brunches at the grand opening of a new restaurant in town, to milkshakes to help it all go down, this weekend is sure to give you some respite before next weekend starts breaking out ghouls and folks galore.
Extreme Harvest, Huge Fun
Fort Collins is a-buzz with probably our most popular mantra: tradition. While this weekend also marks the end of Colorado State University's Homecoming and Family Weekend, it brings to us the 10th Annual Giant Pumpkin Weigh-Off and Fall Jamboree. Fort Collins Nursery returns as host to the event this weekend, on Saturday, October 13th from 10 AM to 3 PM. Registration for weighing is from 10 to 11 AM, and judging begins at 11:30 AM sharp. The sooner everyone arrives and registers, the sooner weighing can commence, so try to be there as early as possible.
Fort Collins Nursery is a locally-owned, year-round nursery and is an officially sanctioned contest site for the Great Pumpkin Commonwealth. The GPC aims to increase the hobby of growing giant pumpkins. They provide sanctions, standards, and regulations that ensure an even competition throughout the world. This means that the event has a whole new level of competition which allows people to have acknowledgement and recognition for their hard work in cultivating massive fruits.
There will be cash prizes for the Heaviest Pumpkin, for 1st through 5th place, ranging from a whopping $1500 for 1st to $100 for 5th. There's also a First Place prize for Heaviest Squash ($50), in addition to the Howard Dill (Prettiest Pumpkin) Award of $50.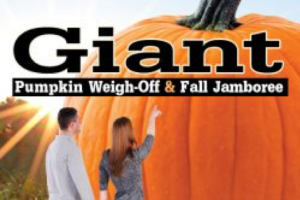 No worries, though, this is an all-ages event with a kid's division (13 and under) for the contest. The top three competitors receive a prize and a ribbon.
You won't be bored if you go without a pumpkin, though. It is also the Fall Jamboree, featuring a beer tent from 11 AM to 3 PM. All proceeds of this tent go to The Growing Project. This nonprofit seeks to create a diverse, strong and just local food system in Northern Colorado using advocacy, education and experience. The ultimate concern is how unstable food security is on a global scale, with an intense focus on Larimer County.
Other attractions include Schmickels Hot Dog Cart, Tractor Hay Rides from 11:30 AM to 2:30 PM, Pumpkin Bowling, Face Painting and Lawn Games (like Cornhole and Ladder Toss).
Be sure to check out the Facebook page for a list of the Sponsors and Affiliates for this event.
Go and get your weigh on.
Flashback Friday… on a Saturday
To all of my fellow 90s kids…be prepared to be taken back to yesteryear. To all of the kids who grew up shortly after the 90s, I sure hope you can bear with us.
Sips Grub and Pub is a new restaurant that just opened up on College Avenue and Stuart. They are a scratch-made American restaurant serving people for breakfast, lunch, and dinner, with a full bar.
This weekend, on Saturday, October 13th, from 10 AM to 2 PM, Sips Grub and Pub is hosting their Grand Opening celebration alongside Ryan Dykstra Records. You can hear DJ Channell spinning all genres, with the theme for this event being The 90s DJ Brunch. The MC's of the event are Waylon Shufflebottom Hogwood and Meagan Stiverson. You can even make reservations for tables (go to the Facebook page for the event and get that phone number to do so).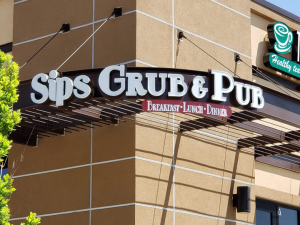 You can look forward to a 90s themed brunch and drinks menu, as well as 90s swag on each table. There will be a full bar, bottomless mimosas and a Build-Your-Own Bloody Mary bar. Don't worry, though. There may be alcohol at this establishment, but this event is family-friendly, and you have the option of patio seating, should weather permit. Come enjoy foods like Backstreet Biscuits and Gravy and Saved by the Bell Pepper Omelet, among other 90s-based foods, and the full Sips menu.
On an ordinary day, Sips is open from 6 AM to 10 PM Sunday-Wednesday, and 6 AM to midnight Thursday-Saturday. The reviews on the Facebook page are practically glowing, with many commending the restaurant with the made-from-scratch foods and excellent service.
If you can't make it to their Grand Opening event, though, there are several other themed brunch events over the next month or so. On October 20th, they are hosting the Old School Hip Hop Brunch; October 27th, the Boy Band Brunch with Costume Contest; November 3rd sees the Prince VS Michael Jackson Tribute Brunch; November 10th, the Disco and Funk Brunch; and finally, November 17th has a Daft Punk Tribute Brunch. For more information about those events, check out the Facebook pages below.
October the 13th Festivities
There are so many events happening on October 13th that it's best to highlight some more really cool ones here. These will be quick little blurbs, with links to the Facebook events pages, so that you can keep straight all the really awesome things happening.
You can enjoy Culture in the Courtyard: Legends and Lore in the Heritage Courtyard at Library Park from 10 AM to 1 PM hosted by Fort Collins Museum of Discovery. Costumes are encouraged, as there's a mini-treat-or-treat event, where kids knock on the historic cabin doors, learn about the historical families that lived there, and get candy. After that, you can go to the schoolhouse to enjoy some local legends. All the buildings will be open for exploring, finding candy and finding clues. Donations of $3 are suggested. Find that here: https://www.facebook.com/events/287868965358555/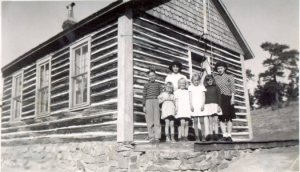 The Northern Colorado Astronomy Club is hosting Astronomy Day 2018 that day as well, from 1 PM to 5 PM at the Fort Collins Museum of Discovery. Attend the Otterbox Dome Theater to learn more about the constellations, look at the sun safely through a telescope, and explore hands-on activities. This event is covered in admission and membership. Find that here: https://www.facebook.com/events/247737585945670/
Join the Rescued Friends Animal Sanctuary for Halloween movie nights every Saturday in October. This Saturday, you can see Trick 'r Treat. On the 20th, the movie is The Nightmare Before Christmas, followed by Halloween on October 27th. You do need to register for it, though, it does appear to be free. You can check that out here: https://www.facebook.com/events/456377164855603/
While these are definitely not all the events happening this weekend, hopefully you'll find something fun to do as we ramp up for Halloween in a little over two weeks.
Be sure to check the links below for any extra information you might need.
For more about the Fort Collins Nursery: https://fortcollinsnursery.com/
For the Giant Pumpkin Weigh-Off and Fall Jamboree Facebook page, including links to rules and regulations: https://www.facebook.com/events/2374620445888975/
For more about The Growing Project: http://www.thegrowingproject.org/
For more information about Sips Grub and Pub: https://www.facebook.com/sipsgrub/
For more information about the 90s Throwback Burnch: https://www.facebook.com/events/690211808018739/
Crystal Angevine is a CSU Alum, who dreams big and works hard. She loves being in the outdoors, lives for her family, and tries hard to be the change she wishes to see in the world. On any given
Saturday
, she might be found knitting, doing other handcrafted arts, or playing video games. She grew up in Northern Colorado, but still loves exploring Fort Collins and the surrounding areas. What better way to do that than by telling the world about the plethora of events dear old FoCo has to offer?