Idle Hands Lead to Trouble: Fun Events For The Halloween Season
Have you ever heard the phrase, "Idle hands are the Devil's handiwork"? Neither have I. I got that from a song. But! On that note, did you know that Halloween can be referred to as Devil's Night? That's moderately more related to this post.
This weekend marks the weekend when everyone ramps up for Halloween! So, kick back, relax, and read about all the events you can kick off your Halloween weeks with.
Month of the Cure
October is also a month dedicated to fundraising for the cure to breast cancer. Welcome to Breast Cancer Awareness month!
On Friday, October 19th, The Human Bean is hosting an annual event called Coffee for a Cure. Running from 5 AM to 10 PM, The Human Bean is raising money to be donated back into local hospitals. At the beginning of October, The Human Bean began requesting donations for Coffee for a Cure swag, with all donations from that also going back into these local funds. Because of this, you can purchase a fun sticker, a car air freshener, bracelets, totes, and card holders that day too.
You can also buy a ticket (one ticket for $5, or 3 for $10) for a raffle for a $100 gift card to The Human Bean. There will be ten winners.
Curious how this relates to Fort Collins? From 7 AM to 5 PM, The Human Bean coffee truck will be on CSU's campus, right next to the Moby complex! All of the sales will be donated to local hospitals for cancer research and support.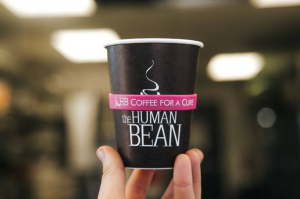 Sales in Weld County go towards the Northern Colorado Medical Center Breast Cancer Fund, while in Larimer County, the sales go toward Poudre Valley Hospital and Medical Center of the Rockies Foundation Oncology Patient and Family Support Fund.
So, if you need some coffee this Friday, please be sure to choose wisely!
Other Friday Events
Colorado State University's Journalism and Media Communications department is hosting a gala celebrating 50 years at CSU. It is a banquet with several professional panels and networking opportunities throughout the day. The event runs from 10 AM to 10:30 PM. Get that information here: https://www.facebook.com/events/1654131831343180/.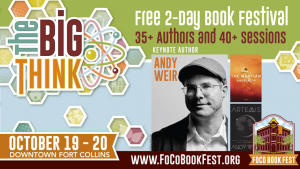 The Fort Collins Book Festival is coming to town with the theme, The Big Think. The Festival runs Friday, October 19th (10:30 AM to 9:30 PM) and continues on October 20th (9 AM to 7 PM). It is a free event featuring more than 35 authors and 40 sessions, and it is being hosted by the Poudre River Library District. Sessions include writing workshops, presentations, readings, panels, and more. The Big Think aims to answer the questions, "What if?" and "What else?" by utilizing literature, poetry, science and technology. The two big featured authors include Andy Weir (author of "The Martian" and "Artemis") and Bill Ritter, Jr. (clean energy expert and author of "Powering Forward"). Check the links below, and remember, this is a really good event for those considering participating in National Novel Writing Month in November. Get that info here: https://www.focobookfest.org/
Larimer County Solid Waste is hosting Science, Technology, Engineering and Math (STEM) workshops this week (and, I think, most weeks), with this week's workshops being Thursday, October 18th, and Friday, October 19th. By the time you read this post, it will be Friday, so this will focus on those two workshops. The first is for kids 3-6 (10:30 AM to 11:30 AM), and they can make zip lines for bats, goblin rockets, and mix a witches' brew. The second is for kids 7-10 (12:30 PM to 2 PM), and they can design and create a lit haunted house or a pumpkin chuckin' catapult. Get that information here: https://www.facebook.com/events/303480123812969/

Friday also marks the day that foodies the city over come out for the Fort Collins Foodie Walk. This is a free monthly event, where 12 Downtown shops allow people to come in on a self-guided tour to experience new and tasty locations. The Foodie Walk is every 3rd Friday from 5 PM to 8 PM, so check this page for more information: https://www.facebook.com/events/626861374382435/
You, your inner Potterhead, and your children ages 5-14 can attend Hogwarts Halloween this Friday and Saturday, as hosted by the City of Fort Collins Recreator. Tickets are $15 for kids, and $5 for their adults. The Recreator expects upwards of 600 people to roam the halls of Hogwarts at Northside Aztlan Community Center, practicing skills and spells, creating potions, eating chocolate frogs, drinking Butterbeer and playing Quidditch. The event runs from 6 PM to 9 PM both days. You can find more information, including tickets, here: https://www.facebook.com/events/573719489697977/
If you like spooky, Chipper's Lanes is hosting a Haunted House—the Fear of the Dark. This event runs from October 19th to the 21st, and then again from the 26th to 28th. Check the Facebook page for times for each night. This is a two-story haunted house, on 3000 sq. ft., with a ticket price of $20 a person. There's a bonus gift if you survive. Check that out here: https://www.facebook.com/events/1163231987162742/
20 Years of Pride
If those events aren't enough, Saturday, October 20th marks 20 years of Colorado State University's Pride Resource Center making a difference for students, faculty/staff, and community members. They are marking the occasion with a dinner held at Lory Student Center that evening.
The celebration of the Pride Resource Center begins at 5:30 PM with a reception, with the dinner/program beginning at 6:30 PM. There is an optional, post-dinner, non-CSU sanctioned event at the R Bar beginning at 8:30 PM. The special guest is Mariachi Arcoiris, the world's first and only LGBT+ Mariachi group. The plan is for student voices to grace the night, providing insight to the ways PRC makes life easier for students who use their services.
Tickets are free for students, but staff/faculty and community members need to pay $15 for tickets. Registration is likely closed, but the links are below.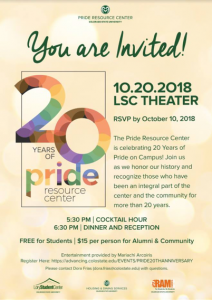 Other Saturday Events
Fort Collins Museum of Discovery is back again with Museum Takeover: Frankenfest. This celebration of the 200th anniversary of Mary Shelley's Frankenstein aims to answer the question of what makes a monster. Participants can re-animate worms, explore electricity, and try to understand the complexity of Dr. Frankenstein (and his monster, who, is NOT named Frankenstein). The event is included in museum admission and runs from 10 AM to 1 PM. Find that information, including tickets, here: https://www.facebook.com/events/2128925343989679/
Complete Equestrian Vaulters is hosting a FALL Festival Vaulting Performance from 12 PM to 2 PM. Viewers are encouraged to bring a picnic lunch, a blanket, and some chairs in order to watch the performance. They will be preselling their Heart Beats Gala tickets, and all donations go towards their scholarship programs. Admission to this event is free Get that information here: https://www.facebook.com/events/2139739959383099/
Rainbow Militia and The Center for Family Outreach is hosting a Masquerade Ball from 7 PM to 11 PM at the Hilton. They are promising a mysterious evening with tapas and libations, live music and dancing. The event is 21+ and features a cash bar. Tickets are $75, and if you don't want to drive home that evening, the Hilton has reserved a block of rooms to allow you to spend the night. Additionally, Yellow Cab is on hand to help people get home. Tickets are here: https://www.eventbrite.com/e/masquerade-ball-tickets-48253611852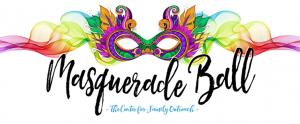 Draggin' ON as We Countdown!
Sunday brings two major events for Fort Collins. The first is the Prism CSU Fall Drag Show.
This semester's theme: Throwback! Join the crew for a night remembering moments from the 70s, 80s, 90s and early 2000s.
As usual, the show is in the Grand Ballroom of the Lory Student Center, and features names like Maverick Smith, Natalia Wynters, Evelyn Evermoore, and so many more (my personal favorite is Khrsy'taaal, but I may be a bit biased). This season's special guest is Peppermint of Ru Paul's Drag Race fame.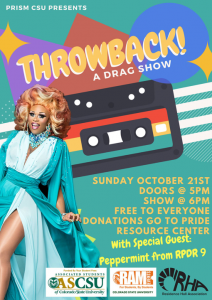 The show is free, and doors open at 5 PM. The show starts at 6 PM, and generally runs for about three hours with an intermission. Donations go to CSU's Pride Resource Center to support all the good they do in the community.
The other big event on Sunday, October 21st is Curious Gage's Countdown to Candy at Bas Bleu Theatre. This acapella show allows you to dance to the Monster Mash and enjoy the live music of four voices singing with no background instruments. The event is free for all ages.
This event runs from 6 PM to 8 PM at Bas Bleu Theatre. Check it out here: https://www.facebook.com/events/1116321051868332/
There are plenty of events this weekend to keep all those idle hands busy. Have fun!
For more information about…
Coffee for a Cure: https://www.facebook.com/events/251730958872211/ and https://humanbeannortherncolorado.com/event/csu-moby-gym-coffee-cure-day/
Pride Resource Center: https://prideresourcecenter.colostate.edu/pride-resource-center-20th-anniversary/?fbclid=IwAR0-oTo5rjui1EJIVyWcURkuDocUnkd_9T11L1ITrfpQZOP9SLWjIgwlhjE and https://www.facebook.com/events/228523137996898/
CSU Drag Show: https://www.facebook.com/events/935299733324448/
Crystal Angevine is a CSU Alum, who dreams big and works hard. She loves being in the outdoors, lives for her family, and tries hard to be the change she wishes to see in the world. On any given
Saturday
, she might be found knitting, doing other handcrafted arts, or playing video games. She grew up in Northern Colorado, but still loves exploring Fort Collins and the surrounding areas. What better way to do that than by telling the world about the plethora of events dear old FoCo has to offer?