Hoppy Hot Rods, Youth Support, and Salmon Bakes – Weekends in Fort Collins
This weekend has some amazing events planned. Whether you like fantastic cars, supporting our youth, or salmon, there's probably a really cool event out there for you.
Budding Hot Rods United in Charity
Cars are a popular pastime for many in Fort Collins, and in Northern Colorado. So is Anheuser-Busch. Add the two together, and you get a fantastic, fun event.
Enter: Hops and Hot Rods. Presented by the Budweiser Brewery Experience, the Hops and Hot Rods event is a car show whose proceeds go to the United Way of Larimer County.

For those who don't know, the United Way of Larimer County is a major force of good in the community. The mission of this organization is to assist all people of need in our community—from assisting in kindergarten readiness, to self-sufficiency, to utilizing over 70 other local nonprofits to make big change in the community. They believe in being accountable and trustworthy, and recognizing that change is about people helping each other.

This marks the third year of the event. Here's how it works: if you have a car you want to show, you pay $20 to get the car registered for the event. The first 150 cars receive a Budweiser goodie bag, and parking spaces are determined by arrival to the lot. Car clubs should arrive together so they can be parked nearby each other.
If you aren't planning on entering a car into the contest, you can still go, and guess what? It's free for you.
The schedule begins at 8 AM on September 15, when the lot opens. From 10 AM to 12 PM, is the show with voting. At 1 PM, awards are given out (no word yet on what those might be), and at 2 PM there will be live music. The event takes place in its entirety at the Anheuser-Busch Biergarten (2351 Busch Drive) in Fort Collins.
Youth in Need
Another event that day is the Fort Collins SPLASH Group held by SPLASH NoCo and NoCo SafeSpace LGBTQIA+.
SPLASH NoCo is an organization in Northern Colorado that provides a safe space for alternative youth and their families to come together for support and community. The space is inclusive and welcoming to LGBTQIA+ individuals. SPLASH also offers support for parents/guardians and provides school trainings and support.
The idea is to provide a place where these at-risk individuals have the ability to be themselves and can find support and resources.
This particular event is for youth ages 12 to 18. The group is youth-led and participants have a space they can learn about the LGBTQIA+ community, as well as connect with other teens like them.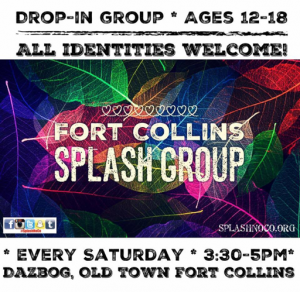 The group is a recurring experience, meeting on Saturdays at Dazbog Coffee Store, in Fort Collins (401 Mason Ct, Ste 105). The group meets for social time at 3 PM, with activities starting at 3:30 PM. It runs until about 5 PM. At the same time, there is a parents' group that meets with the goal of learning how to support local youth.
There is no RSVP and no membership list in order to protect the participants.
If this is something you are interested in, check out the links below.
Moon's Bountiful Harvest
Every weekend is the weekend for giving in Fort Collins. Another great event—the 4th Annual Harvest Moon Salmon Bake—is being hosted by Fortified Collaborations, Poudre Valley Community Farms, Jax Fish House and Oyster Bar, and Jodar Farms.
This event is a dinner party of sorts, with chefs from Jax creating a multi-course meal using produce from Jodar Farms and salmon cooked in the Pacific Northwest tradition (over an open fire). There will also be beers from the Post Brewing Company and wines from Pringle's Fine Wines.
But why should you really want to go, aside from fantastic sounding food?

The proceeds benefit the Poudre Valley Community Farms. This group aims to assist young farmers in continuing a long tradition of Americans growing and producing locally grown food. Farming is almost a dying profession, which inspires Poudre Valley Community Farms to collectively buy farming land and lease it to the next generation of farmers in order to promote economic growth and local food security. For further information about the group, check out the links below.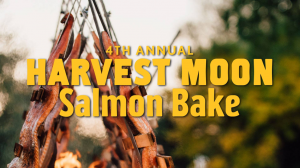 Tickets are $90 for an individual, or $170 for a couple. The event is Sunday, September 16, from 5 to 9 PM at Jodar Farms (5100 E County Road 48) in Fort Collins.
Hope that can satisfy your tastes.
To register for Hops and Hot Rods: http://uwaylc.org/Post/3rd-Annual-Hops-and-Hot-Rods
For more about United Way of Larimer County: http://uwaylc.org/About-Us
For more information about SPLASH and its services: https://splashnoco.org/
For the SPLASH group Facebook page: https://www.facebook.com/events/1873274856069733/
For more information about Poudre Valley Community Farms: http://poudrevalleycommunityfarms.com/
For the PVCF Facebook page and tickets: https://www.facebook.com/events/445027932673573/
Crystal Angevine is a CSU Alum, who dreams big and works hard. She loves being in the outdoors, lives for her family, and tries hard to be the change she wishes to see in the world. On any given
Saturday
, she might be found knitting, doing other handcrafted arts, or playing video games. She grew up in Northern Colorado, but still loves exploring Fort Collins and the surrounding areas. What better way to do that than by telling the world about the plethora of events dear old FoCo has to offer?