Family-Friendly Fun, Biking in Space, and 18 Years of Diversity
Welcome to fall in Fort Collins! We are officially headed towards Halloween with its super spooky skeletons, Thanksgiving with its tasty food, and the winter holidays with gifts and charity galore! Things are ramping up, with any number of great events on any given day!
Goodbye, September; Hellooooo Oktoberfest
On Saturday, September 29th, Bath Garden Center and Nursery (2000 E Prospect Road) is hosting Family-Friendly Oktoberfest! This free-admittance event is the Oktoberfest you never realized you wanted.
There will be locally-brewed root beer and cream soda (of many flavors, it sounds like). The root beer garden is $2 a person, and at lunch, enjoy some extra-large brats from Valley Packing for $4.
Kids can do a veggie stamp craft and make pretzel necklaces, and the whole family can enjoy a pumpkin carving demonstration.
If you're of a mind, you can also enter into the salsa contest (the food, not the dance). Bring your homemade salsa by 1 PM and see if you can win the gift-card prizes ($50 for first, $25 for second, $15 for third).
High Hops Brewery is providing blood orange soda and root beer, and Coopersmith's Brewery is bringing its A-game with root beer, cream soda and ginger ale.
The event runs from 11 AM to 2 PM. Bring the whole family and get your (root) beer on!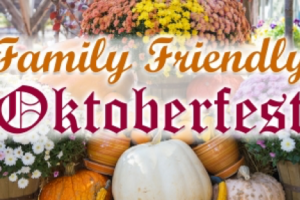 Lost in Space on BIKES?
If Family Friendly Oktoberfest isn't your style this year, there is another party going on Saturday, September 29th. Bring yourself in costume to the Downtown Artery and dance the evening away.
We're talking about Bike Prom! This annual fundraiser by Maxline Brewing and Recycled Cycles runs from 8 PM to 1 AM with the theme "Lost in Space." The money raised goes towards Bike Fort Collins programs, such as Active Living (trying to increase biking and other alternative transportations as modes of travel in Fort Collins), Safe Routes to School (helping students incorporate physical activity by teaching them how to bike to school), and Bike Friendly Business Development (attempting to help businesses transform their work environments).
DJ Square-D will be providing the beats, while a photo booth and raffle drawing are available to occupy your time when you aren't busy getting your groove on.
A pre-party starts at 6 PM (running until 7:45 PM) at New Belgium Brewing, with $1 off a special beer for Bike Prom (the website promises no glitter was hurt in the process. Enquiring minds need to know!).
Tickets are $20. You can find the link for that and for all the information you could want about Bike Fort Collins, including ways to support the fundraiser without attending the prom, below.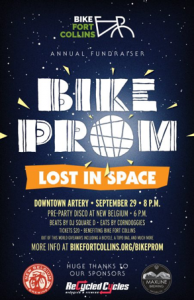 Seriously. Can someone explain how to bike in space?
Diversity Kick-off
October is a month of many faces—a cause for celebration, a cause for fundraising, and oftentimes, a cause for awareness. This is made all-the-better by CSU's Diversity Symposium, which kicks off Monday, October 1st, and continues through Friday, October 5th.
The symposium is open to students, staff, alumni and community partners and aims to engage individuals on issues surrounded diversity and inclusion. There are more than 50 sessions throughout the week, of various panels and discussions regarding bias, relationships across diversity, and many other intriguing topics.
This year's keynote speaker is Cornell William Brooks, an ordained minister, civil rights attorney, social justice activist, and former President and CEO of the NAACP. He speaks on Wednesday, October 3rd, from 5:30 to 7 PM at the Lory Student Center Theater.
Other events of note are the Feminist Fight Club (engaging difficult topics of feminism across many groups) featuring CSU's own President Tony Frank and Dr. Cori Wong (among others) on Monday, October 1st, from 9 AM to 3 PM at the Lory Student Center; CSU Inspire (discussion about inclusion research) on Tuesday October 2nd, from 10:30 AM to 1 PM at the Lory Student Center Theater; Susan Faircloth, Ph.D., (whose passions include indigenous education and the education of student of diverse linguistic nature) on Thursday, October 4th, from 9 to 11 AM at the Lory Student Center Theater; the Diversity Connection (which allows students and student organizations to meet and make meaningful connections with employers who seek diverse applicants) on Thursday, October 4th, from 4 to 6:30 PM at the Lory Student Center Theater; and Lecia Brooks (Outreach Director for the Southern Poverty Law Center and Director of the Civil Rights Memorial Center) on Friday, October 5th, from 8:30 to 10:00 AM in room 345 of the Natural Resources building.
Also happening this week is President Tony Frank's Fall Address and University Picnic from 11:30 AM to 1:30 PM on Wednesday, October 3rd on the Oval. No sessions will be scheduled around that time. You can find a full description of the Diversity Symposium via Guidebook (accessible through the links below, you'll need to scroll down below the poster).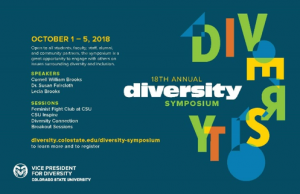 So… feel free to kick off October by learning something new!
For the Family Friendly Oktoberfest Facebook page: https://www.facebook.com/events/381197542412268/?active_tab=about
For the Bath Garden Center and Nursery website: https://bathgardencenter.com/
For Bike Prom: http://bikefortcollins.org/bikeprom
For the Bike Prom Facebook page: https://www.facebook.com/events/1927626007301975/
For the Diversity Symposium website: https://diversity.colostate.edu/diversity-symposium/
For the Diversity Symposium Facebook event page: https://www.facebook.com/events/2061949337452215/
Crystal Angevine is a CSU Alum, who dreams big and works hard. She loves being in the outdoors, lives for her family, and tries hard to be the change she wishes to see in the world. On any given
Saturday
, she might be found knitting, doing other handcrafted arts, or playing video games. She grew up in Northern Colorado, but still loves exploring Fort Collins and the surrounding areas. What better way to do that than by telling the world about the plethora of events dear old FoCo has to offer?