Creation, Charitability, and Content for the Masses—a look at Veterans Day weekend
Whether you're looking for culture of the theatrical kind or of the service kind, this weekend holds something that will get you involved or help you escape from the world around you, if only for a little bit.
The Monster Within
Quite possibly the most famous (and misunderstood) monster in our popular culture anymore is the one given to us a full 200 years ago by author Mary Shelley: Frankenstein's Monster! This monster has been the subject of many movie depictions, novel adaptations, and stage plays. Just about anyone on the street could tell you who the monster is, even though they always call him Frankenstein (that wasn't his name—Frankenstein was the scientist's name).
This monster is now hitting the stage in Fort Collins.
Director Peter Anthony and the OpenStage Theater & Company are bringing Nick Dear's adaptation Frankenstein to The Lincoln Center! The Creature plays a prominent role in this production, focusing on trying to find his own humanity. This adaption continues to ask that question of which individual is the man and which is the monster that Mary Shelley first introduced to us. The horror that emotes from this story comes as much from the violence of Frankenstein's Creature as it does from the way we as individuals participate in human prejudice and social injustice.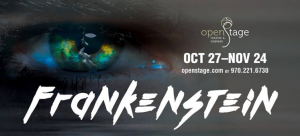 The show runs from October 27th to November 24th. Tickets run around $27 a person, and there are a variety of times and dates to attend. The next performance is November 10th. Head over here to learn more: https://www.openstage.com/events/2018-2019/frankenstein/?utm_source=fb&utm_medium=Event&utm_campaign=Frankenstein#tickets
A Day in Someone Else's [Clothes]
If you find current prices of clothes pretty monstrous (and out of your budget for whatever reason), you might take some solace in the humanity of this next event.
CollegeAmerica and Kids Clothing Swap are hosting a kid's clothing swap on Saturday, November 10th from 9 AM to 11 AM.
The idea is fairly clear: you can bring your kid's clothing of all sizes (maternity/newborn to adult sizes for older teens) that are in useable condition to the event and swap it for things you might need. The items must be clean, and you can also bring shoes, toys, books, cribs, and high chairs.
They do ask for volunteers to help with set up and tear down. Set up begins at 8:30 AM, doors open at 9 AM, and anything leftover is donated to non-profit charities at the end of the drive.
Check out the Facebook page here for more information: https://www.facebook.com/events/2182013155388910/
Glowing Recommendation
Colorado State University's Alpha Sigma Phi organization has a simple mantra: To Better the World through Better Men. The organization aims to create a brotherhood founded on the values of character, silence, charity, purity, honor and patriotism. The group frequently does philanthropy for RAINN (Rape, Abuse, and Incest National Network), Homes for our Troops, Ronald McDonald House, Humane Society, and Big Brothers Big Sisters of American.
This weekend, they are hosting an event to raise money for RAINN (Rape, Abuse & Incest National Network). RAINN is the nation's leading anti-sexual violence organization. RAINN provides hotlines to help survivors of sexual violence, information about warning signs for child sexual abuse, and providing assistance in seeing perpetrators brought to justice.
The event: Glow in the Dark Volleyball. This event takes place Saturday, November 10th from 6 PM to 9 PM in the Moby Auxiliary Gym. It's $30 per team of six to enter, with $10 for t-shirts (sold separately). This event appears to be an annual fall event.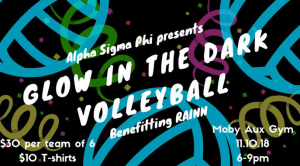 For more information, please go here: https://www.facebook.com/events/322448441639657/
*** Side note: If you or anyone you know needs resources, or you suspect someone you know needs resources, please visit the RAINN website at https://www.rainn.org/***
Veterans Day 2018
As I mentioned in my previous post, this November 11th marks 100 years since the Armistice of World War I. The 11th hour of the 11th day of the 11th month has since been known in different ways: at first, it was celebrated as Armistice Day, and became an official federal United States holiday in 1938. It wasn't until after World War II and the Korean War that Armistice Day became known as Veterans Day.
Fun Fact: Even though this date is remembered as Armistice Day, the official end of WWI was in June of 1919 with the Treaty of Versailles. You should totally check out this link to learn more: https://www.history.com/topics/holidays/history-of-veterans-day
Like many people residing in the United States, I have observed Veterans Day my whole life. This post wouldn't be complete without at least one event for Veterans Day (please do feel free to contact me about future events so this list can grow more comprehensive).
Bar Louie (of the Foothills Mall) is teaming with Operation Homefront this year between November 5th and November 12th. Operation Homefront is a national nonprofit who aims to build stable and secure military families in order to allow them to thrive upon their return home. They offer relief programs (financial assistance), resiliency (permanent housing and caregiver support), and recurring family support programs (addressing short-term issues so they do not become chronic problems). For more information on Operation Homefront, check it here: https://www.operationhomefront.org/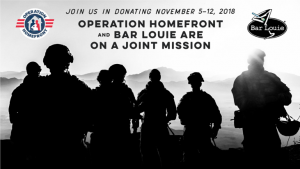 Bar Louie Foothills Mall is fundraising for the organization all week, and are offering Burgers or Flatbreads (up to $15) to any veteran showing their ID on Veterans Day.
Give back to those who make sacrifices on our behalf today. Catch the info here: https://www.facebook.com/events/298640377409389/
Planning in the Dungeon
There is raw power in assisting our veterans as they return home. But don't worry, donating money and time still leaves room for attending other fun events.
Dungeons & Drafts in Fort Collins has a series of events that assists individuals who like to cosplay called Cosplay Academy (find that here—you need to join the group to view it: https://www.facebook.com/groups/1793406504044622/)
This weekend, on November 11th, they are hosting Cosplay Academy: Open Planning Session from 4:30 PM to 7 PM. As we approach the new year, the need has arisen to begin creating the cosplay costumes that come with convention seasons (with Denver's Comic Con coming, usually, in June, as well as Fort Collins Comic Con right around the same time).
This friendly, collaborative atmosphere allows you to bounce your ideas around and break down how you want to build your next costume. There will be cosplay teachers available to brainstorm with, as well as give you tips and tricks on materials, techniques, and making a to-do list that is not unmanageable.
This series covers a variety of skills, such as sewing, wig styling and armor making. Future classes may have materials costs, but you should definitely check out both the Facebook page for this event (https://www.facebook.com/events/1935056473253091/) and check out that group above.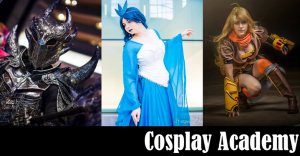 Whether your desire is to be charitable, creative, or content, this weekend hosts a variety of intense events, providing a balance of all of the above. Check it all out, take it all in, and we'll see you next post.
Crystal Angevine is a CSU Alum, who dreams big and works hard. She loves being in the outdoors, lives for her family, and tries hard to be the change she wishes to see in the world. On any given
Saturday
, she might be found knitting, doing other handcrafted arts, or playing video games. She grew up in Northern Colorado, but still loves exploring Fort Collins and the surrounding areas. What better way to do that than by telling the world about the plethora of events dear old FoCo has to offer?