Crazy Busy End of October
As we reach the end of this absolutely chaotic two weeks here at the end of October, I'm going to ask you to hang onto your costumes because there's so much coming your way.
Breather on Monday and Tuesday
The social forecast calls for just a few events on Monday and Tuesday this week (though, as usual, this is not an exhaustive list).
Monday, October 29th, you can marry your hobby to your Halloween celebration. The Fort Collins Running Club, alongside Altitude Running, is holding their Annual Halloween Costume Run. The event runs from 6 PM to 8 PM, and they will be providing snacks before and during the run, as well as a meal after. They ask that you RSVP so that they can accommodate food allergies, but note you can still participate if you don't RSVP.
Altitude Running is receiving beer from Sufferfest Brewery, though, you can BYOB for afterwards. The route is Northbound along Mason Trail, and you only have to run as far as you can handle. Fort Collins Running Club advises that most of the frequent group runners average 3-5 miles and max out between 30-45 minutes. This is kid, stroller, and dog friendly.
There will be voting on the best costumes and a raffle for some prizes. So if this is your thing, visit Altitude Running on Monday evening. Check the page here for more: https://www.facebook.com/events/2196963827213987/
If running isn't your prime mode of celebration, check out this next event. The Rio Grande Mexican Restaurant in Fort Collins is hosting a Halloween Salsa Dance Party on Tuesday, October 30th in the Agave Room.
This annual party features food and drink in the restaurant downstairs (which you'll need to pay for), and then dancing in the Agave Room. Doors open at 7 PM, and at 7:30 PM, attend a beginner-friendly salsa lesson with Dave and Abbey of FoCo Bachata. At the same time, there's an intermediate salsa lesson with Colin and Alison.
At 8:30 PM, the dance social begins, with music from DJ Michael Jay Shaffer. Then, stay tuned at 9:30 for a special performance, and an after party at 10:30 at Elliot's Martini Bar.
Admission is $5. Go for a gander here: https://www.facebook.com/events/494573914374371/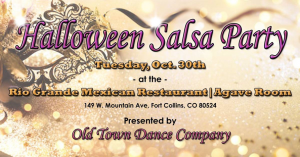 🎵This Is Halloween 🎵
Wednesday is, of course, a busy day. With it being Halloween (and my favorite holiday, by far), there's so much going on around you.
There are several events running all day, as well as smaller events scattered throughout the day. The social forecast on this one is CHAOS!
First up, College America is hosting a Trick-or-Treat Open House from 9 AM to 7 PM. There will be snacks and trick-or-treating, as well as games. Visit many of the offices there and enjoy the time! Find out more here: https://www.facebook.com/events/494573914374371/
Next, visit Old Town with your tots under 7, as kids are invited to trick-or-treat around Old Town Square for the 31st year in a row. Country Financial presents Tiny Tot Halloween, from 10 AM to 1 PM. The kids can go from business to business along Old Town, receiving candy as they go. At 11:30 AM, professional ventriloquist Meghan Casey (of Rocky Mountain Puppets), will perform "The Great Witch Hunt" on Old Town Square Stage. For that information: https://downtownfortcollins.com/event/tiny-tot-halloween/?fbclid=IwAR2v2Jr4mRqaC8PFUCLL54MPzHdHbQCB2zPtB4rbOA1SJ6aQV6Nr9QHeuv0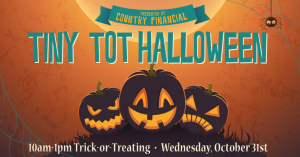 From 2 to 4 PM, Dellenbach Motors is hosting Trunk-or-Treat, featuring the cars in lot with oodles of candy and three spooky showrooms. This event is annual, so if you can't go this year, mark your calendar to look for next year. Check it here: https://www.facebook.com/events/2213586202208278/
IBMC College is hosting an all-ages, family-friendly, free event with a sweet theme. This CandyLand themed Trick-or-Treating experience features a Rainbow Road, with candy stations in Peppermint Forest, Gumdrop Mountain, Candy Castle, the Lollipop Woods, and the Chocolate Swamp. Participate in games like Hopscotch, Guess the Gumballs and Dum Dum Toss along the way. The event runs from 3 to 5:30 PM. Find it: https://www.facebook.com/events/169192677317182/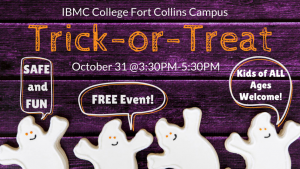 Rescued Friends Animal Sanctuary is back again with Trick-or-Treat Nights. One was October 27th, but they are also hosting one from 4:30 to 7:30 PM on Halloween! The event is free, and you can expect vegan candy and a haunted barn! Get spooked here: https://www.facebook.com/events/304833910303365/
If you're unattached to childers this Halloween, you might consider viewing The Rocky Horror Picture Show with Shadowcast at the Lyric from 6:30 to 9 PM this Halloween. Tickets are $12, or $17 if you buy the props bag that goes with the show. Not only will you be viewing the original movie, but you'll also be graced with the presence of the local Rocky troupe. You are asked not to bring food, fire or confetti, as well to not throw things at their new screen. Tickets are found here: https://www.facebook.com/events/1975549852745497/
Colorado State University's musicians are hosting the Halloween Organ Extravaganza. The show is hosted by the Colorado State University Organ Studio and the Colorado State University Center for the Arts. This 13th annual production features lighting and special effects accompanying classic and not classic works, and has showings at 7 PM, 9 PM, and 11 PM respectively. This year is also the 50th anniversary of the organ so who knows what's in store! The 11 o'clock showing looks like it still has seats. Tickets are $10 for adults, free for students and everyone else. Check it all here: https://www.facebook.com/events/324081471470785/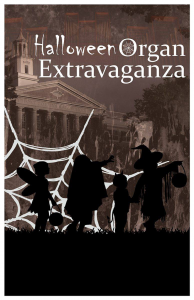 Downtown Artery is hosting an all-ages Big Gay Costume Party from 8 PM to midnight. Cover is $5, and features DJ Jiminy. Come dance the evening away: https://www.facebook.com/events/1036752619820166/
Finally, if you like karaoke, get ready for Scaryoke! R Bar is hosting this event from 8:30 PM to 1:30 AM. Costume not required, though recommended. Catch that note here: https://www.facebook.com/events/249676095694519/
Spooky-to-Not: the November 1st Whiplash
So, just like that, Halloween month goes out with a bang. I know, I'm disappointed too. But! With the beginning of November comes the beginning of some of the best months to give time, food, money, and other gifts to help ensure winter is a smooth ride for all. It also marks the beginning of National Novel Writing Month (colloquially known as NaNoWriMo).
Food security is one of the top things that stresses people out. On November 1st, the CSU Mobile Food Pantry will be on campus again — bringing the services of Larimer County Food Bank to campus once a month in order to help CSU students succeed by ensuring at least part of their health is taken care of. From 4 PM to 6 PM, the Mobile Food Pantry will be at the intersection of University Avenue and Meldrum Street. Please bring your student ID and bags to carry your food back to your home. There will be fruits, vegetables, dairy, and baked goods. The pantry will return monthly. Please check this page for more info: https://www.facebook.com/events/260722224560525/
If you have the opportunity this month to help make someone's life better, please consider donating to one of the many charities that help provide both normal meals and Thanksgiving/holiday meals to those who experience food insecurity. As always, Rams take care of Rams, and in this instance, they utilize Rams Against Hunger. Please, take a moment to take a look and if you notice one of your community members struggling, please share a meal or two with them. It will make a difference.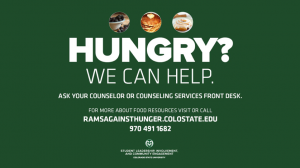 This final event is definitely a charity one! Big Grins Dentistry is hosting an event on Thursday, November 1st from 4 PM to 6 PM, where they buy back kids' candy and send it overseas to soldiers through Operation Gratitude. There will be drawings for prizes, and each pound of candy is $1 (for up to 5 pounds). Check it here: https://www.facebook.com/events/545316702577183/
Just as quickly as October ramped up, it died down in fire. Be ready… These next few months are going to be hopping!
Crystal Angevine is a CSU Alum, who dreams big and works hard. She loves being in the outdoors, lives for her family, and tries hard to be the change she wishes to see in the world. On any given
Saturday
, she might be found knitting, doing other handcrafted arts, or playing video games. She grew up in Northern Colorado, but still loves exploring Fort Collins and the surrounding areas. What better way to do that than by telling the world about the plethora of events dear old FoCo has to offer?