A Little Bit of Magic, A Little Bit of Kindness, A Lotta Bit of Community — Fort Collins November 15th through the 18th.
Santa and Co in FoCo
Few things are more magical for families who celebrate Christmas among their winter holidays than Santa. Children clamor for a moment to experience the magic that is the man who gets so much attention around the Christmas holiday. This weekend, on Friday, November 16th, Santa will arrive at Foothills for the third year in a row.
The Third Annual Holiday Tree Lighting and Santa's Arrival is on the East Lawn of Foothills, marking the season opening of what is deemed Northern Colorado's largest outdoor ice rink, also known as The Pond! This extravaganza will feature US National-level skaters, as well as free activities (Clydesdale Carriage Rides), Dickens Carolers, ice sculptures and free photos with the man himself!
The event runs from 6 PM to 8 PM and does not require tickets to attend. The Pond, however, does require an admission fee — $7 for adults, $4 for children ages 4 to 12, free for children under 3, as well as $5 for senior citizens, active military with valid ID, and students with valid student ID — and has skate rentals for $3. If you want to bring your own skates, you can do that too. There's no time limit for skating.
Check out the website for more information: https://shopfoothills.com/holiday/
Accuracy Matters
If Santa isn't your most exciting prospect, there's still a plethora of events lining up to give us a full weekend.
Rolling into Saturday, November 17th, at Rolland Moore Park, we begin our day with the Annual Turkey Week Predict Donut Run.
This run features two 5k courses, along with turkeys for the top three winners. And no, that doesn't mean that the top three fastest winners will just get it all. This race doesn't allow time keeping devices of any kind, and runners will have to estimate their finishing time prior to their start. Those top three who come closest to their estimate will win.
The 5k starts at 8:30 AM, so make sure you get there early to get registered, and the course starts in Rolland Moore Park by the Tennis Courts. This event is free, so this is a good place to test your times for the upcoming turkey day races.

Lamar's is providing donuts, and there will be coffee. And there is a raffle this year for a variety of items.
To get a raffle ticket, please bring nonperishable food items and cash donations for the Larimer County Food Bank. Among the most needed items: peanut butter with non-hydrogenated oil, canned meat/fish (like chicken, tuna, salmon), canned fruit in fruit juice, whole grain/low sugar cereal, whole grain pasta, brown rice, macaroni and cheese, and of course, cash, as the food bank often has access to discounts than most folks. Tickets for the raffle are assigned based on one runner providing one donation and does not give raffle tickets based on number of items.
Among the possible reward: a 3-month membership to Raintree Athletic Club, a one-month membership to Manic Training (high intensity interval training), various foods from Music City Hot Chicken, gift cards to Intersect Brewing (21+), stainless steel growler/water bottle from The Timber Line and much more. Check out this page for all the possible wins (in the discussion tab!): https://www.facebook.com/events/2149153995323976/
The event runs from 7:30 AM to 9:30 AM on November 17th.
Sometimes Santa Looks Slightly Different Than Expected
There are many individuals throughout Northern Colorado who spend their every penny on home and bills, and those folks often find themselves in need of help. No one wants to get to the holiday season and be unable to provide at least a few small gifts to their little ones when their gift-giving holidays roll around.
The mission of Santa Cops of Larimer County is to promote a positive law enforcement experience with children of this county. This is a nonprofit organization with representatives from Fort Collins Police Services, Loveland Police Department, Larimer County Sheriff's Office, Colorado State Patrol, Timnath Police Department, the Alternative Sentencing Department, the District Attorney's Office, and Colorado State University Police. They work to provide children in need with toys for Christmas and throughout the year. The children they often work with come from all walks of life and differing circumstances, all are faced with limitations. Each holiday season, officers personally deliver these items to the families that apply for the program.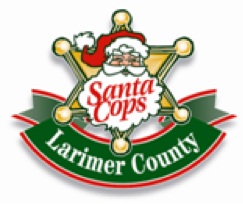 Santa Cops of Larimer County is hosting application days throughout Fort Collins, Loveland and Wellington, but the next application day is on November 17th, at The Villages at Redwood. If you are a resident of Larimer County and finding yourself in need this winter, you must present identification and birth certificate/ proof of guardianship for each child up to age 16.
Loveland also has an application day on November 17th, with Wellington having one on the 19th. For more information about Santa Cops, including location information, check out this site: https://santacopslarimercounty.org/ Santa Cops is often open to donations, as well, so be sure to visit the site.
For their Facebook page, visit here as well: https://www.facebook.com/SantaCopsLC/
What's in a Name?
General kindness and respect are not only given to children in need, but also to people of all genders. One of the greatest forms of kindness and respect that you can get to your fellow person is recognizing and utilizing their chosen pronouns and name.
This is often incredibly hard when all of your legal documents still sport the incorrect name and gender marker.
The Colorado Name Change Project, PFLAG of Northern Colorado, CSU Pride, NOCO Equality, Eclectic and SPLASH are the hosts of the Fort Collins Name Change Workshop on November 17th. This event is a free workshop, though, they do ask you to RSVP so they can anticipate the attendance numbers and prepare as needed.
The workshop is led by an attorney who can answer all your questions and guide you through the process of filing your name change petition and update your gender marker in Colorado. In addition to this guidance, Colorado Fingerprinting will be present to help facilitate the required FBI/CBI background checks, an option that greatly speeds the process. There will likely be a fee for the background checks and fingerprints, so please plan accordingly.
The name change workshop takes place at Old Town Library, from 11 AM to 1:30 PM on Saturday, November 17th. If you are in need of this event, check out the Facebook page here: https://www.facebook.com/events/487271678391444/
Missed Santa the First Time?
Say you didn't/couldn't make it to Friday's arrival of Santa at Foothills? Don't stress!
Santa will be arriving to Downtown Fort Collins via horse-drawn carriage at the corner of Walnut and Linden Streets at 12 PM on November 17th.  He will have a workshop set up there, and it will be open every Wednesday through Sunday from 12 PM to 6 PM.
It is free for you to visit Santa and take your own photos; however, there will be a professional photographer on hand if you were to decide to go that route. The earlier in the season you visit the better — the first three weeks ordinarily promises short to no lines, especially on weekdays. On December 19th, the workshop will open and then be open every day until December 24th. The workshop will close at 4 PM on Christmas Eve.
His workshop is located in Old Town Square near the stage.
***If you are in line at closing time, you will still be accommodated and still have the to see Santa.***
For more information, check it out here: https://downtownfortcollins.com/event/santas-workshop/
Big Children, Big Celebration
There's a place in Fort Collins that's been featured in many of these posts. It's a place that has provided a home for brunch, among various parties and after-parties throughout the last six months. So, just like for the little kids, there's an event for the big kids (and I mean, 21-plussers).
The R Bar is having its Third Anniversary Party on Saturday, November 17th from 10 PM to 2 AM.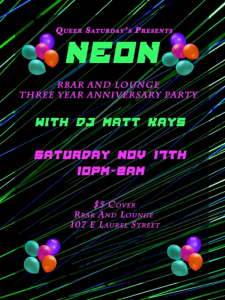 For year three, the bash includes GoGo Dancers, $3 Drink Specials, giveaways, raffles, and one heck of a dance party featuring the work of DJ Matt Kay. Entry is free before 10 o'clock, and after 10 PM, there's a suggested donation of $5. The door charges all go to the GoGo dancers.
Check it all out here: https://www.facebook.com/events/264108094449123/
To-Do List Management for 2019
If you're anything like me, your attempts at to-do lists and planners have all been…found wanting.
But don't worry, Dungeons and Drafts of Fort Collins is hosting an Introductory workshop that might just catch your eye: Intro to Bullet Journaling. Bullet journaling has a fairly simple goal: instead of writing long paragraphs full of information, you put simple, quick notes that have a lot of meaning. This trend began to gain traction a few years ago, but it looks like there's been enough interest that Dungeon and Draft wants to help you understand and get started.
This workshop will teach you the basics of the system and help you get your planner to work for you. Pens and journaling supplies will be on hand, but you might want to bring your own blank notebook to start the journal in.
This event is Sunday, November 18th from 6 PM to 8:30 PM at Dungeons and Drafts.
Check the info out here: https://www.facebook.com/events/209416949823909/
So, no matter how you want to get into your holiday spirit, there's a place for you to be this weekend. Read you later!
Crystal Angevine is a CSU Alum, who dreams big and works hard. She loves being in the outdoors, lives for her family, and tries hard to be the change she wishes to see in the world. On any given
Saturday
, she might be found knitting, doing other handcrafted arts, or playing video games. She grew up in Northern Colorado, but still loves exploring Fort Collins and the surrounding areas. What better way to do that than by telling the world about the plethora of events dear old FoCo has to offer?