Snowbank Sourado Session – all the cool kids are doing it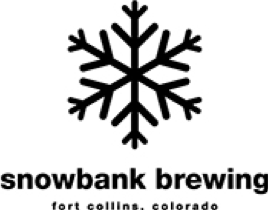 Colorado breweries are a bit of a destination tour these days. Snowbank Brewing is one not to miss while in town. The location makes it easy to get to by foot since you're likely to already be going to other breweries nearby, like for instance, Odell Brewing, Funkwerks, and Red Truck (coming in July). Did you get that? This is a beer tour you can walk.
In 2014,  Snowbank Brewing was opened by a group of homebrewers whose shared a passion of amazing beer, Colorado's adventurous outdoor activities, and the welcoming of a collaborative community – all this was the dream they could pursue together.  That is the epitome of an absolute dream brewery. Don't you agree?  We do as well.
During mid-May, the spring temperatures can climb. When the temps are in the upper 70° and low 80°s, the easy drinking refreshing beer comes to mind and I was happy to share a bomber with my husband. We selected Snowbanks Sourado – Dry Hopped Session. We were feeling adventurous about selecting a sour beer and appreciated that it is lighter and has a very refreshing taste. I have to say, it hit the spot!
One of the more confusing terms in the modern beer world, but also one you're going to be hearing a lot more of, as breweries continue putting out their own versions of a "session beer." So what is it?
Here in FoCo, you'll find bikers, hikers, skiers, and other outdoor enthusiast (the cool kids) that enjoy the refreshing flavors of Sourado for it's not too sour yet a tart enough taste. To reach that outcome, the brewers added dry Apollo and Galaxy hops during the fermentation/conditioning of the brewing phase, and in doing so, the hop flavor is enhancing the aroma and flavor. Ok – I geeked out there for a minute, but I'm back now. Anyway, that's how they make an easy-to-drink sour session with intent and deliberate no pucker outcome.
Beer Name:     Sourado Dry Hopped Session Sour
Beer Style:       Session – Sour
Brewery:         Snowbank Brewing
City:                 Fort Collins, CO
Smell:              A hefty dose of Apollo and fruity Galaxy hops.
ABV:                4.3%
So, if you're not a sour beer enthusiast now but want to be one of the cool kids, I recommend Sourado. Look for other 22oz bombers of their flagship beers including, top rated Cranknbrew, Colorado Red, and small batch varietals of Sourado:  Cucumber Sourado – Sourado infused with Cucumber – 4.3% ABV and Blueberry Sourado – Sourado infused with Blueberry puree – 4/3%ABV.
To drive is nice but the walk or bike ride is a lot cooler. Make a stop on your way at 225 N Lemay Avenue, Ste 1 Fort Collins, CO 80524. www.snowbank.beer
Noelle Maestas, a Colorado native, earned a Bachelor of Arts degree in Communication from Regis University in Denver. By day, she is a content creator and marketing geek who has been contributing to and editing various marketing blogs and social media content for more than 5 years. Having an entrepreneurial spirit, she is also the creator/editor of her own fitness blog because it was a good idea at the time. Living in Fort Collins for over 20 years, beer has been the muse that inspires her to savor the best that Northern Colorado has to offer. Together with her husband, who is a GIS blogger and a beer-loving Canadian, they have become a recognized couple in some of Fort Collins finest beer establishments with several like-minded friends. When she isn't riding her bike through Old Town, Noelle can be found volunteering at beer festivals in Fort Collins.